How to Place Your Rug: Interior Décor Tips Form Experts
From making a style statement to defining your living room décor and causing the entire space to feel more comfortable, a rug can do it all. But only if you know how to choose the perfect rug, and how to place it in the perfect manner.
Ready for some expert tips from professional interior stylists?
Let's dive right in!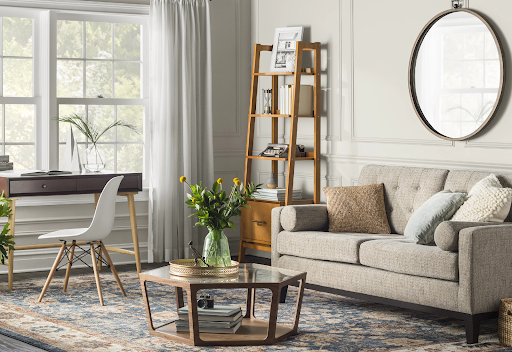 What Interior Designer Say About Rug Placement?
Your interior décor should be more than just trendy or traditional, it should be well put together, innovative, practical, and must sync with your vibe to make you feel calm and comfortable in your own home.
And when it comes to comfort, a good rug can work wonders!
Rugs, especially the ones hand-crafted and knotted to perfection by expert weavers, can add personality to any room. These magnificent floor coverings exude a kind of luxurious charm that no other décor item can mimic, they have the power to make any room feel more lively, inviting, and warm.
Apart from this, as an interior stylist would say, a rug is the key piece in any room's décor. It can make all the other décor items feel more connected and anchored, while giving off a sophisticated vibe that matches your temperament. It's like you're displaying your artistic side in front of everyone through a mesmerizing handwoven relic that makes your floor sing in colours.
However, when it comes to decorating with rugs, especially with the traditional handmade ones, there're certain basic rules that should be kept in mind. Such as:
When buying a rug, keep all the other elements of the room in view, including the decor style, theme, colours, etc.
Choose the rug size and shape according to the room's size and shape.
Pick a rug material that's easy to clean and durable.
Go for dark colours in bigger rooms and select subtle, earthly hues for the smaller ones.
Make sure the rug suits your style and space. It should also blend in well with the rest of your décor in terms of colour, texture, and design pattern.
After you've chosen the perfect rug, here are some tips on how to position it:
In a Spacious Living Room
Spaces that are large and wide need rugs more than anything else in order to make the décor appear more cohesive instead of fallen apart.
Whether it's one of those traditional Kazak handmade rugs, Jaldar rugs, or a handmade Mahal rug for sale that you recently bought, the placement of a rug depends majorly on the dimensions of the room.
How to tackle décor in bigger spaces?
Well, first of all, your rug must be the right size, i.e. large enough to sit in the centre of the room without appearing too overwhelming.
In a big, open space, the rug must sit under the furniture, either completely or partially. In a sense, if your rug is large enough, place all of your seating-area furniture on top of it, including your sofas, chairs, and the coffee table.
However, if the furniture is looking too cramped, you can just place the front two legs of your sofas on the rug, while the back legs rest on bare floor.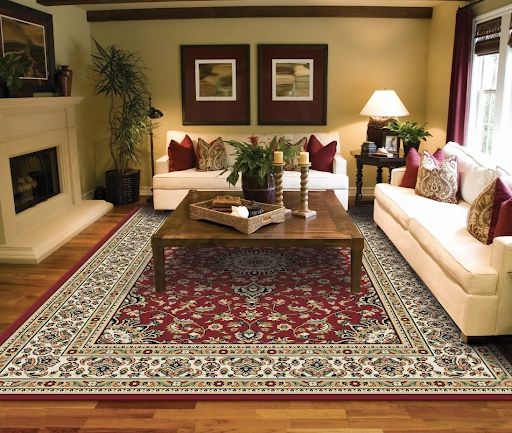 In Smaller Spaces
Don't have enough room for a large area rug? Get a smaller one that suits the space and place it in the centre.
For example, the rug should be in line with your sofa, with the coffee table on top, and any other sofa or chairs could be placed either on both sides of the rug or facing the sofa.
Also, if you want the décor to feel lighter, position the rug 10-12 inches away from your sofa, leaving a strip of bare floor in between. This placement technique is ideal for square rooms where you can place a similar-shaped rug in the centre to create an appealing symmetrical look.
If You Have Two Sofas
For living rooms decorated with two sofas sitting opposite to each other, we'd recommend you to place the rug in the middle. it should be at equal distance from both the sofas.
For a modern look, it's best if the length of your rug matches that of your sofas. Leave a strip of bare floor on both sides, and keep things aligned. Rectangular rugs are ideal for such spaces.
With an L-Shaped Modular Sofa
With a modular sofa, a rug would look great only if it's the right size.
So, the first step in this case must be to take proper measurements of your sofa, and find a rug that's the same size. If you're unable to find the size needed, it's recommended to get a custom rug designed and hand-crafted to fit your living room perfectly.
The best part about custom rugs is that you can combine your dream rug design, pattern, and colours in a single artifact. Also, you get to choose the rug material and shape, while being able to have the 'perfect size' for your living space.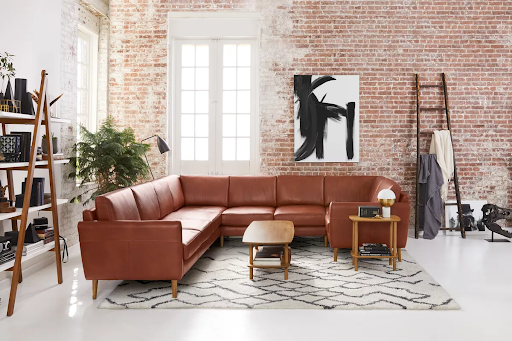 In case a custom rug seems too expensive, and you can't find a piece that matches your modular sofa's dimensions, get an oversize or large area rug. Placing a large rug underneath your furniture can make the entire space feel more connected and well-put-together.
Defining Open-Plan Spaces
When it comes to large spaces and open-plan areas, a rug is the best way to define certain zones.
For example, if you have your dining area and living space in a single large room, placing a rug underneath your dining table can help define the zone.
In this scenario, you must choose a rug that's large enough to incorporate your dining table and the chairs fully. Note that there must be enough of rug extended to all sides of the table so that the chairs won't slide off when pulled out.
Moreover, always remember that your rug shape must match the shape of your dining table if you want the décor to appear symmetrical instead of just chaotic.
Lastly, keep in mind that the key to perfect rug positioning is choosing the perfect rug shape and size. Apart from that, just focus on the basic tips above and follow your aesthetic sense!
By - 28 Sep 2020