10 Things to Consider When Choosing a Rug
Rugs are the perfect way of completing your interior décor. They can accentuate a room's colour scheme, add life to dull spaces, and act as an anchor that holds the whole look together.
However, the task of choosing the 'perfect' rug can be a bit overwhelming considering the wide range of options available in the market. And if you want your rug to be an investment instead of expense, you'd have to carefully pick a rug that's hand-knotted by experts and is durable enough to last for generations.
Not just this, there's a whole list of other factors that you must keep in mind when buying rugs for your home.
Let's dive into the rug world!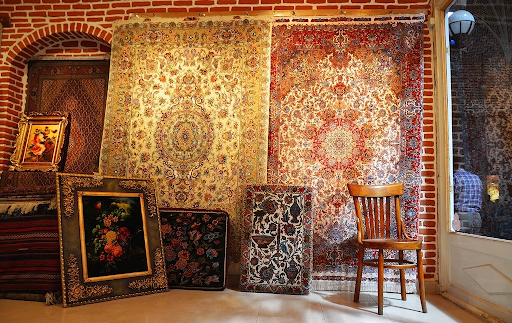 The Perfect Rug for the Perfect Look
The rug world is surely a mesmerizing place filled with numerous possibilities where each woven art piece exudes an unmatchable aura of magnificence, a spirit of splendour, and a touch of class that's peculiar to its own style.
The effect that a modern rug has on its surroundings it totally different as compared to that of a traditional floor covering. Similarly, wool rugs look and feel more luxurious than cotton or jute rugs.
Additionally, homeowners also need to examine the style, size, shape, and colour of the rug they're buying to ensure that their purchase matches their existing décor, lifestyle, and needs.
Here's a list of factors to consider when buying a rug for your home:
1. Your Lifestyle and Personal Preference
It might seem obvious, but the first thing you should be considering when at a rug shop, or buying rugs online, is your own personal taste. Remember that you're investing in an art piece that's likely to stay with you for years, so pick the one that suits your personality.
To make this first step easier, think about the major rug styles, i.e. traditional, modern and transitional, and determine what type of rug would suit your preference.
To put it precisely, the first step towards choosing the right rug is "trusting your instincts".
2. Usage of the Rug
After you've determined the kind of rug that you need, it's time to consider how the rug will be used after you've bought it.
For instance, if you happen to own a pet who sheds a lot of hair or likes leaving wet surprises around the house, you may want to invest in a rug that's heavily patterned and stain-resistant, such as wool rugs. Similarly, if you're a parent to kids who spend a lot of time playing on the floor, try going for something that features dark colours and has a soft feel.
If the rug is going to be placed in a high-traffic area, a low-pile or flat-weave rug can be the best choice since they hold up well to wear and tear. Also, rugs for outdoor spaces should be able to handle mildew, rain, sunrays, and anything that mother nature may send their way.
3. Your Interior Décor Theme
Buying a rug that matches your interior decor is necessary in order to ensure that the new addition doesn't make the entire room look chaotic, or a make it appear as if a bunch of mismatching décor items are badly put together.
In other words, if the rest of your décor is modern, it's best to go for a modern rug. Or, if you want to add a touch of traditional magnificence, go for something that can complement modern furnishings, such as a handmade Ziegler rug.
You can also create a transitional style by adding a traditional rug, such as Persian, Pakistani, or Tribal, to a room decorated in contemporary style.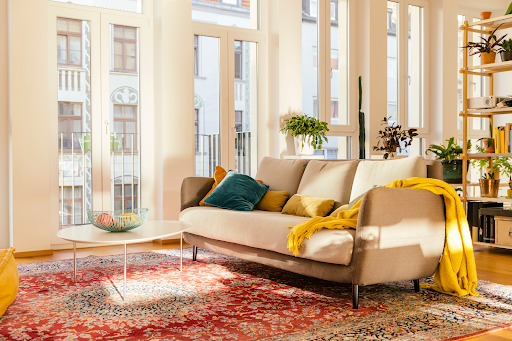 4. Determine the Size of Rug Needed
The first three steps must've helped you determine the type of rug you need, now it's time to decide the specifications of the rug you're buying.
If you want the rug to be perfect, it needs to be more than just the right style. Your rug should be the right size, shape and colour as well.
You can determine the size of rug you need by taking measurements of the room that you're getting it for. If you're buying a rug for the living room, find a size that is large enough to accommodate the major furniture items, including your couch and centre table.
Similarly, if the rug is supposed to be placed under your dining table, you should be able to place the whole table over it, without the chairs sliding off when pulled out.
The size of an area rug majorly depends on the size of room and the amount of space that you want it to cover.
5. The Shape
Choosing the rug shape is another important decision and it often depends upon the shape of room. Such as, if the rug is to be placed in a hallway, or any other narrow space, it's best to go for a runner. For a larger room, a large square or rectangular shaped area rug would work well. Whereas circular or oval rugs usually look great in spaces such as a wide entrance, bedrooms, and bathrooms.
Additionally, if you're thinking of buying a rug to be placed under a table, it should be the same shape as the table, otherwise it can ruin the symmetry and make the entire space appear chaotic.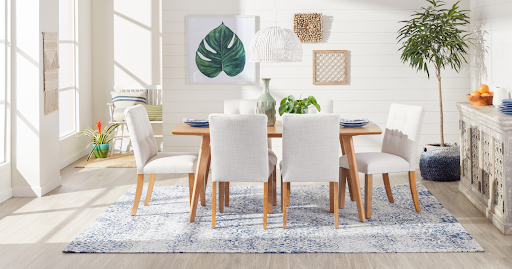 6. Colours, Patterns, and Designs
When choosing the rug colours, or deciding whether you want a plain or patterned rug, it's best to keep the rest of décor under consideration.
If the space is currently filled with bold hues and patterned furniture or walls, we'd recommend you to go for a rug that's more subtle and plain.
Whereas, for a dull room that lacks a touch of cheerfulness, it's best to buy a brightly coloured rug featuring vivid patterns, such as a tribal or Baluchi rug.
In a sense, the chosen rug should aid in maintaining the balance and holding the complete look together instead of creating an overwhelming affect.
7. How the Rug Feels
One of the primary reasons why homeowners invest in valuable handmade rugs is because of the way they feel and the sense of cosiness they offer.
The way how a rug feels depends on its material and pile. Thick pile rugs are more soft and cushier as compared to low-pile ones. In the same way, wool rugs are more velvety in texture than jute or nylon rugs.
When buying a rug, choose the material that feels more comfortable and complements your décor. Also, if you buy a low-pile rug, rug padding can be added to make it feel more plush.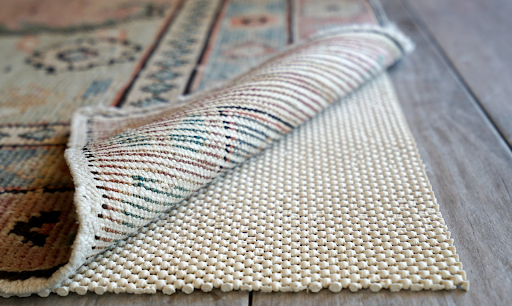 8. Rug Durability and Longevity
Another thing that depends upon the material of your rug is its durability.
It's a proven fact that handmade rugs are more tough and long-lasting as opposed to their machine-made counterparts, but the material and weaving techniques also play a major role.
Rugs made of natural fibres, such as wool, cotton, and silk are more durable than synthetic materials. Also, wool rugs are stain-resistant and don't wear off easily owing to the ancient knotting techniques employed in their making.
9. Care, Maintenance, and Cleaning
Choosing a durable rug won't assure that it stays with you for generations, you also need to take proper care of your fuzzy friend to make it live long.
For instance, if you happen to choose a high-quality handmade wool rug for your living room floor, try to not step on it with your shoes on.
Also, place the rug out of direct sunlight, rotate it seasonally, and clean it regularly. By that we mean you need to clean your rug with a vacuum cleaner at least 2-3 times per week.
When it comes to thorough cleaning, we won't recommend you to wash an expensive handmade rug at home. However, do get your rug professionally cleaned once each year.
Moreover, in case of stains and spills, take action immediately and clean the affected area before it gets scarred for life.
You can try some expert tips for cleaning and maintenance of a handmade wool rug to ensure that you don't end up accidentally damaging it.
10. Your Rug Budget
Lastly, and most importantly, when buying a rug don't forget to keep your budget in mind.
While handmade rugs tend to be more pricey than machine-made ones, they last long and are more luxurious. But if you want something affordable that can just fill up the space temporarily, a machine-made rug can fulfil your needs.
Moreover, not all rug materials cost the same, so if your major concern is affordability, Olefin, Nylon, or Jute rugs can be the ideal options.
Although choosing a rug can sometimes feel like choosing a spouse, remembering to consider all the major factors can save you from regretting your decision in the future.
But if you find yourself unable to pick just one out of the numerous handwoven beauties available in the rug market, layering is always a great way to style your favourites!
By - 29 Jul 2020