Our Testimonials
Real Reviews From Real Customers
---
"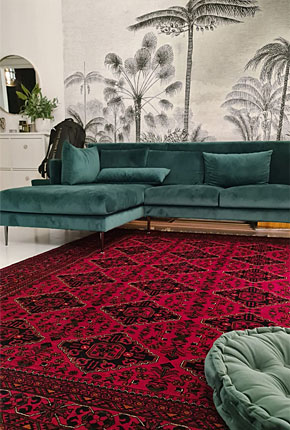 Karin Jyrisalu
It is absolutely gorgeous and EXACTLY like on photos! Plus quality is as promised and shown! I will need another carpet for my bedroom - a runner - but I will write you later. Now I need to enjoy my gorgeous new carpet! ;) ♡ Again, I am filled with gratitude over the whole purchase process , five star service ;) ...with 1/3 prices :D What more could one want? :) Thanks! I am truly in love! THANK YOU SO MUCH FOR EVERYTHING - nice polite service, fast and continuous communication and thoughtfulness ♡♡
Estonia
I bought it a second time from Qaleen. Honestly, I am unable to decide which rug is more beautiful than the first one or the latest. They have a wide range of beautifully crafted handmade rugs on their website. Their Support team is fully professional and made it very easy for me in both purchases. When I ordered my second rug, it turned out that someone else had beaten me to it & bought it before me. Qaleen found me a similar rug. Though measurements were different as per my needs, they offered & managed to resize it; something amazing & new for me. Delivery was smooth, worldwide free & on time. I enjoyed doing business with them. Highly recommended.
Caracas, Venezuela
We are so happy with our purchased and the best service that we received from Qaleen. They do have a huge stock with them but I am happy with there prompt service. We feel good buying from Qaleen. We are looking forward to buying our next rug from you.
Maryland, USA
I received my parcel today by FedEx. I opened the parcel quickly and they are beautiful. I am so happy with their service and quick delivery. Thank you Qaleen.
Florida, USA
Thank You Qaleen for everything, Thank you so much for everything - I love the rug and it looks great. I hope my husband loves it as much as I do - I will find out tonight! It was a pleasure to deal with you. With kindest regards.
Osaka, Japan
Yesterday I received my rug and it is more lovely than I ever could imagine. Its a great pleasure and please tell the Artisans how appreciative I am of their amazing craftsmanship. The certificate of authenticity was also a very lovely touch. We will cherish this rug for many many years.
Ohio, USA
We received the rug today in the morning and I am relieved to get them before leaving the town. I have to leave town for a bit. The Serapi rug is beautiful. I'm very happy with them. I'd like to thank you for your assistance and with the order. I have appreciated your excellent customer service.
United Kingdom
We received the lovely red Bokhara rug yesterday and we are satisfied with the rug. We will buy it again from Qaleen. Thank you for your assistance.
Washington USA
I and My family were not sure about buying rugs online but while searching online we met with Qaleen, a huge stock of handmade rugs and with friendly customer service we finally decided to buy the lovely Isfahan rug. We received our rug last week and really its one of the best quality and color that I wanted and we all are happy with our purchase. We live outside of CA and there are many carpet vendors in this area but we are so happy with their excellent customer service and with our purchase from Qaleen.
CA, USA
Today I received my rug and, we so happy and enjoying it having it in our home. It arrived quickly and well packaged. I am much appreciated with the excellent customer service. The pattern, symmetries, and lovely color I am really happy with my purchase. I will pass the name of your business to my friends and family and I know that Qaleen is the name of the fine rugs.
Germany
Thank you Qaleen for unbelievable speedy delivery. I am happy with my purchase and thank you for your help.
Brazil
I purchased 2 lovely red Baluchi carpets from Qaleen. Both products are of high quality and more beautiful as compared to pictures. The delivery is quick. I am pleased with their service in finalizing my selection by email communication. Highly recommended to all rug lovers.
Poland