When it comes to choosing the right handmade rug that not only fits, but also compliments your well-decorated living room, a Bokhara rug, woven by highly skilled craftsmen, can never go wrong!
The term Bokhara is often used to describe modern Tekke-faced rugs that are majorly crafted by master-weavers from all across Central Asia.
But what's the actual birthplace of these amazing woven spells?
Keep reading to find out more about these alluring hand knotted beauties and where they came from!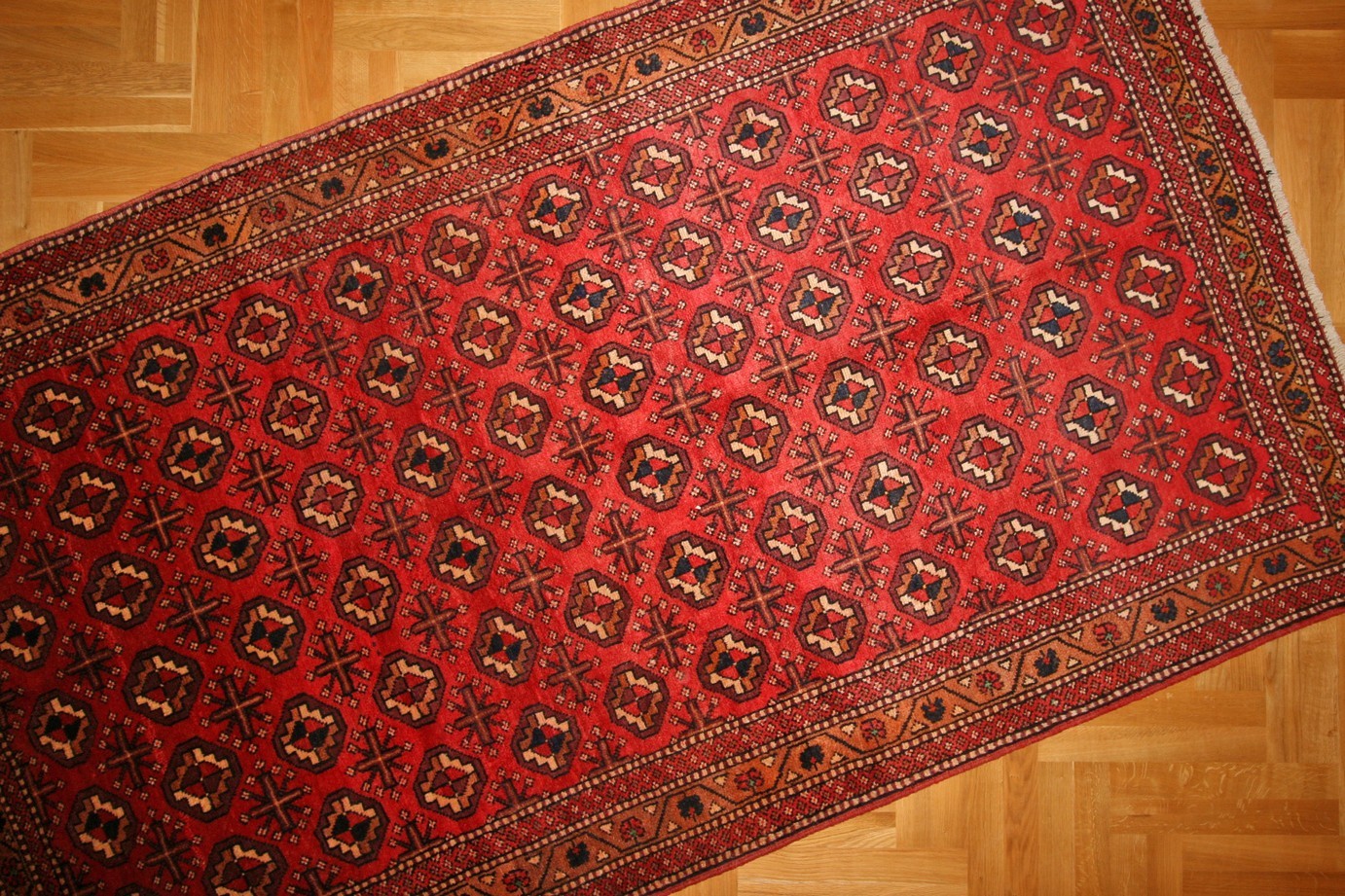 Where was the First-Ever Bokhara Rug Crafted?
Well, as the name suggests, Bokhara rugs originated from the Bokhara region of modern-day Uzbekistan, and the tribe responsible for the birth of these captivating art pieces was named 'Tekke'.
Hence, the designs that dominate the face of these rugs are purely Asian and often give out an inherently traditional aura through their geometric patterns and rows of guls.
Also, it's said that the Tekke tribe even incorporated some design features of the Salor tribe, which also belonged to the Bokhara region in the Central Asia.
While initially only made by nomadic tribes, the ultra-unique and aesthetically appealing Bokhara rugs are now designed and crafted all across the carpet-weaving world. Some of the major countries that contribute to the creation of handmade Bokhara rugs include Pakistan, India, Iran, Turkey, Turkmenistan, Uzbekistan and Afghanistan.
In addition to this, the popularity of traditional Bokhara carpets has also spread beyond Asia, to the Western world, with an ever-increasing demand in the carpet market of European countries.
As a result, you can even find high-quality Bokhara rugs for sale online, that are, to this day, intricately woven by talented craftsmen in Central Asia and exported overseas.
And guess what? You can also get the finest handmade rugs custom-made to match your uniquely-designed living room, and even shipped to your doorstep for free!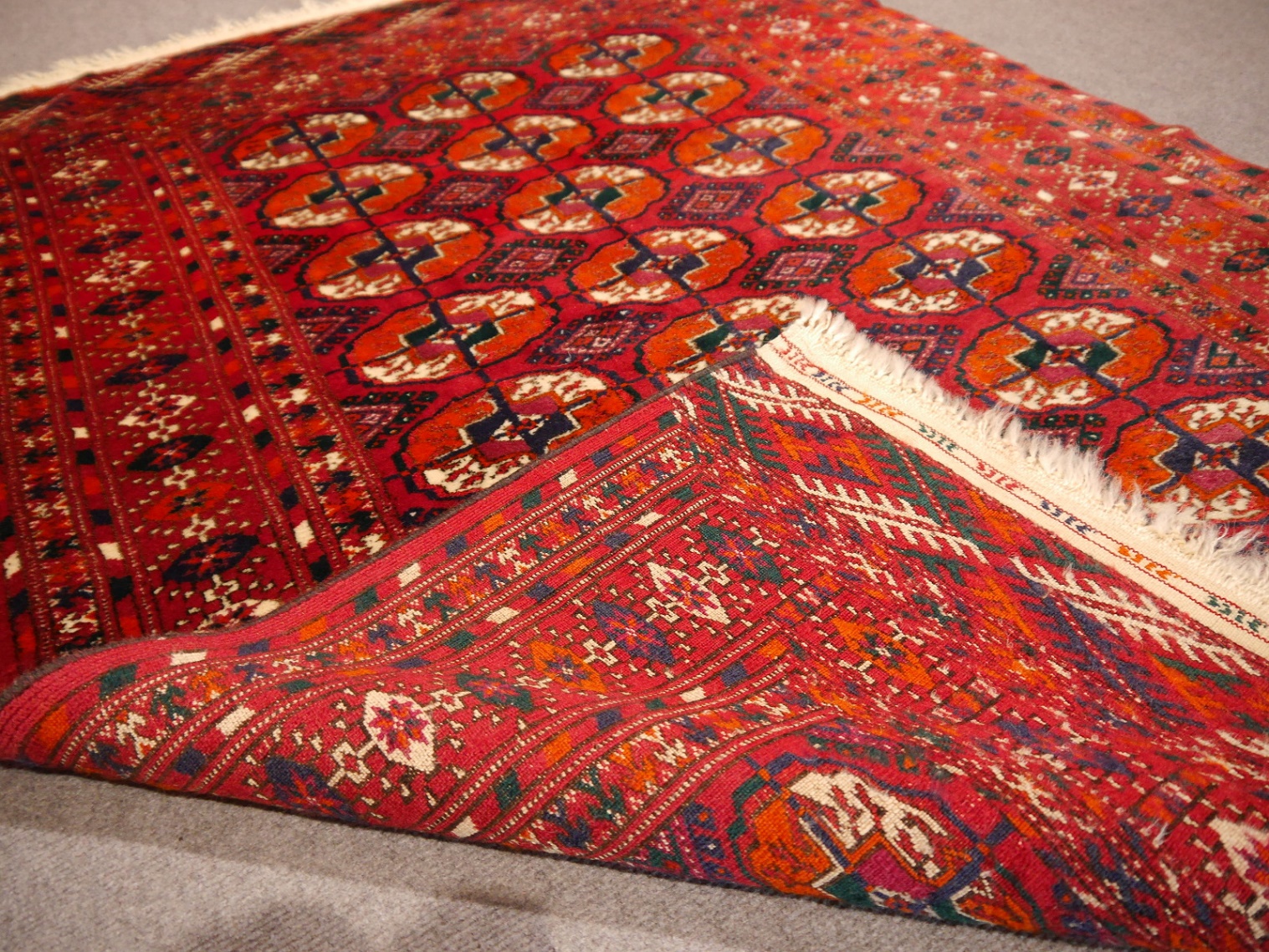 What Makes Bokhara Rugs So Irresistible?
Apart from the fact that their designs are one-of-a-kind, there are various other reasons why Bokhara rugs are so widely loved around both the Western and the Eastern hemisphere, including their luxuriousness, unmatched quality, and incredibly soft piles.
Below is a list of features that help distinguish these Tekke-faced form other Persian and Oriental handmade rugs:
Their one-of-a-kind design that's marked with distinctive patterns and idiosyncratic shapes: The symmetrical, geometrical patterns that are repeatedly woven over the complete Bokhara rug in oval or diamond-shaped motifs make them highly distinguishable. These octagon-shaped motifs are also often referred to as Elephant's foot, and are deeply symbolic and ancient. Here's what it looks like: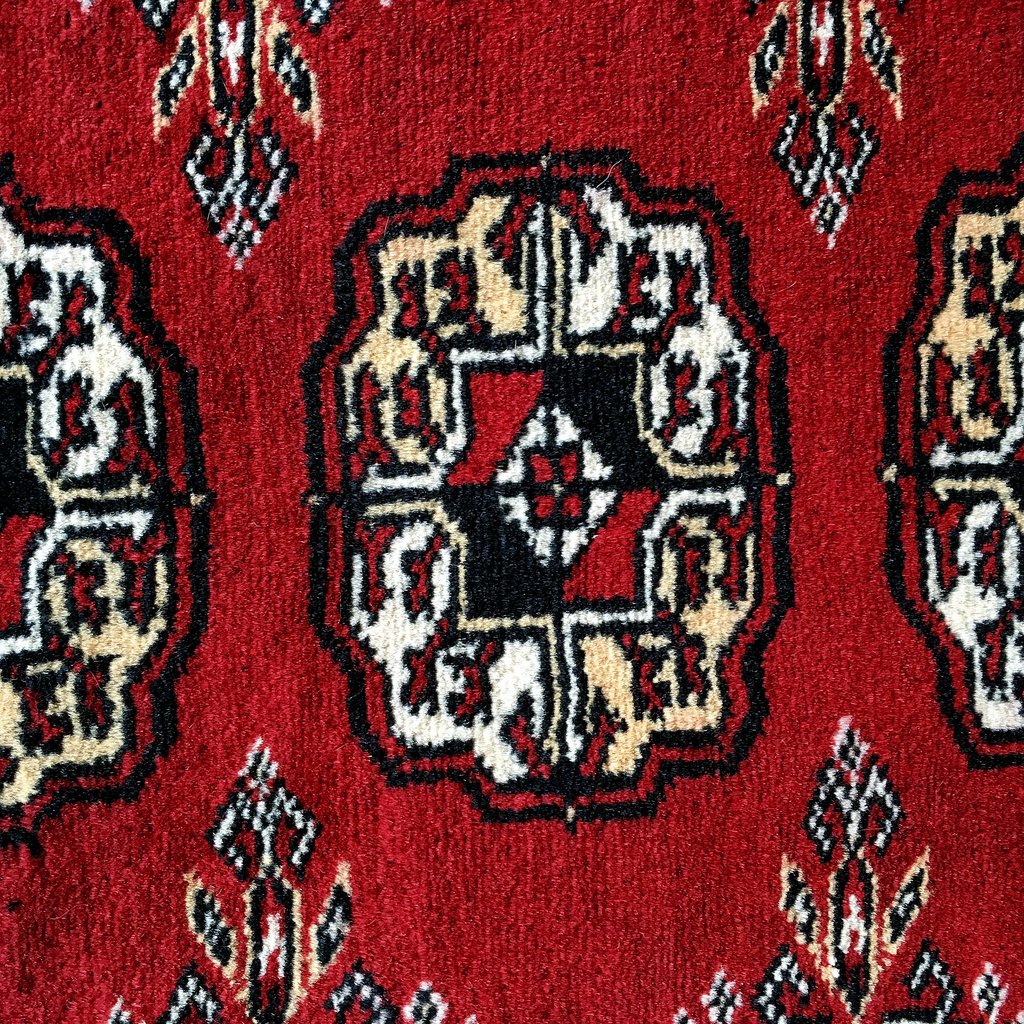 In addition to this, as far as the design patterns and shapes are concerned, they often vary when it comes to Bokhara rugs, and typically depend upon the tribe that crafts the carpet.
The fine wool used and the knotting techniques employed: High-quality wool is imported, carefully dyed, and then used to build the foundation of rugs that emanate opulence.
Moreover, Pakistani Bokhara carpets are extremely long lasting, strong, and durable, owing to the fact that they're hand-knotted by experts and feature the strong Persian knots to support the pile.
Traditional colors that are worthy of attention: Coming to the color scheming of the Bokhara rugs, it's not much different from that of other traditional handmade rugs that are crafted by professional carpet weavers from Central Asian countries.
In a sense, Bokhara rugs usually feature traditional hues that are reminiscent of the rich Eastern culture. The colors may vary from shades of classical red to vibrant green, ivory, gold rose, blue, and grey tones.
The Different Types of Bokhara Rugs
As mentioned earlier, the look, design and patterns of Bokhara rugs often vary according to the tribe that originally crafted them.
Here are some types of Bokhara carpets that can add a touch of uniqueness, paired with the warmth of unparalleled comfort, exquisiteness, and durability to your personal space:
Salor Bokhara Rugs: Originally crafted by the Salor tribe, whose people inhibited the land near the Northern Afghan border, these skillfully hand-knotted Bokhara rugs exude magnificence like nothing else.Typically red in color, the Salor Bokhara rugs feature rows of octagonal or diamond-shaped motifs, with around one to three flowers inside the geometrical shapes.
Tekke Bokhara Rugs: The most popular and immensely valued Bokhara rugs, the Tekke-face rugs, are further divided into two different types, namely the Princess Bokhara rugs, and the Royal Bokhara rugs.
Princess Bokhara Rugs (prayer rugs): Used majorly for religious purposes by Muslims in the Holy city of Mecca, Saudi Arabia, these extravagant rugs hold cultural importance and are more distinct as compared to the Royal Bokhara rugs. What makes them so special is the image of the Qibla Wall that's often woven onto their plush wool fabric.
Royal Bokhara Rugs (non-prayer rugs): Featuring a style often referred to as the 'windowpane design', the Royal Bokhara rugs often contain small diamond motifs combined with multiple rows of octagons that are joined horizontally and vertically.
Yomud Bokhara Rugs: Named after the Yomud tribe that inhibited a large part of Central Asia, the Yomud Bokhara rugs resemble Caucasian design, featuring deeply red dyed wool that's woven by expert craftsmen with either Turkish or Persian knots.
Ersari Bokhara Rugs: These feature softer red hues as compared to other Bokhara rug types mentioned above. Also, the octagon-shaped motifs on these rugs are smaller in size and outlined with intricate floral patterns which gives the rugs a more elegant appeal.
Although handmade rugs can never go wrong, yet the most luxurious and exclusively hand-knotted Pakistani Bokhara rugs are those crafted by the extremely talented Pakistani craftsmen who've devoted their lives to the art of weaving beautiful spells out of finest-quality wool.
So, do you want to turn your floor into an embodiment of folklores? Order your handmade Pakistani Bokhara rug online!
Or, you can also get a rug of any shape, size, style, design, or color customized explicitly for your special living space.
Now that you're well acquainted with the features of Bokhara rugs and why they're so sought after among rug lovers, let's move on to the décor tips and techniques.
How to Decorate Using a Traditional Handmade Bokhara?
The trick to mixing modern and traditional décor is following a color scheme and keeping the look 'balanced'.
As we've already discussed above, Bokhara rugs have an inherently traditional appeal, featuring ancient motifs and bold hues such as the classical red, vibrant green and blue.
Which is why, when it comes to decorating a modern home, nearly no one thinks of buying a Bokhara. Rather, homeowners go for modern and contemporary rugs that are, although beautiful, often unremarkable and not as exquisite as a traditional handmade floor covering.
The fact is, creating a transitional décor look isn't everyone's piece of cake. Only a professional interior decorator can guide you on how to make a Bokhara rug blend in with contemporary décor.
Here are some expert tips on decorating with a fine handmade Bokhara rug:
Place a red Bokhara rug underneath subtle hued sofas. Complete the look with a wooden center table and add in some red patterned cushions.
For a soft, minimalistic décor that exudes a traditional charm, go for an ivory Bokhara rug and pair it up with neutral colored sofas and dark wooden furnishings. Cap off the look with a couple of indoor plants.
Make your dining room more appealing with a large Pakistani Bokhara rug placed underneath the dining table. Note that the shape of your rug should be similar to that of the table.
Use a classic red Bokhara runner rug in the entrance hallway for a traditional oomph that depicts your unique aesthetics.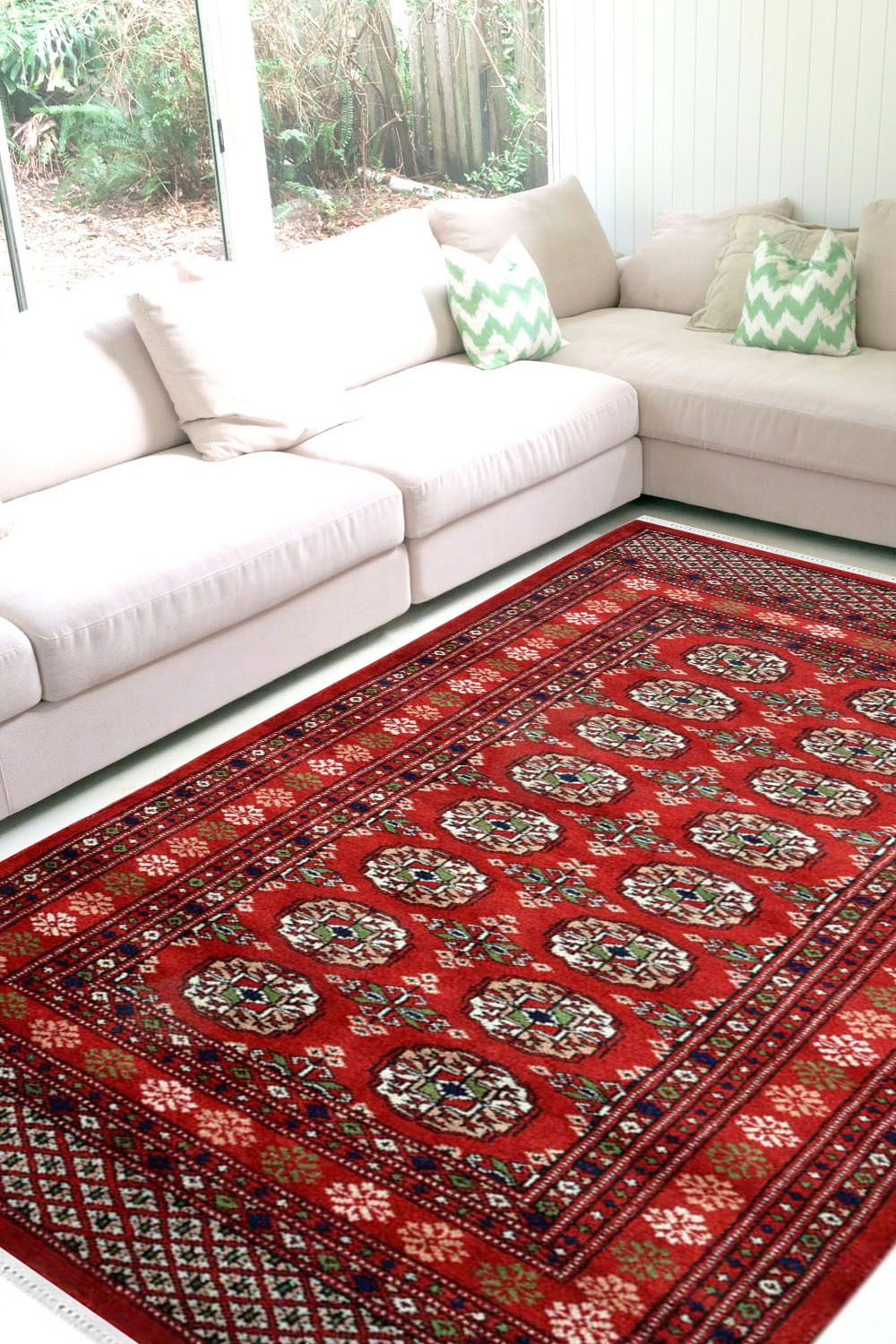 Whenever decorating with a traditional carpet, just remember to follow a theme and color scheme to keep the décor intact.
Also, if you're choosing a bold décor item, such as a red Bokhara rug, it's important to maintain a balance by pairing it up with neutral furnishings, plain textures, and soft hues.
The color red, when used in home interior, can give off a warm and earthy vibe as long as things are kept in balance. Add too much of it and your living room may go from welcoming to unbearably dramatic.
Lastly, when you're investing in an expensive handmade Bokhara rug, don't let it get ruined due to inappropriate handling.
In a sense, placing your handmade rug in a high-traffic area, or exposing it to direct sunlight for a prolonged time period can result in early deterioration of rug fibers and color fading.
Additionally, if you're not cleaning your rug with a vacuum cleaner at least 2-3 times per week, keeping it away from moisture, or getting is professionally deep cleaned once a year, the artifact may start wearing off sooner than expected.
So, if you are buying a handmade Bokhara rug, make sure it's authentic and don't forget to follow a proper rug cleaning routine.
By - 18 Feb 2020