Prayer Handmade Rugs
Handmade rugs have been in use for centuries. Among many other domestic purposes, rugs have been used for praying by both the Muslims and the Christian community. Today, however, Prayer rugs mostly have an Islamic theme, with symbolic imagery and traditional geometric patterns.
Our prayer rugs for sale are sourced directly from Pakistan, Iran, and Afghanistan. The rugs are 100% handmade and crafted using the highest quality wool and cotton. For prayer rugs that are more luxurious and magnificent, silk threads are also used.
We feature high-quality prayer rugs that are comfortable and soft. Besides, they feature beautiful geometric patterns and shapes like Islamic landmarks. To make sure we have something for everyone, we own a large collection of Islamic prayer rugs in various thicknesses, colors, and styles. For example, for the elderly suffering from knee problems, you can choose the prayer carpets with more padding or a high-pile. Choose from plush prayer rugs, child prayer rugs, and multi-person Mosque carpets. Buy a prayer rug of your choice now!
Rugs By Design: Prayer
3 results. Displaying 1 to 3.
sale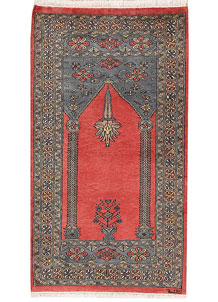 sale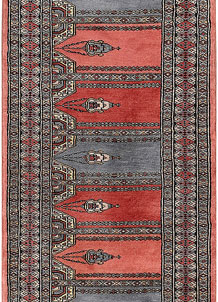 sale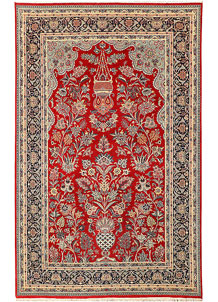 Prayer Rugs for Sale Online
"And when My servants ask you, [O Muhammad], concerning Me - indeed I am near. I respond to the invocation of the supplicant when he calls upon Me"
May the mighty Allah grant your all wishes!
Prayer helps us connect to the mighty Allah. One should be focused, comfortable and clean while performing Salah (Namaz). And we make sure our high-quality prayer rugs ensure these things for the prayers without interruptions.
SHOP HIGH-QUALITY PRAYER RUGS ONLINE NOW!
Made from high-quality materials, our prayer rugs are made according to the Islamic principles set for a prayer rug.
Prayer Rugs—A Symbol of Faith and Communion with the Allah
Prayer rug, as the name suggests, is a piece of fabric which is used while offering prayer. Muslims place them on the ground for ensuring "cleanliness" while offering prayers in various positions like sitting and prostration. The Arabic word for a prayer rug is "Sajada".
A prayer rug features attractive geometric patterns and shapes which are sometimes accompanied by images like Islamic landmarks, such as the Kaaba.
The use of animate objects on prayer rugs is forbidden in Islam. However, some prayer rugs made in villages or tribes feature the images of male figures and horses due to sheer ignorance.
The image of the mosque's mirab is pointed to the direction of the Islamic center for prayer, Mecca.
Prayer rugs also feature other religious symbols that remind the worshiper of some important things. For example, the lamps of mosques, and the comb, and water pitcher remind them to wash their hands and comb their beard before prayer. Generally, Caucasian rugs feature stylized hands on both sides of the mihrab to show where the hands are placed during prayer.
Prayer rugs were woven during the 19th century in the Caucasus Mountains, Turkey, Persia and across the Islamic world.
A prayer rug carries a strong symbolic meaning and should be taken care of in a holy manner. It shouldn't be placed in a dirty location or thrown away disrespectfully. 
A prayer rug is usually smaller in size for convenience during travel.
However, the size may vary based on practical necessity during kneeling and prostrate. Each member of the family has their own carpet. In the mosques, the prayer carpets are big enough to accommodate 30-40 people one time.
WHY SHOP PRAYER RUGS ONLINE AT QALEEN?
Strict Measures Applied on Designs and Manufacturing:
We understand that a prayer rug is a highly revered and "sensitive" from the religious viewpoint. That's why we sell the prayer rugs that are made according to the Islamic principles. We make sure our rugs contain no animated objects and have religious symbols as prescribed by Islam.
In All Sizes:
We have small and compact prayer rugs for families and individuals. We also provide prayer rugs for large gatherings like those at the Mosque.
Low Prices:
You don't need to go beyond your budget while shopping prayer rugs online at QALEEN. Our prices are reasonable plus you get huge discounts on them.
Quick Customer Service:
Do you have any query regarding the rugs, buying or delivery? You can call us anytime at +1.800.994.8440 to get your queries resolved.
100% Handmade Rugs:
In this machine age, we still believe in the age-old manual process of rug manufacturing. This is because handmade rugs feature details, quality, and aesthetics as they are made by the skilled artist.
No Question Return Policy:
Want to return us the rug? Do it freely as we have no question return and refund policy.
Free US & International Shipping:
Get your favorite rug delivered anywhere in the world free! Free shipping on all orders!