Buying a new handmade Bakhtiar rug for your home?
That's a great idea!
Bakhtiar carpets feature the popular paneled-garden design that is divided into panels or compartments containing motifs that are repeated all over the rug surface.
Adding a Bakhtiar rug to your space can be a great way of making the entire décor pop-up with lively hues and enticing traditional design patterns. You can pair up this traditional rug with almost all kinds of furnishings and décor themes. However, to make it actually stand out, check out the rug décor tips we've shared below!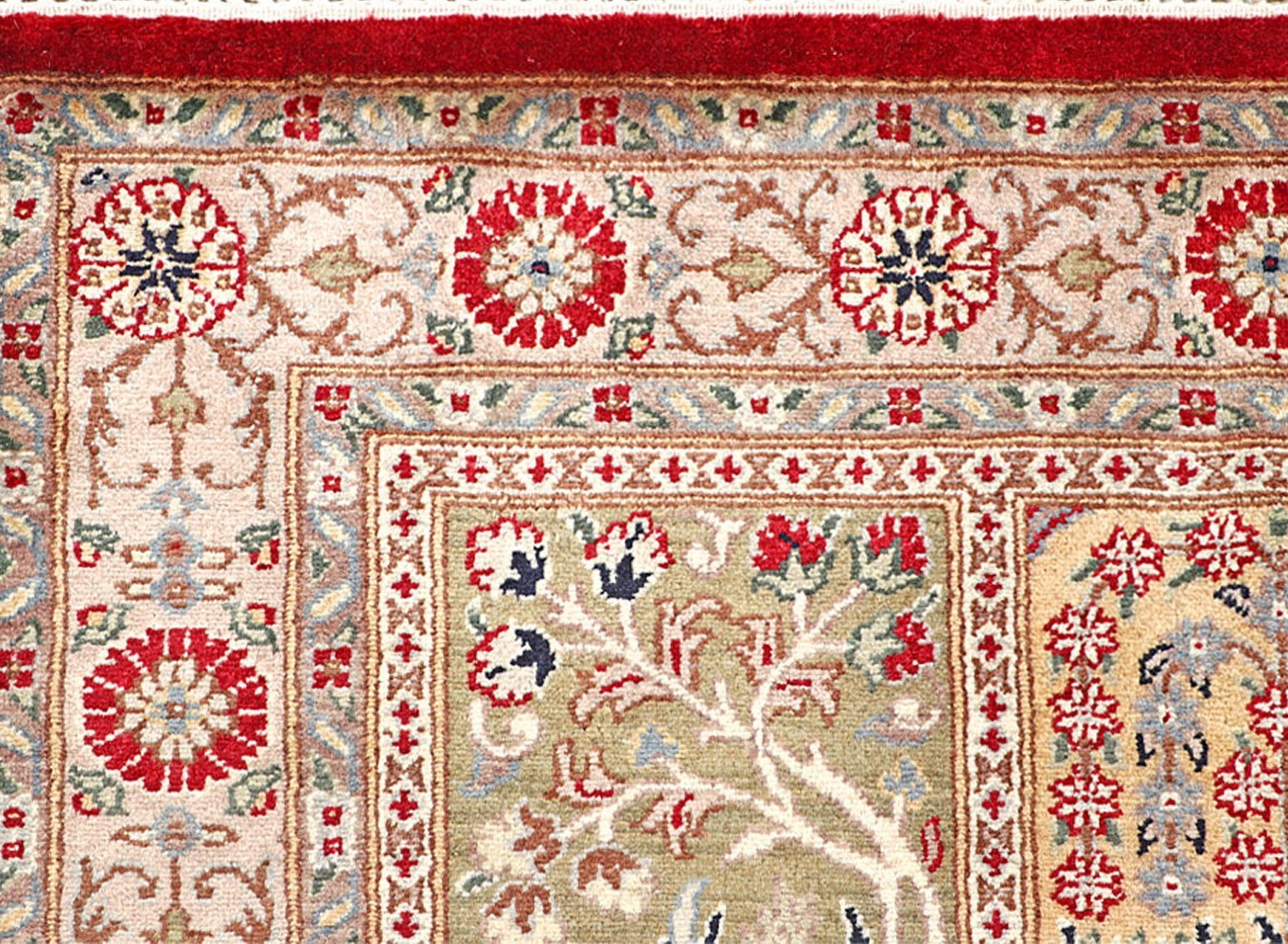 Bakhtiar Rug Décor Tips and Tricks You Need to Know
Crafted for the very first time by Bakhtiar nomads who inhibited the Zagros mountains around the city named Shahr-e-Kurd. The Bakhtiars mostly spoke Persian or the Lori dialect. They wore wide pants, round shaped big hats, and a short tunic.
Rugs that originated as floor cloths to be used for domestic purposes in the Bakhtiar households featured traditional patterns and symbolic designs. Animal imagery and floral motifs are one of the significant features of handmade Bakhtiar rugs.
A popular pattern known as the Khesti or garden motif is also quite common in Bakhtiar rugs.
Moreover, you'd notice the design patterns of these carpets to be divided into separate compartments. This design is symbolic of the Persian garden and highly influenced by the design patterns of Isfahan rugs.
What makes Bakhtiar rugs for sale a great choice is their durability and longevity. Although all handmade rugs are known to be highly strong and long-lasting, Bakhtiar rugs are in a league of their own. That's because they're made using thick wool, hence their rate of deterioration is significantly lower than other Persian and Oriental rugs.
Anyhow, the quality and looks of a Bakhtiar rug vary from carpet to carpet. There are variations not only in design patterns but also the type of wool used and the fineness of weaving.
Whichever Bakhtiar rug you may choose, if you're buying online from a trusted rug seller, your rug would undoubtedly be durable, long-lasting, and of premium quality.
After you've brought home the perfect Bakhtiar rug, here are some ways of decorating your space with it:
1. Try Out the Latest Rug Layering Trend
Bakhtiar rugs have a unique design pattern that's traditional to its very core. The most distinguishing feature of these carpets, however, is their bright and colorful hues.
Like all other handmade rugs and carpets – Pakistani rugs, tribal rugs, Modern handmade rugs, etc. – Bakhtiar rugs are made using naturally dyed wool. The natural pigments are often brighter than synthetic ones, and they don't fade easily. Which means, your Bakhtiar rug would stay in its original form for years on end!
Placing a Bakhtiar in an already brightly decorated space can be a wrong decision.
But would you have to change all your existing furnishings for a rug?
Here's a solution if the rug's too bright for your current décor:
Layer it up with a plain, neutral toned rug.
This rug décor trick can also come in handy when the rug you purchased is 'too small' for your place. Simply layer it over a larger sisal, jute, or flatweave wool rug and complete your décor look with style!
Pro tip: While layering two or more wool rugs, make sure the rugs below the top one are either flatweave or low-pile. Also, layer up your rugs in a manner so that they don't become a tripping hazard.
2. Make it the 'Focal-Point' of Your Décor
Whether you're placing the Bakhtiar rug in your bedroom, living room, or kitchen, it's popping design patterns and lively colors can easily become the main point of focus in your entire décor.
For instance, you can go with plain walls, minimal furniture, and neutral tones in the rest of your décor. Or simply pick one color from your chosen Bakhtiar rug and repeat it around the room.
3. Place Bakhtiar Runner Rugs in Narrow Spaces
Runners can work really well when it comes to uplifting the look of narrow hallways and cramped up places. And if it's a brightly colored runner such as a Bakhtiar runner rug that you may have purchased online, it can work wonders!
Place it in the middle of your entrance hallways, in the kitchen, inside a walk-in closet, or in front of your bed to create a unique décor look!
4. Use an Antique Bakhtiar Rug as a Wall Hanging
What's better than a handmade rug? An antique handmade rug!
And since these rugs are highly expensive, hanging them on a plain wall sounds like the perfect idea!
Choose an exquisite handmade antique Bakhtiar rug and hang it on a plain wall in your living room, entrance, or bedroom.
The best part about this décor trick is that you won't have to worry about keeping the expensive rug safe from spills. Plus, there's no need to vacuum clean it every other week!
All in all, a handmade Bakhtiar rug can be used in many ways to create a unique décor look that won't ever go out of style!
Lastly, when you're buying a Bakhtiar carpet on sale, don't forget to keep it safe from the 7 things that can destroy your handmade wool rug.
By - 22 Mar 2021