No matter which décor trend you're following, a room without a rug is a big no!
More than just adding a touch of comfort, warmth, and liveliness, the presence of a rug can complete your entire décor.
But the question is, what style of rug should you buy?
If you wish to keep your décor look traditional yet enticingly unique and enthralling, an exquisite handmade Ardibil rug is just what you should go for!
How to decorate with a traditional rug?
Read on for some expert tips by interior designers!
12 Ways of Decorating with Handmade Rugs
All homeowners love a good rug. And for those who're more into making investments and bringing home luxurious décor items, there's nothing better than the magnificent aura exuded by handmade rugs.
But when you're decorating with an expensive floorcovering such as a handmade Ardibil rug or a Persian carpet, it's best to make sure that your new décor piece shines the brightest among all else in the room.
Here are 12 unique, creative, and modern ways of decorating with a traditional handmade rug:
Rugs are meant to complete your entire décor look by bringing together all the furniture items and making the space appear 'anchored' and 'well-put together'.
When choosing a rug, make sure you buy the right size and shape for your room, and create a focal point with it by placing your rug in the very center of the room.
Don't forget to align your furniture perfectly along the rug by either placing it entirely over the rug's surface, or partly over it.
A lot of homeowners often make the mistake of wrongly choosing a smaller rug than needed.
If you've also made this mistake, it can be easily corrected with the latest rug layering trend.
All you need to do is bring home a larger rug and place it underneath the smaller one to keep things in balance.
However, make sure that the colors and designs of both the rug blend in well with each other as well as with the rest of your décor. For instance, if the smaller one is an Ardibil rug, you can go for a larger jute rug or a plain beige colored rug to place underneath it.
Transitional décor is all anyone is talking about in 2021!
It's the art of mixing up two different décor styles – modern and traditional – that would help lift up your interiors while making sure none of your guest ever forget the magnificence that our living room exuded.
The easiest way of creating a transitional décor look is by bringing in a traditional rug, such as a tribal floor covering or a Baluchi rug, and pairing it up with minimalistic furnishings and plain modern furniture.
It's easy to create a minimalistic décor look with modern and contemporary rugs, but traditional rugs can sometimes be hard to play with.
If minimalism is what you desire, pick a subtle hued and lightly patterned handmade rug, such as a Chobi Ziegler rug or a Pakistani rug and pair it up with light-toned furniture.
Add in some colorful cushions and a life-sized wall painting to spice up the look.
Color schemes are the first thing that comes to mind when one thinks of interior décor. And the best part about purchasing handmade rugs is that there is a wide range of colors to choose from.
You can go for the classical red, shades of green, earthy tones such as beige and grey, blues, off-white, and a whole lot of other options.
Want to create a unique color theme?
Choose a bold colored rug and pair it up with off-white, beige, white, or any other light-colored furniture and furnishings.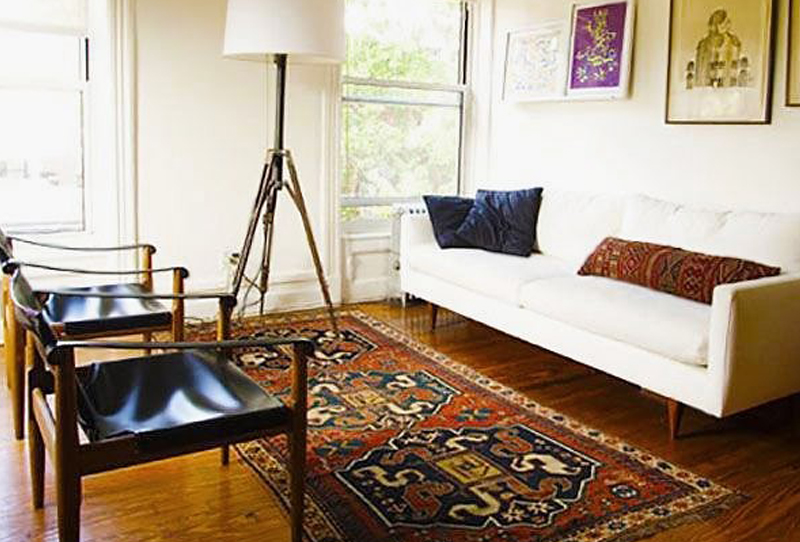 Are your sofas, walls, and flooring all really plain and simple?
Add some texture and life to the room with a boldly patterned rug, such as a tribal rug or a handmade Ardibil rug.
Doing so won't just help bring it some colors to the space, but it would also make your room appear more welcoming and your décor more noticeable.
Round Ardibil rugs look great when placed in the entrance or under a small circular dining table.
Unlike plain rectangular handmade rugs, round rugs add a more playful look to the space and stand out among the rest of your décor.
When decorating with traditional handmade rugs, it's easy to create a boho-chic look by bringing in lots of indoor plants and wicker furniture.
You can even add a jute rug under the traditional one for a more 'natural' appeal.
Did you know a handmade rug can even be used as a wall hanging?
If your rug is an heirloom or an expensive antique piece you just bought, decorate a wall with it!
This style is plain, simple, easy to do, and would make your entire décor pop up with colors! Plus, you won't have to worry about your antique handmade rug getting damaged due to high foot traffic, heavy furniture, or pet hair.
So, if you wish to uplift your home interiors, a traditional rug such as a handmade Ardibil rug is just what you need! Follow the style tips above and make a statement!
By - 01 Feb 2021