Want to try a new design approach that isn't just typically modern or plain old-school?
Consider creating a contemporary look that's fused with a bit of traditional warmth and cultural hues!
Let's discuss some amazing ideas for interior décor that radiates elegance, sophistication, and magnificence without being too overwhelming.
A Transitional Style that Stands Out
Having a home that's styled traditionally but with a bit of fun, modern flair, is the dream of every homeowner nowadays.
Here are some décor tips that'll make your guests gasp in awe, being unable to take away their eyes from your ultra-modern furniture and that beautiful handmade Oriental rug which adorns your floor:
1. Spice Up the Minimalist Look with a Tribal rug
Mixing decorating styles can be quite easy if you know some easy tricks of creating a unique look.
For our first tip, combining minimalistic furnishings with a traditional centerpiece can look incredibly great. Using this technique would help you create a look that's sophisticated but with a touch of traditional magnificence.
Don't want the 'traditional' part to be too overbearing, just buy a handmade tribal rug online, or invest in an Afghani Kilim to keep the décor basic yet inspiring.
Also, handmade tribal floor coverings, such as a Baluchi rug in the shades of classic red can blend in with almost all kinds of furnishings – from wooden flooring to tiles or even marble.
2. Create a Welcoming Ambience with Wool Rugs
What makes a room feel more traditional or modern is how the furniture is placed, as well as the interior decor items that you add to complete the look.
For instance, if your house is currently designed in a modern style, with lots of clean, straight lines, and without much intricate details, try adding a bit of warmth and coziness to the space with a handwoven wool rug.
A premium quality Pakistani wool rug could be a great choice. That's because Pakistani carpets are available in a lot of different sizes, colors, shapes and styles, and it's quite easy to pick one that perfectly complements your existing décor.
3. Go Neutral with a Color Splash on the Floor
Want to create a look that's subtly unique yet connected with the rich cultural heritage of East?
Go with a neutral décor – cream or grey sofas and plain, light-colored curtains, then make the room pop-up with a traditional Bokhara rug to create a look that is simple and effortless, yet out of the ordinary.
Or, if you want to make your living room look bigger, brighter, and more spacious, go for a soft-toned antique Ziegler area rug with intricate floral patterns and beautiful, subtle hues.
4. Mix Up Traditional Furnishings with a Modern Rug
Got sofas that have more traditional elements, with a classic shape and tapered wood legs? That doesn't mean you can't make your living room look like a confluence of traditional and contemporary styles.
Work out a theme for your space and choose a modern rug of the right size, shape and color so that your décor comes together in an ideal manner, without feeling too patchy or uneven.
You can also get a rug custom-designed online so that it flawlessly matches your existing interior décor.
5. Fuse Geometric Patterns and Contemporary Furniture
If you're combining two different styles, it's best to choose a unifying pattern that can help bring the room together so that the décor doesn't appear scattered.
For instance, with contemporary, modern furniture, you can use an antique rug that features geometric patterns, and further add some patterned cushions on your sofas to create a unifying look.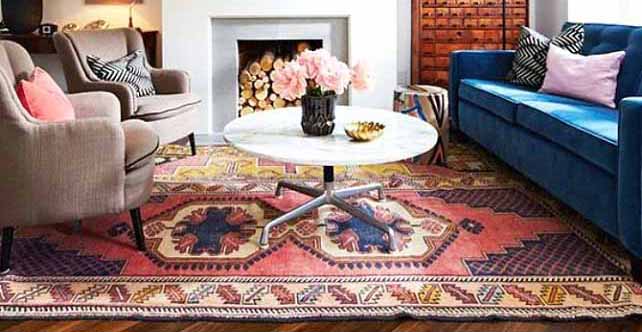 6. Go for a Bright and Glamorous Look
When mixing up styles, avoid adding too much furniture or a lot of different colors in one room, because doing so can make the space feel cluttered.
Instead, create a bright, glamorous look with traditional furnishings, minimalist furniture, and an Oushak rug in earthly tones.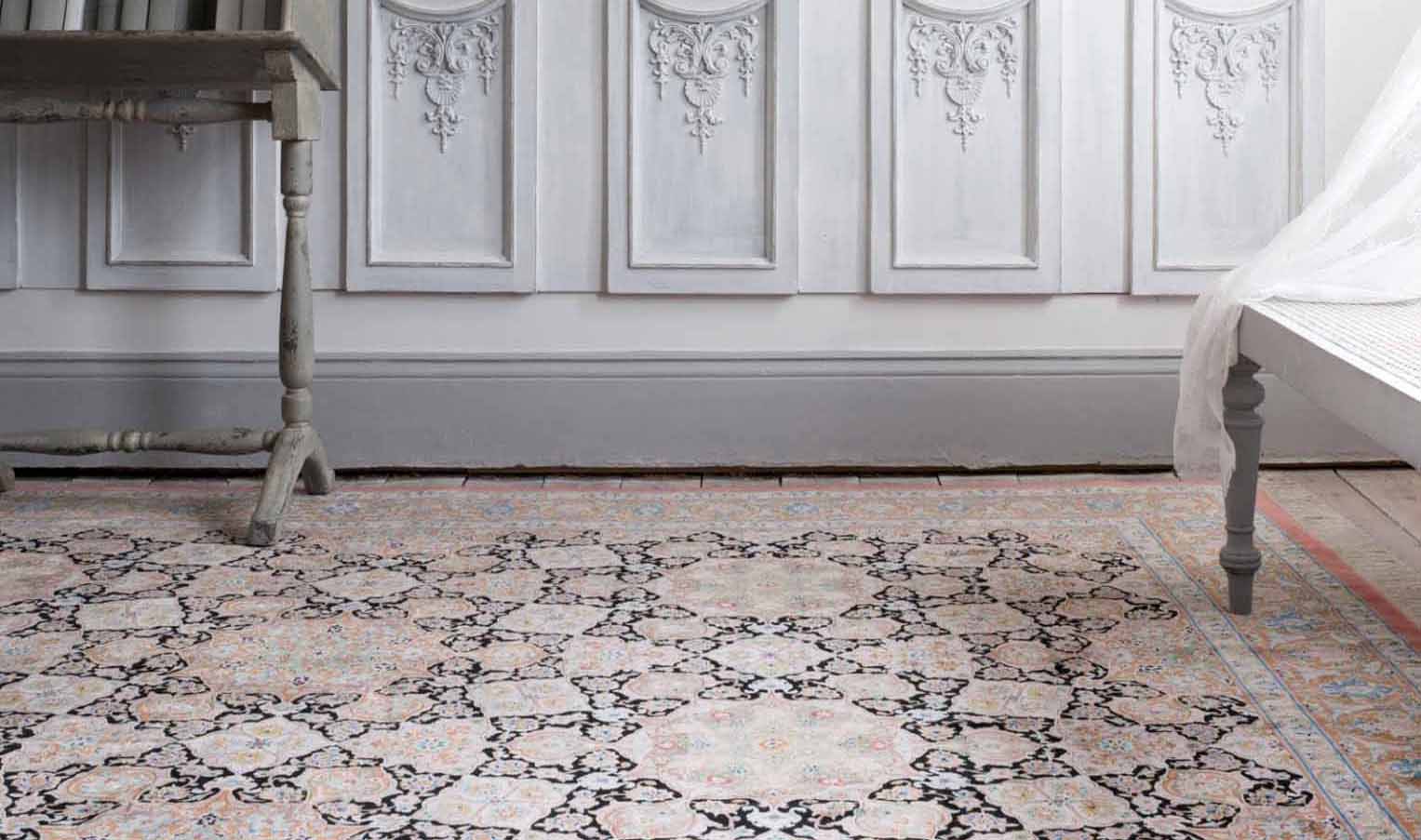 You can also create a balance between modern and traditional by adding a magnificent and unique décor item, such as a classic piano, an alluring, bold stool, and a basic, modern floor covering.
7. Make a Traditional Piece Standout Amidst Modern Furnishings
Do you happen to own a traditional décor item that seems too different from all of your other furniture? Well, don't hide it, instead make the oddball a focal point in your interior.
For instance, if you've invested in a Kazak handmade rug while the rest of your décor is quite ultra-modern, don't hesitate to throw that floor covering in the center of your living room floor and make it grab all the attention that it deserves!
8. Bonus Tip: Always Go with a Theme
Remember that décor is all about displaying your personality out there. You don't need to follow any hard and fast rules and can make everything feel uniquely yours.
However, to keep it all balanced, it's important to follow a theme and avoid making the space look cluttered and the décor items disconnected.
You can easily bring the room's elements together by using the same kind of fabric, a unifying pattern, or something in the color scheme.
Just play with your surroundings to find out what works best. And in case it seems too hard, go for the simple technique of adding an eye-catching rug to create a unique look!
By - 24 Apr 2020