Traditional handmade rugs are often available in a wide range of unique designs.
No wonder picking the perfect rug is so hard!
Anyways, traditional butterfly rugs on sale are always a safe option to go for when confused and mesmerized by the numerous rug options.
But even after you've chosen a rug style, it's not that easy to pick the perfect rug.
We've some great rug buying tips to share!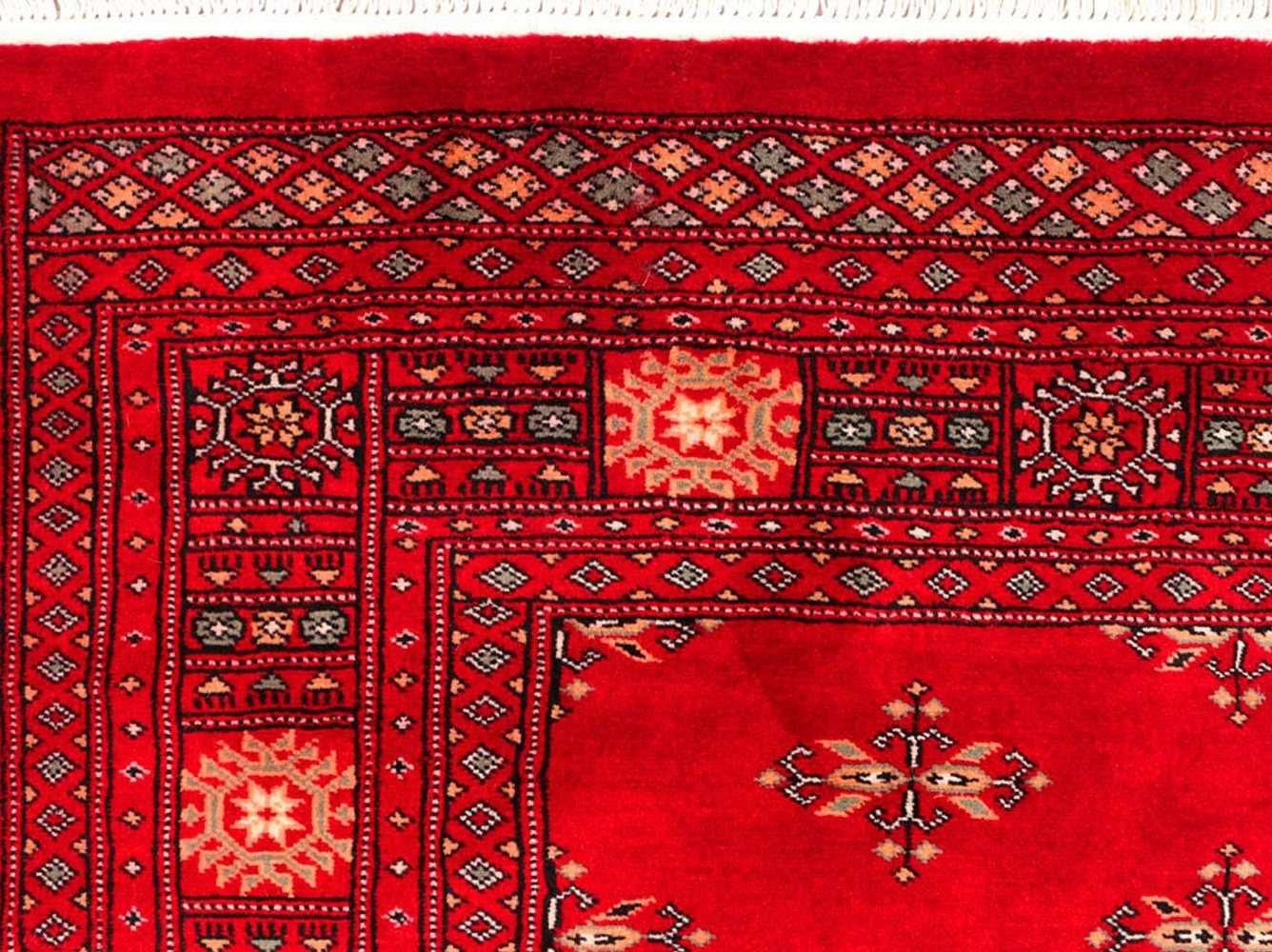 About Handmade Butterfly Rugs
Crafted initially by the weavers of Turkmen tribes for domestic purposes, Butterfly handmade rugs are quite similar to Bokhara carpets in terms of motif placements.
However, unlike a Bokhara rug, the traditional 'elephant foot' motif isn't incorporated in Butterfly rugs. Rather these rugs feature geometrical butterfly motifs that're placed in a symmetrical manner all over the rug. A border with similar geometric patterns is added to enhance the overall symmetry.
Butterflies represent beauty and transformation in the tribal culture. In the early days adding a rug filled with butterfly symbols to your home indicated vanity.
Owing to their inspiring butterfly symbols and the magnificent design patterns, these carpets are popular both in the Eastern as well as the Western hemisphere.
Today, premium quality handmade butterfly rugs are crafted by skilled weavers in various South Asian countries including Afghanistan, Pakistan, and Iran.
Buying a Butterfly rug for your living room?
Don't mess up the investment you're making and follow these steps below:
1. Always Buy from a Trusted Rug Dealer
No matter what style of handmade rug you're purchasing, finding a trusted rug dealer is a must!
Why?
That's because spams are common in the handmade rug market!
A trusted rug dealer would always sell you 100% authentic handmade rugs of the finest quality even if you make the purchase online.
Plus, if you chosen rug seller is reliable, they may even offer you a return and exchange policy. In this way, you'd know for sure that your money won't go to waste even if the rug turns out to be 'too small' or not the right shade. You can simply return it, or exchange the item with a different one.
Also, if you're buying online, the best handmade rugs store would likely offer free shipping as well.
2. Check to Make Sure the Rug is 100% Handmade
Even after you've chosen the right rug store, how can you be sure that the butterfly rug is 100% handmade?
Check the rug for these signs:
The fringe of a handmade rug forms naturally during the weaving process and is a part of the rug. While machine-made rugs have a fringe that's either swen on or glued with the rug.
Handmade butterfly rugs may have minor errors in their pattern, which adds to the beauty of the rug and is a proof of the artifact being hand-crafted.
The geometrical patterns would have straight lines and no curves.
Check the underside of the rug, if the weaving and knots aren't uniform, the rug is handmade.
You may also notice slight variations in colors of a handmade rug, since the wool used is manually dyed with natural pigments.
In addition to these signs, it's important to make sure that you're not confusing a handmade rug with a hand-tufted one. Although they may have slight differences, hand-tufted rugs are way easier to make and cheaper as well since they're crafted using a tufting gun.
Again, if the first step is done right, you won't have to worry about the quality and authenticity of the handmade butterfly rug on sale that you're buying!
3. Go for High-Quality Materials
Handmade butterfly rugs on sale are mostly made using wool and cotton. You may even find expensive versions made of silk combined with wool.
If the rug you're purchasing is made by artisans from Pakistan, there's no doubt that the materials would be of premium quality and 100% natural.
Which means, the rug would retain its original shape for years on end. That's because high-quality wool rugs are extremely durable. Plus, they can easily withstand high foot-traffic and the weight of heavy furniture.
4. Is the Wool Naturally Dyed?
Ask your chosen rug seller about their rug dyes and the dyeing process.
To this day, handmade rugs of all types, including butterfly rugs, Caucasian carpets, Persian rugs, and even the handmade modern rugs are crafted using wool that's naturally dyed.
The pigments used in the dyeing process are extracted from plants and vegetables, just like they were in the early days.
Owing to this, any butterfly handmade rug that you may buy won't bleed at all. Plus, the colors would only fade if the rug is placed under direct sunlight, and the fading won't be as dramatic as in the case of a machine-made rug.
5. Choose the Right Colors, Shape and Size of Rug
Choosing the perfect rug means getting a floorcovering that would blend in well with your existing décor.
We'd recommend you to keep your current décor theme, colors, and style in view while you pick a butterfly rug on sale.
For instance, if the rest of your décor is in bold colors, going for earthy tones in the rug may be the best options. On the other hand, if the room is plain and boring, it's best to add a splash of color with a butterfly rug in the shades of classical red, teal blue, green, tangerine, etc.
Additionally, don't forget to measure the dimensions of the room carefully before ordering your rug. A rug's size can make or break your décor.
What's the key to getting the perfect rug size?
Get one that's big enough to incorporate all the major furniture items in your room over it, including the sofas, center table, and chairs (if any).
That's all!
Buy the perfect butterfly rug on sale now and spice up your interiors in the most unique way possible!
By - 02 Mar 2021