Buying a new handmade rug for your home?
Haven't picked the 'perfect' color yet?
You're not the only one who's confused!
When purchasing rugs for your home, there's always so much to keep in consideration. From your new rug's material to the design patterns, the style, shape, size, color themes, weaving techniques, and other stuff.
But if you just can't handle all the rug-buying anxiety, here's a tip:
Buy a blue color handmade rug!
Influence and Psychological Effects of the Color Blue
Blue is often the go-to theme color for living rooms, bedrooms, and even office interiors, and there are many reasons why.
Firstly, it makes the surroundings appear calm and cool. Whether you've picked a blue color handmade rug for the room, chosen blue sofas, or just painted one of the walls in the lighter shade of blue, this particular hue would add a serene effect to the entire space.
Since the color blue is associated with tranquility and peace, many interior designers recommend using it especially in your bedroom décor, because that's the room where you go to peacefully lie down after a tiring day at work.
Additionally, if you face problems managing your stress and anxiety, a touch of blue in the living room can go a long way. Add in some bright sunny yellow-colored cushions and a life-sized lively painting to the room and stay refreshed during all your family get-togethers!
To sum it up, go for blue interiors and décor items if you want your personal space to give off a relaxing vibe. All shades of the color blue, from sky blue to sea blue and even the bold and striking royal blue can spice up your interiors with a touch of elegance, sophistication, and charming simplicity.
With a blue handmade rug adorning your floors, you'd always feel refreshed yet clamed and relaxed whenever in the room!
How to Decorate with a Blue Color Handmade Rug?
When it comes to choosing a handmade rug color, blue can NEVER go wrong, and we've got proof to share!
Here're 10 interior décor looks with a blue colored rug for you to get some inspiration:
1. Beige and Blue Geometric Rug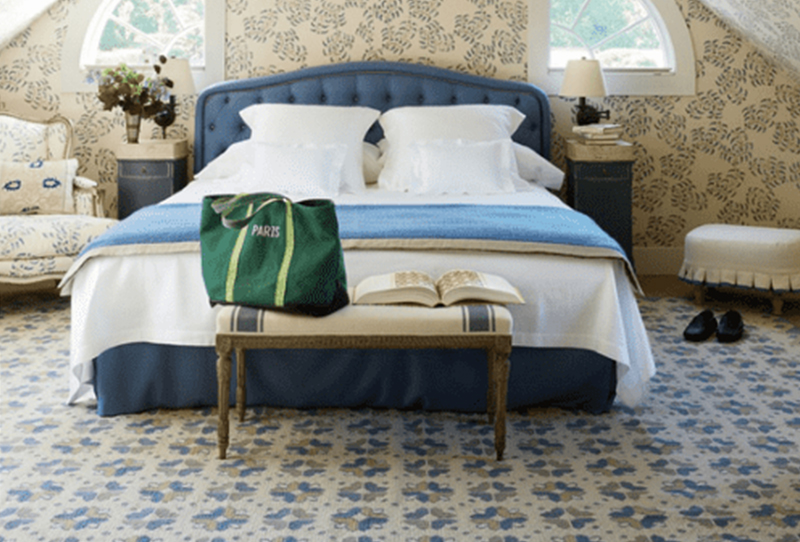 This is an image of the guest bedroom in Emilia Fanjul Pfeifler's Locust Valley New York home. We love how she created a calm look with the blue and beige geometric rug, and paired it up with a similar colored wall paper. Lots of daylight and color blue is always the best combination to wake up to!
2. Oriental Floral Pattern Blue Rug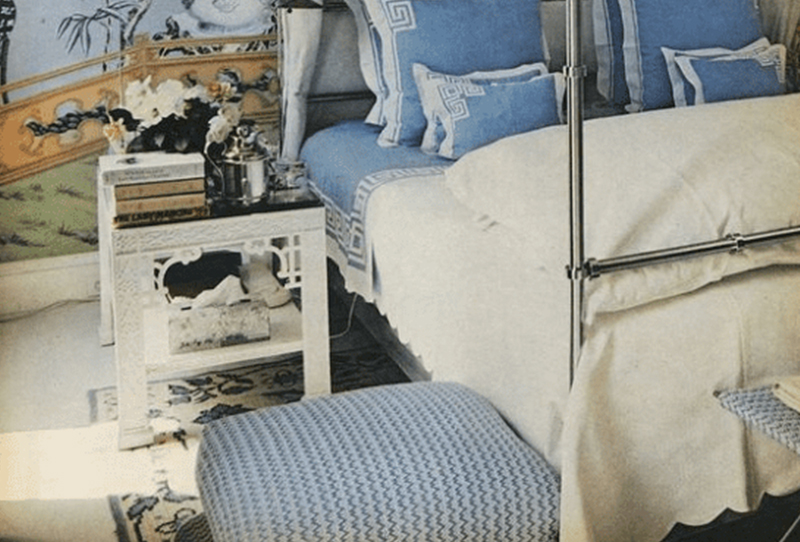 Although the rug isn't much visible, if you look closely you can see the beige colored rug with a floral blue pattern on it. It's definitely a premium quality handmade Oriental rug that Oscar de la Renta chose for his bedroom in Manhattan.
3. Off-White and Dark Blue Oversized Area Rug
The metal and glass center table with off-white and beige sofas placed over the oversized area rug looks just perfect. You can recreate this look with an antique rug in any shade of blue and pair it up with similar furniture for a décor that's neither too plain nor excessively overwhelming.
4. Plain Dark Blue Modern Handmade Rug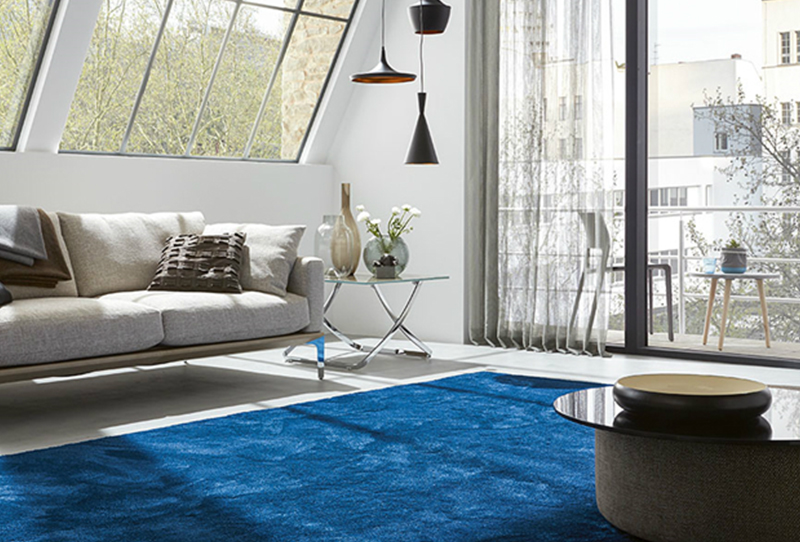 If patterns are not your thing and you want something really basic, neat, and clean, this décor look is made for you! Simply bring home a modern rug in the color blue and pair it up with the furniture of your choice.
The best part about a plain rug? It can blend in with literally anything! From traditional sofas to wicker chairs, even metal furnishings, anything would look great with a basic blue rug.
Add in some printed cushions and indoor plants to complete the look.
5. White Pattern Over Dark Blue Rug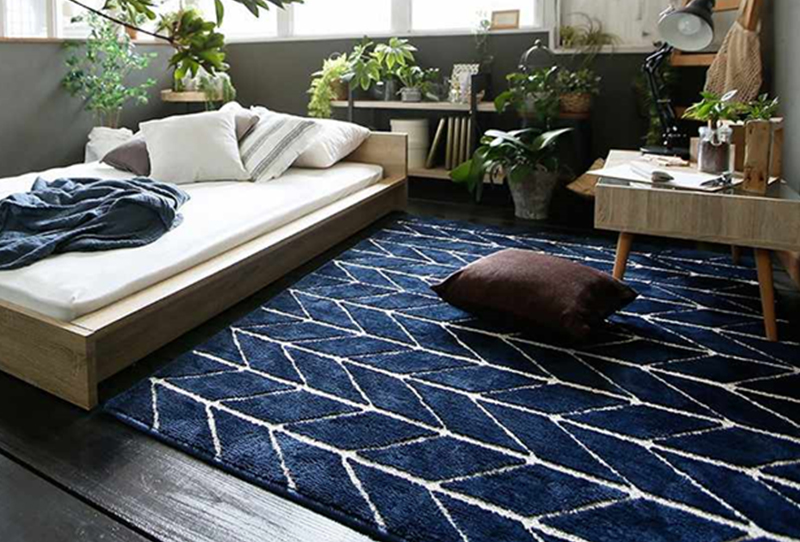 The best way to connect with nature is by adding in lots of indoor plants to your space. This contemporary rug in the color blue is creating a striking focal point in the room while the plants add in some fun. The white bed sheet and light wooden furniture is toning down the look to make it appear more balanced.
6. All-Blue Living Room with a Blue Moroccan Rug
For those of you who think of blue as the only color they love, this is the look you need to go for! It's blue from the ceiling to the floor, with light blue sofas, a striking blue Moroccan rug, blue walls, and a glass center table that's reflecting a similar color.
7. Blue and White Large Area Rug for a Lively Look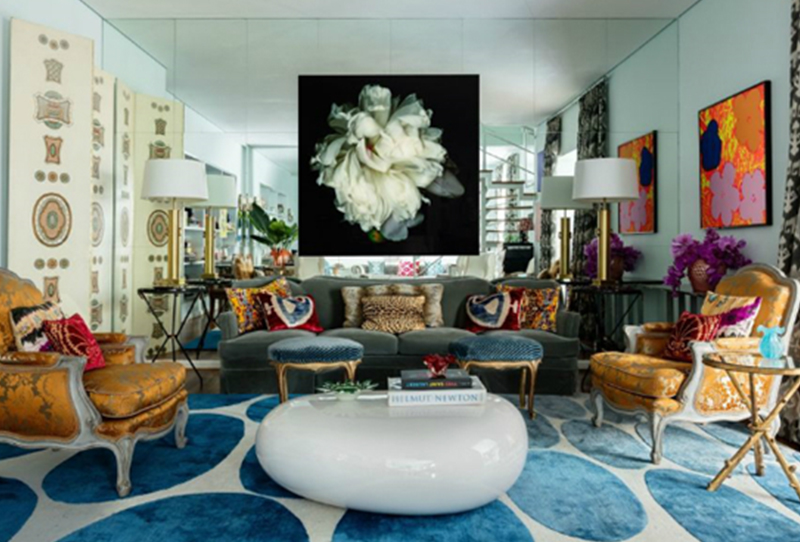 Although there're lots of colors in the image above, blue stands out the most.
We love how the yellow traditional chairs have brought in a lively touch to the space. Plus, there's a range of colors in the cushions, the flower vases, curtains, and the paintings.
To tone down the look, a plain white center table seems perfect.
8. Abstract Rug with Pattern in Shades of Blue
Abstract handmade rugs never go out of fashion, nor does the color blue, which makes this décor look something you can keep unchanged for years without having to worry about the ever-changing seasonal décor trends!
9. Grey Blue Décor for a Soothing Appeal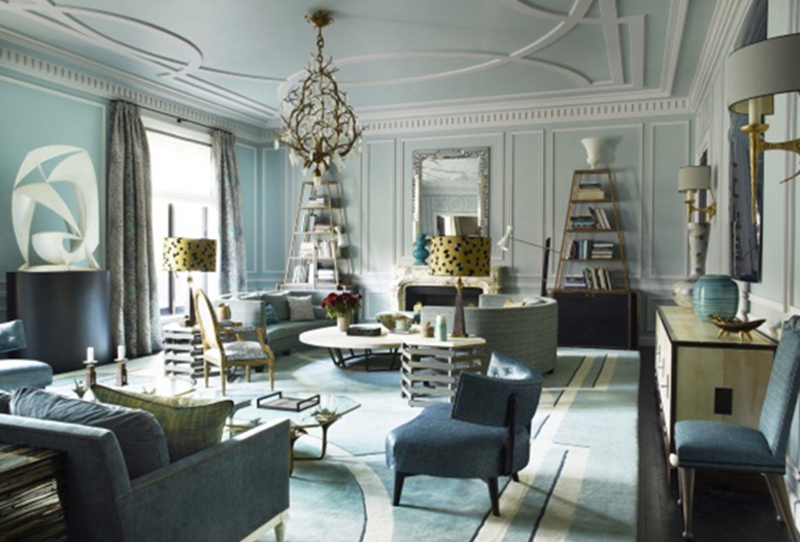 We all need a space to calm down, relieve stress, and just relax for a bit with our family and friends, and this living room looks like the perfect spot! The shades of grey and blue have blended in perfectly together. Plus, the daylight coming in from the huge windows has added a refreshing touch to the space! For some added fun and texture, those printed table lamps are really doing what we call 'completing the décor'.
10. Minimalistic Décor with Blue Color Vintage Rug
An antique handmade rug or a vintage carpet would always stand out wherever you may place it. Plus, it adds a traditional magnificence to the space.
This one in blue looks perfect for your bedroom, living room, or to be placed underneath your dining table.
Tip: When buying a handmade rug for your home, don't forget to read all about how big your area rug should be!
By - 12 Feb 2021