Rugs can be your home décor's best friend.
From improving the overall look of your interiors, to bringing in the much-needed warmth, as well as adding a spicy touch of uplifting hues, handmade rugs and carpets are surely a wonder!
But choosing and placing the perfect rug in the perfect manner can surely be an overwhelming task.
In this article, we'd be explaining how you can decorate your home use Shawl rugs. So, read on for some expert tips by rug enthusiasts and interior décor professionals!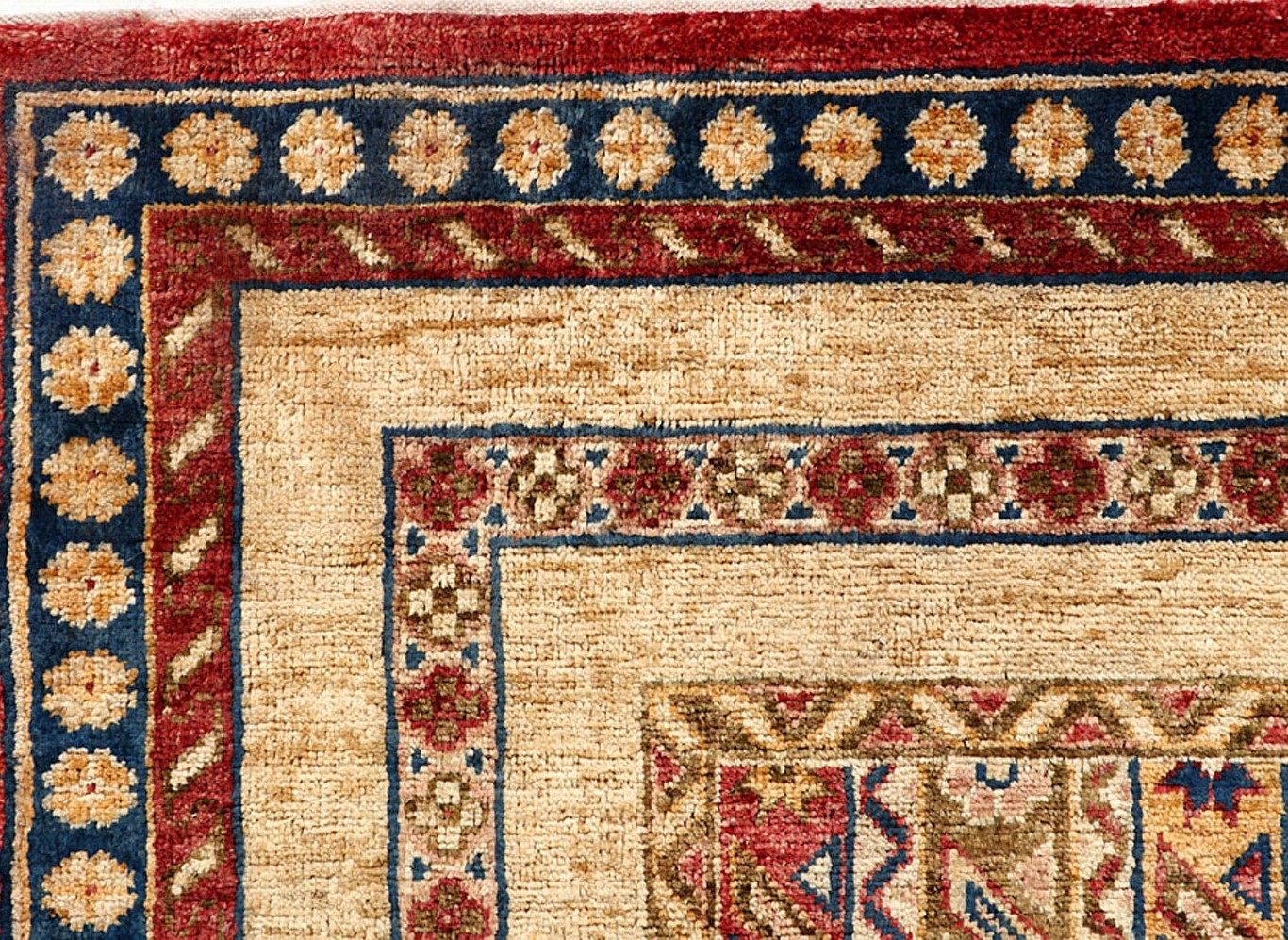 What are Shawl Rugs Best For?
Similar to most other Tribal rugs and handmade Pakistani carpets, Shawl rugs are famous for their traditional design patterns and bold colors. The carpets commonly are multi-colored and made of naturally-dyed wool.
As a result, the bright hues don't fade for years on end, and the rugs never bleed at all!
What's the most remarkable thing about the design patterns of handmade Shawl rugs is the fact that they're often borderless. The rugs are filled with colorful vertical strips that include geometric patterns or floral motifs.
The symbol of the 'tree of life' is highly popular among these rugs, including other traditional symbols and motifs.
Whether you wish to add some liveliness in the bedroom, uplift your living room interiors, or bring in some colors to the dark and narrow hallways, shawl rugs can be the perfect pick.
Here are 10 ways you can style a multi-colored shawl rug in your home:
1. Hang it on a Wall
Customarily, rugs have always found their place on the floors of homes, palaces, churches, and in the courts of Kings. However, when the rug you buy is as expensive as an intricate Persian carpet, there's nothing wrong in trying to keep it away from feet!
A rug hung on any wall in your living room or in the entrance hallway would not just captivate the attention of onlookers, but it would also help create a unique décor appeal.
The end result?
Aesthetically appealing interiors and vibrant home space with your magnificent Shawl rug receiving all the attention it deserves.
For example, see how this tribal rug has been used to uplift the dark and gloomy interiors: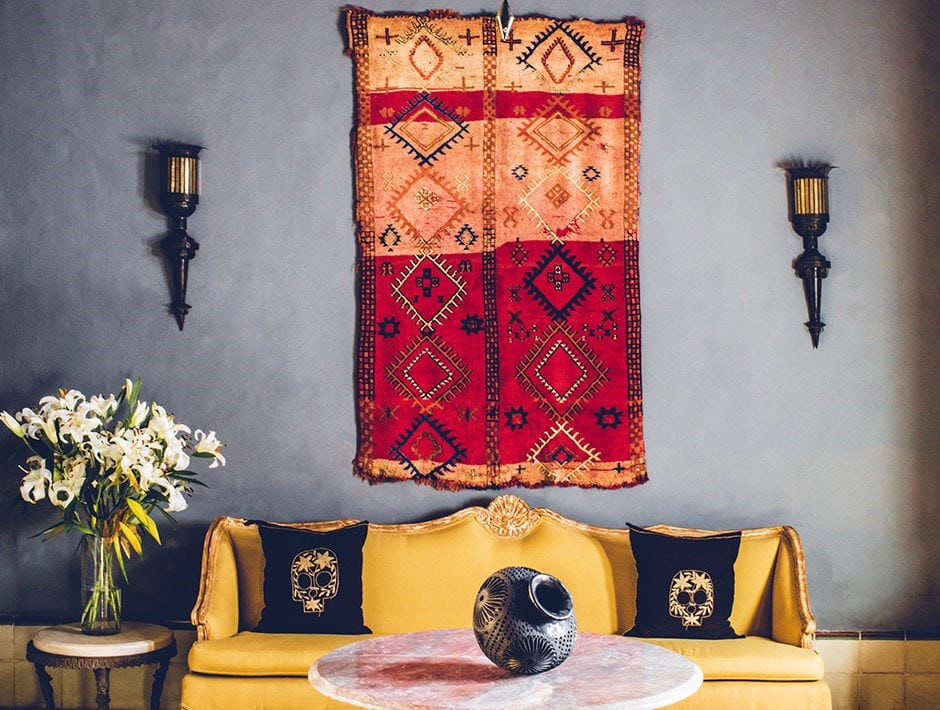 2. Anchor Your Outdoor Seating Space
Outdoor seating areas often lack two things: comfort and warmth. The absence of these can easily be filled with a handmade Shawl rug.
Since these rugs are heavily patterned and feature quite dark hues, they make the perfect-pick for outdoor areas where there's a higher chance of stains, spills, and dirt.
Moreover, owing to the fact that Shawl rugs are made using cotton and wool in combination, they're highly durable and can stand heavy weight and high foot traffic without showing any signs of wear and tear.
However, when decorating an outdoor area, be sure to place your rug out of direct sunlight. Because ethe UV rays can cause even naturally-dyed rugs to fade over time.
3. Add to a Boho-Chic Themed Look
What comes in mind when you think of multi-colored handmade rugs?
For us, it's a boho-chic décor!
Plain white walls, wicker furniture, and a multi-colored glamorous shawl rug adorning your floor or hung on the wall – the picture-perfect boho décor.
Add in some colorful patterned cushions and lots of indoor plants to complete your boho-chic décor look like a pro!
4. Under a Small Dining Table
If your kitchen includes a small dining table where you have breakfast with your loved ones every morning, or if there's a dining spot beside a window in your home, a shawl rug is just what you need!
Choose the rug size and shape carefully (it should be the same shape as your dining table). Make sure the rug you buy is big enough to incorporate the table and chairs entirely in a way that the chairs won't slide off of the rug when pulled out. Remember that sitting on a wobbly chair while you eat is no fun!
In case the shawl rug you buy online turns out to be 'too small' to be placed under the dining table, you can either replace it with a larger one, or try the new 'rug layering' technique.
5. Bring a Small Room to Life
Bold patterns and bright colors are perfect for bringing small spaces to life. You can place a multi-colored handmade Shawl rug in the hallways, inside a walk-in closet, in a study room, or even in a master bathroom.
However, regarding the last option, don't ever leave your handmade wool rug 'too wet' or moist since water is one of the things that can destroy your wool rug.
6. Create a Focal Point
Lastly, bright and captivating rugs such as these are a great way of:
Diverting attention from anything
Focusing attention to something
If you think your sofas are 'too plain' or the furnishings 'too boring', direct attention towards your floors with a captivating handmade Shawl rug.
In a room that're otherwise simple and filled with unnoticeable décor items, a Shawl rug can surely stand out and help create a focal point.
For instance, you can place a large area Shawl rug in the very center of your living room, under the center table, t anchor the rest of your décor and uplift your interiors within an instant!
All in all, handmade Shawl rugs are, without any doubt, masterpieces of art crafted by the most skilled weavers from around the world, they're eccentric, playful, unique, and enchantingly captivating – the best pick for any home owner who want to add some spice to his interiors!
By - 12 Apr 2021