When it comes to the eminently daunting yet fun task of decorating your home with intricately woven floor cloths, one can't ignore the alluring spell cast by handmade Bokhara rugs.
Each handwoven Pakistani Bokhara rugs has its own hypnotizing lure and tells a unique enthralling tale of its own, and that's one of the reasons why these rugs are considered so special.
Want to know more about Bokhara rugs and how they can make your home look picture perfect?
Read ahead!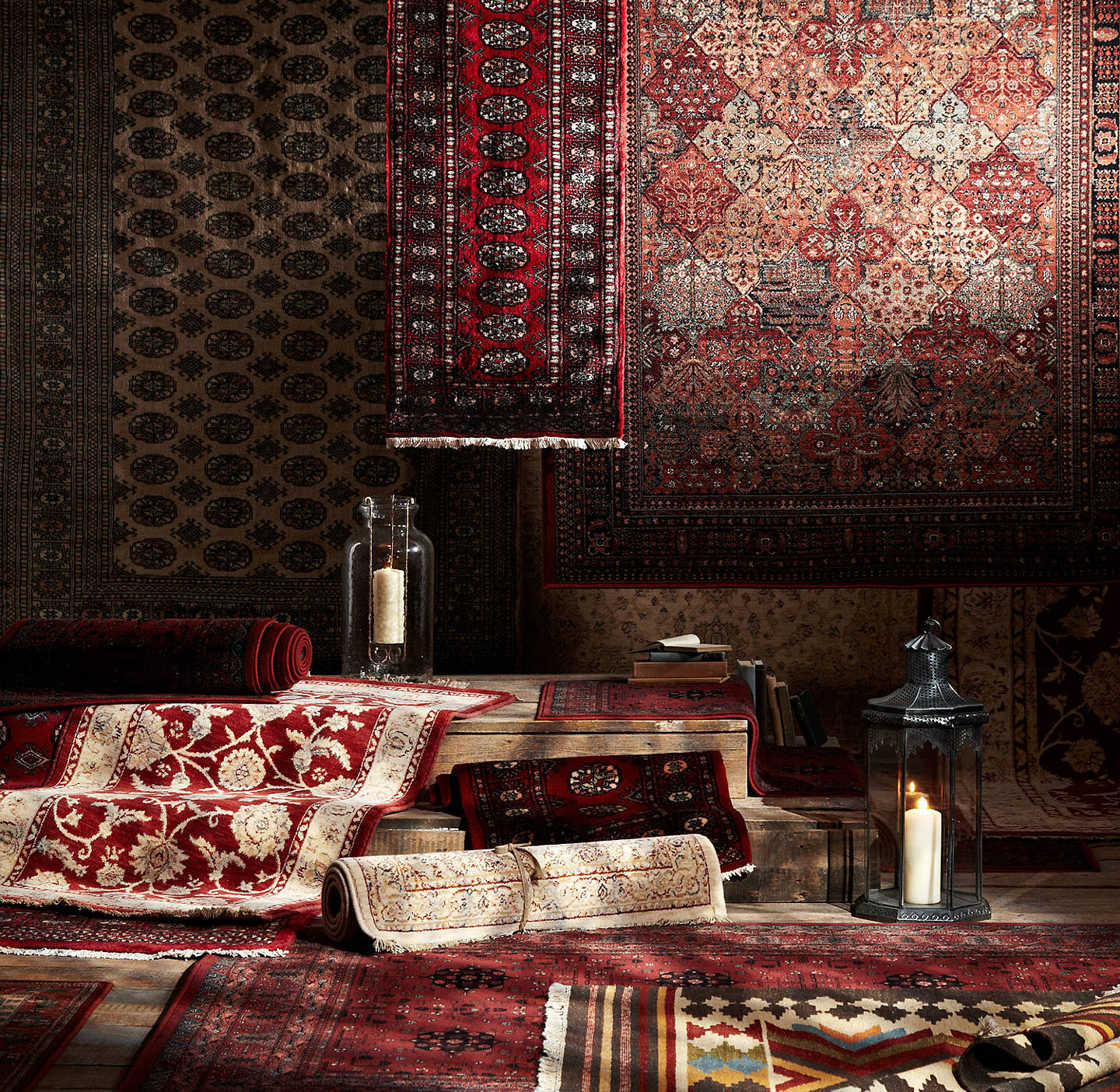 Hand-knotted Bokhara Rugs – The History of their Existence
In the carpeted world of woven stories, Bokhara rugs hold a special place in the hearts of majority carpet lovers, but most are still unaware of their history, origin, and the tale of their making.
These rugs, that were initially hand-crafted by Turkmen tribes in the early part of 20th century, are now widely made around various carpet manufacturing countries, the largest exporters being Pakistan, Turkmenistan, India, Uzbekistan, Turkey, Afghanistan, and Iran.
However, the best and premium quality hand-knotted Bokhara rugs are known to be made only in the culturally rich land of Pakistan – an ethnic realm that's impregnated with skillful carpet weavers.
Where did the rugs actually originate from?
Well, as the name suggests, the birth place of Bokhara rugs is Bokhara itself – a region of modern-day Uzbekistan, where the 'Tekke' tribe first made these 'Tekke-faced' rugs.
As a result, the designs and patterns that dominate these alluring pieces of art give off inherently Asian vibes, paired with the warmth of traditional hues and soft, luxurious wool.
The Bokhara rugs are mostly filled with geometric design patterns, such as the common 'elephant foot' design that's actually just a different variant of the octagonal gull. Check out the image below: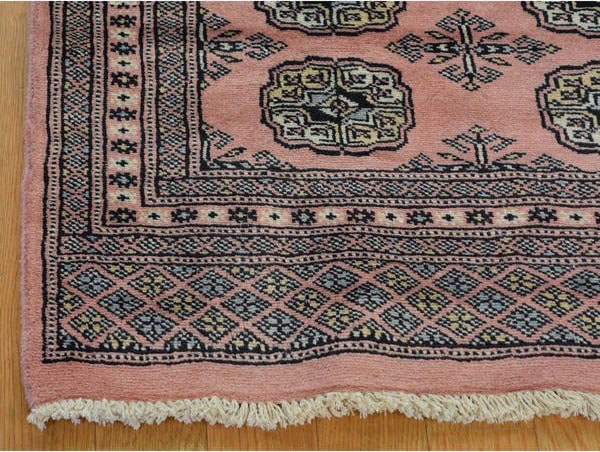 The 'Tekke' tribe also incorporated some design features of the 'Salor' tribe, that also belongs to the Bokhara region of Uzbekistan.
Moreover, if you don't know this already, each Bokhara rug is different from the other one in design and pattern. Which means, no two Bokhara rugs ever created are same. In a sense, if you buy a Bokhara rug online, know that yours is just one of its kind!
Apart from this, the color scheming is also quite rich, with the shades of red, grey, gold rose, green, ivory, and blue emanating a touch of cultural heritage that can add the feeling of comfort and magnificence to whichever room the rug is placed in.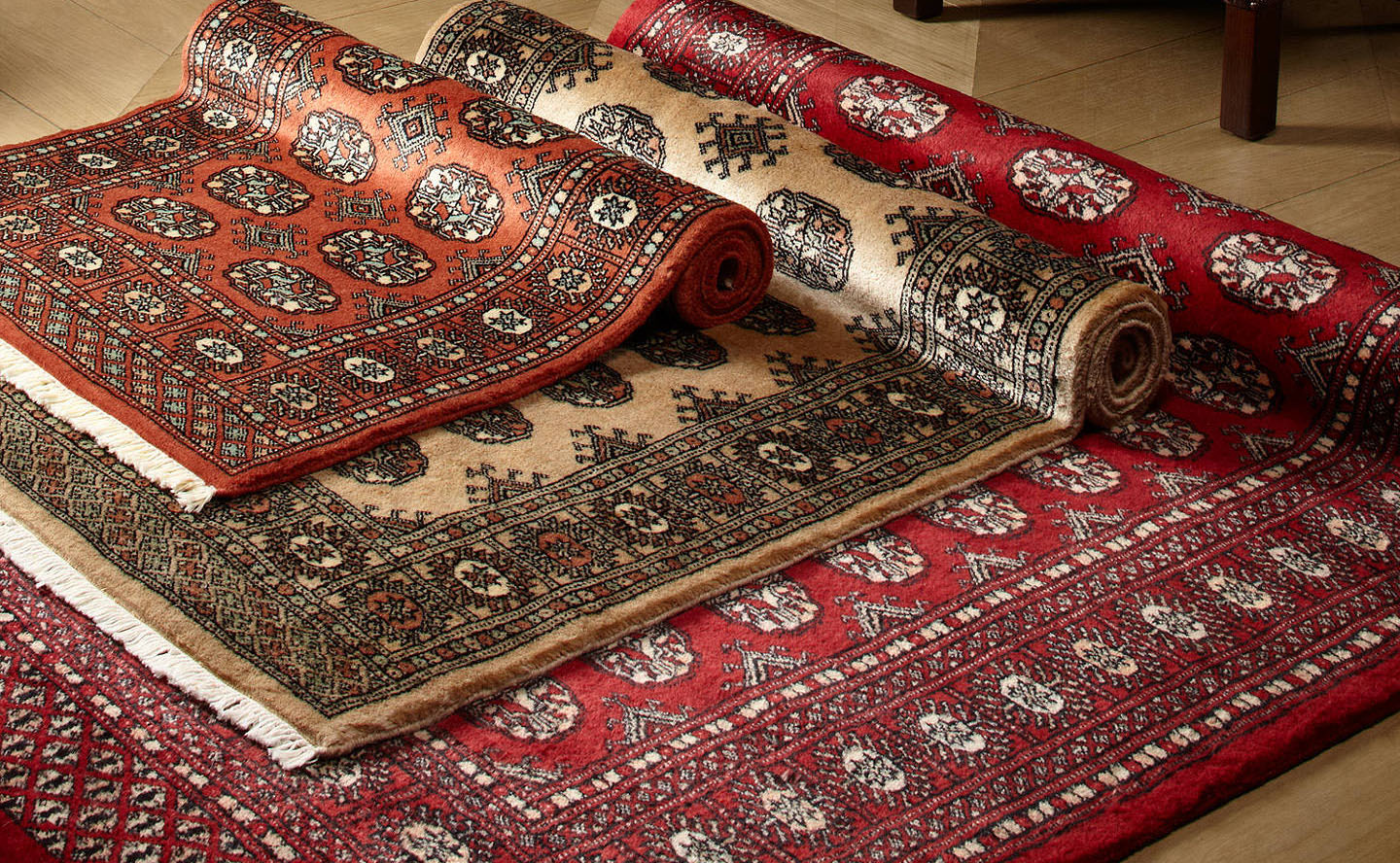 Next comes the question of how these enchantingly bewitching tales are actually woven and what techniques are used by the talented carpet weavers of Pakistan?
To answer this, the skilled Asian craftsmen employ the famous Persian knotting technique to build the foundation of the pile. The Persian knots or Sehna knots not only make the rugs strong and durable, but it also adds to the value of every single handmade Bokhara rug.
In addition to this, the high-quality wool that's used in the making of Bokhara rugs, is also imported and then carefully dyed with natural dyes to make sure that the carpets don't fade or lose their colors over time.
What makes the Bokhara rugs even more worthy of attention is their vintage style, antique patterns, and the use of 100% wool.
Moreover, they also come in various different styles, including Yomud Bokhara rugs, Royal Bokhara Rugs, Princess, Bokhara rugs, Tekke-faced rugs, and Salor Bokhara rugs.
The best part is, that these increasingly beautiful pieces of woven art look great with almost all kinds of décor. Which is another reason why the Bokhara rugs are so famous in the Western Hemisphere as well, and are exported at a large scale from Pakistan, and other carpet manufacturing countries, to the Western nations?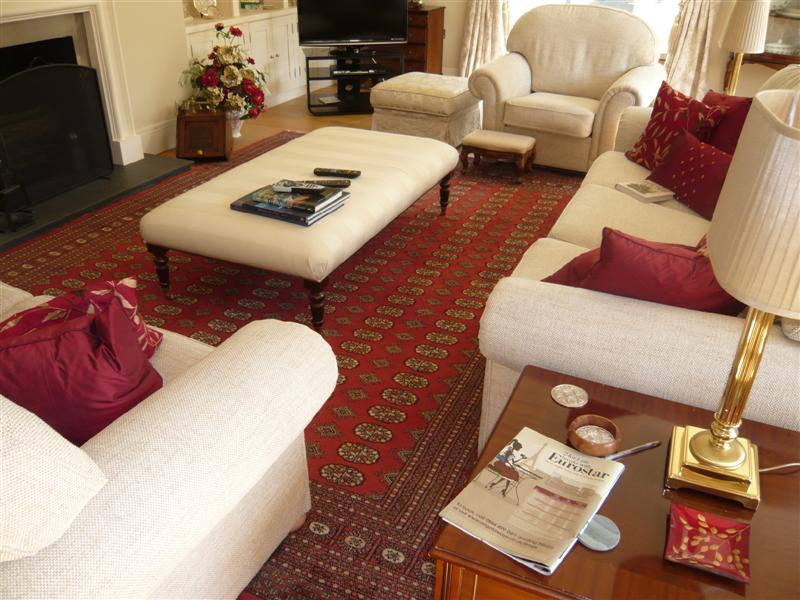 Why Should You Invest in a Handmade Bokhara Rug?
Although handmade rugs – whichever kind they might be – can never go wrong, what makes Bokhara rugs the most sought-after hand-knotted carpets is their unique patterns and rich colors.
In a sense, who wouldn't want to decorate their living room floor with a kind of rug that's utterly distinctive and different from all other rugs ever made?
Moreover, as we just discussed above, the colors scheming of Pakistani Bokhara rugs is just too captivating to ever be ignored. Also, since the wool is colored with natural dyes, the carpet tends to retain its original look for years on end.
Worried that a Bokhara rug might not compliment your western décor, or that you may not be able to find the right color, size, and shape that suits your personal space?
We recommend you to simply order a handmade custom rug online – one that's explicitly designed for your living room and matches your unique personality.
Make your floor exude an aura of magnificence and radiate the warmth of cultural opulence with perfectly hand-knotted Bokhara rugs (that you can also order online)!
By - 21 Mar 2020