Can an Oushak rug be your best pick?
When it comes to choosing the perfect rug that blends in with your existing interior and accentuates the look of your décor, one can find himself lost in the vibrant world of captivating handwoven beauties.
However, if you want to make the decision easier for yourself, we recommend you to go for the most sought-after type of handmade carpets – Oushak rugs.
Wondering why?
Read below to find out!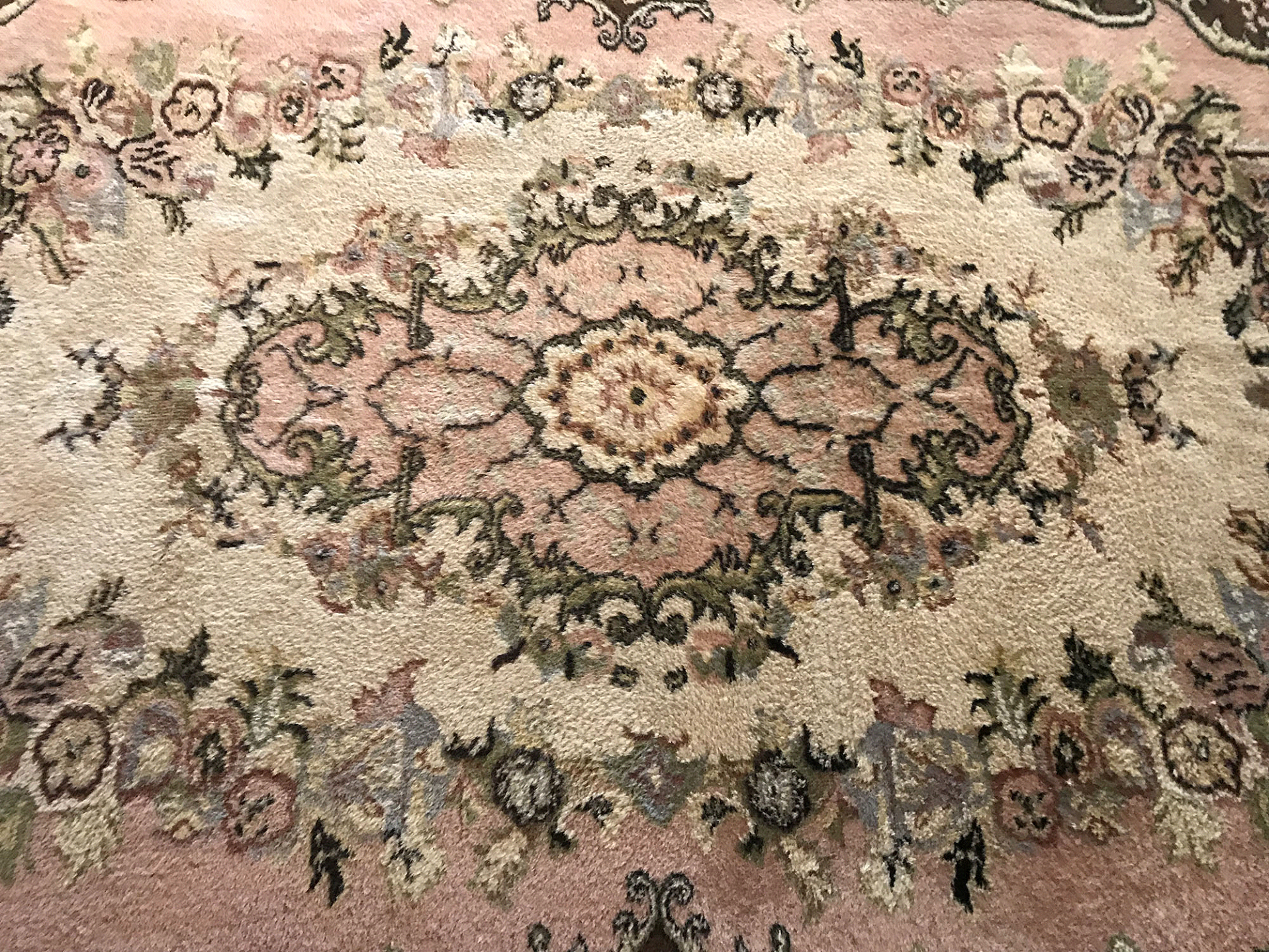 The Antique Charm of Oushak Rugs
Oushak rugs are an embodiment of the rich Eastern tradition saturated with modern aesthetics that are designed and crafted by skilled craftsmen who've inherited the art of carpet weaving from their forefathers.
The Turkish Oushak carpets were first woven by master carpet weavers in the Western Turkey. These alluring woven artifacts were being crafted in the region since the very beginning of the Ottoman Empire which dates back to the 15th century.
In those days, Oushak carpets were hand-woven by nomads for the purpose of fulfilling their basic domestic needs. However, today, theses enchanting beauties are bought by aesthetic carpet lovers who want their homes to look picture perfect and impress their guests.
Looking for more information on Oushak rugs and what makes them special?
We've got all the details covered!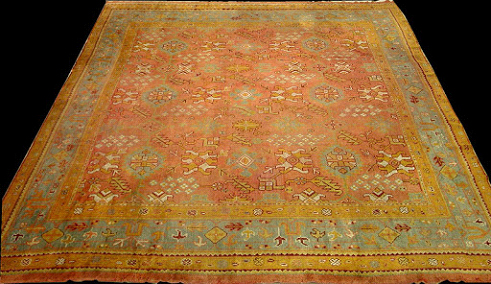 The Birth of Oushak Rugs
The widely loved Oushak carpets were first designed and crafted in a town named "Oushak", located in the west central Anatolia, south of Istanbul, Turkey. To this day, the most intricate and highest quality Oushak rugs are produced in the same region and exported to various countries around the globe.
These hand-knotted beauties of the East used to be produced at a large scale during the 15th to 17th century. However, experts haven't found records of their production in the 18th as well as the early 19th centuries.
Nevertheless, towards the ending of 1900, the art re-emerged, and once again, room sized Oushak carpets were being crafted in the Eastern world, with colorful patterns and captivating designs that could make any space look utterly eccentric and sophisticatedly traditional.
These great Turkish masterpieces are exceptionally unique in their designs, color scheming, and patterns as compared to other traditional handmade rugs.
Moreover, the handwoven carpets are made by highly skilled craftsmen who're adept in creating floor cloths that tell their own story.
In today's handmade carpet industry, the demand for these charming rugs have increased to such an extent that you can even find a premium quality Oushak rug for sale online.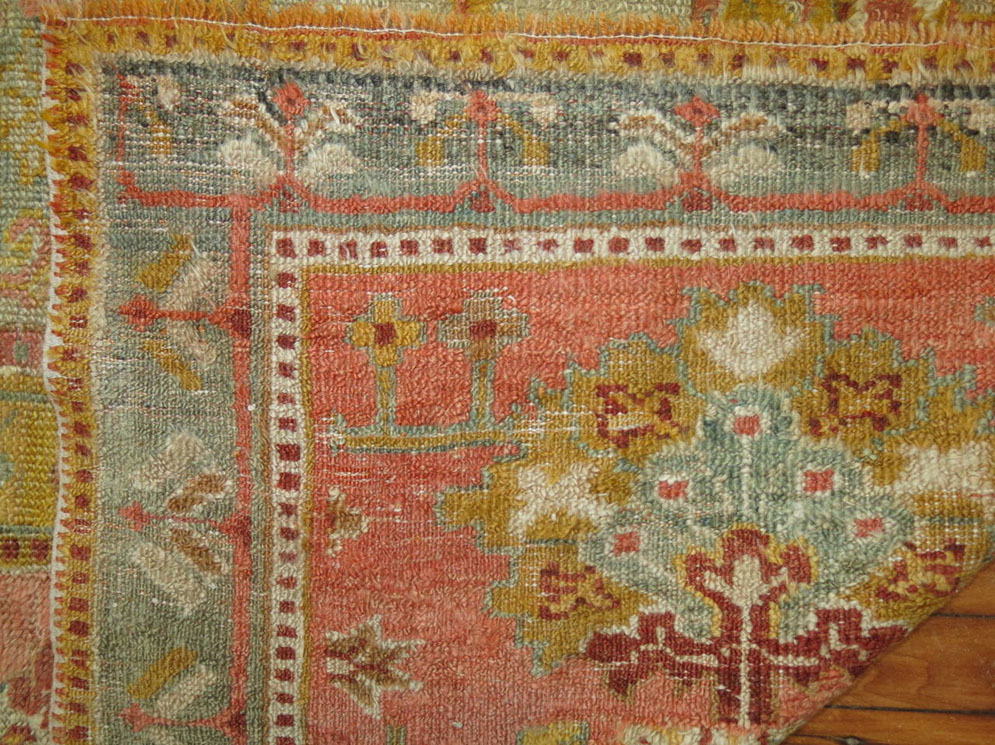 The Weaving of Traditional Patterns Suffused with Modernity
If you're a carpet fanatic, you must be interested in learning what weaving techniques are used in the making of Oushak rugs, how they are made, and the design patterns that make them worthy of attention.
As a whole, Oushak carpets are quite different from other handmade Turkish rugs since they are highly influenced by the Persian weaving tradition.
During the early times, similar to how other handmade rugs were made, the wool and cotton used to build the foundation of Oushak carpets was harvested by the carpet weavers themselves.
Next up, the harvested material was hand-spun into fine yarn which was then naturally dyed with the help of plants and vegetables from the surrounding areas.
The fine dyed wool was then intricately woven into beautiful patterns using an ancient weaving technique – the Ghiordes knot.
Oushak carpets feature soft hues and geometric motives of the kind that go really well with modern Western décor. The design patterns usually include a big central medallion with smaller medallions or vine scrolls and sprays of palmettes scattered all over the rug.
Apart from this, the color schemes are also really elegant, the wool is dyed naturally in muted earth tones such as terracotta, shades of blue, ivory, apricot, cinnamon, green, grey, saffron, and gold.
Here's what a master piece looks like:

Materials Used in the Making of Oushak Rugs
Considering that the rugs are named after the town of 'Ushak' – the production hub of handmade Turkish carpets – they are of the finest quality and considered to be one of the most exquisite hand-knotted floorcoverings available in the rug market.
Oushak rugs are usually made out of fine wool, silk, cotton, and sometimes valuable metal threads (gold or silver) are added to enhance their charm and magnificence.
The most common type of Oushak rugs have a cotton foundation while the pile is made of velvety wool fibers.
The Weaving Techniques Employed
Not everyone is able to weave an intricate Oushak rug.
The weaving of a hand-knotted Oushak requires skilled fingers and sturdy hands.
That's because the weaving techniques employed in the making of a rug as magnificent as an Oushak are ancient – passed down from one generation to the next and kept alive by craftsmen who've devoted their whole lives to the art of carpet weaving.
Most importantly, each and every single knot in an Oushak is tied to perfection. Which means the rugs are strong and won't wear off easily.
Designs, Patterns, Motifs, and Color Schemes
Oushak rugs are unique both in terms of design patterns and color schemes.
Unlike most traditional Turkish rugs, an Oushak features subtle hues and floral patterns.
Most common style includes a pale ivory backdrop with intricate floral details and motifs spread all over the rug's surface.
Owing to this traditional yet elegant look of theirs, Oushak rugs are often used to create transitional décor looks where they're paired up with contemporary furnishings and modern furniture.
Ways to Make Your Personal Space Special with Oushak Rugs
Handmade Oushak carpets are available for sale in numerous colors, sizes, and styles, and it isn't much hard to find one that perfectly suits your existing interior.
While you can get them in various shades, they are mostly loved for the light, water colored nature of their hues which give them a vintage yet contemporary look.
A blend of antiquity and modernism, these handmade artifacts never lose their original allure and tend to retain their natural colors for an increasingly long period of time.
One can utilize their flowery patterns, paired with geometric designs and pale hues in a number of different ways to add a touch of uniqueness to almost any space.
Here are some simple yet amazing tips on how to make your floors look stunning with handmade Oushak rugs:

Use light-colored Oushak rugs to create a pleasing contrast with darker furniture and furnishings. A pale Oushak can make a room look brighter and less overwhelming.

For a trendy and modern effect, leverage the delicate design patterns and pale color schemes of Oushak rugs and pair them with minimalist furnishings.
Can't find an Oushak that's the perfect size, color, and shape for your living room? Get your own custom rug designed online and delivered to your doorstep!
By - 14 Apr 2020