Confused whether you should buy a handmade Ziegler rug or not?
Whenever it comes to decorating or redecorating your home, a common issue faced by most homeowners is being unable to decide between a traditional or a modern look.
So, if you're stuck with the question of whether you should go for a unique, traditional look, or invest in interior décor items that are sophisticated, elegant, and modern, we've got the perfect solution for you!
Without any doubt, a handmade Ziegler rug is the best choice for modern homes that require a traditional yet trendy touch.
Keep reading to find out more about a Chobi Ziegler rug and its traditional yet sophisticated charm.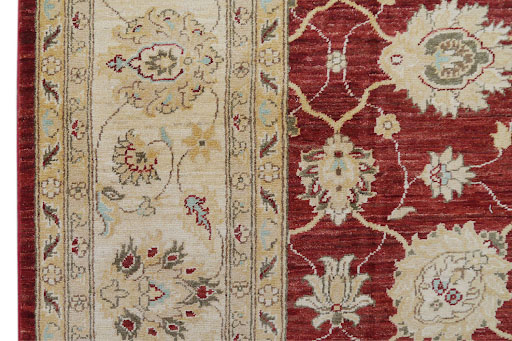 Handmade Ziegler Rugs – Crafted for the West
Not all traditionally hand-knotted rugs have the ability to blend in with modern and contemporary décor and accentuate the look of a western-style home.
Which is why, the task of choosing between traditional magnificence and modern charm is way too daunting for western homeowners, who often end up with the common choice of a modern rug for their living room.
However, the problem with contemporary and modern rugs is that they don't really stand out in the same way as Oriental or Persian handmade rugs do. Also, they lack the traditional warmth and may not look as welcoming or lively as an area rug that's been hand-woven by talented craftsmen from the East.
Thus, Chobi or Ziegler rugs are widely considered to be the perfect fit for modern homes, and while the rugs look uniquely traditional yet elegant, they also radiate an aura of magnificence that's truly unparalleled.
Here are some mesmerizing characteristics of handmade Ziegler rugs that make them incredibly unique and trendy, with an ideal amount of modern detail:
1. Subtle and Captivating Hues
One major characteristic that sets handmade Ziegler rugs apart from all other traditional hand-woven carpets is their unique color scheming.
A Ziegler carpet has the most beautiful subtle hues that make it appear comparatively less bright and 'traditional'. Also, the use of colors such as beige and ivory, combined with darker shades in the pattern, creates an exquisite look that no other Persian or Oriental rug offers.
Moreover, owing to their muted tones and antique look, Ziegler rugs tend to blend in perfectly with all kinds of interior décor. Specifically, if you have darker furnishings, adding a Ziegler rug to the space can make the room look less overwhelming and considerably bright.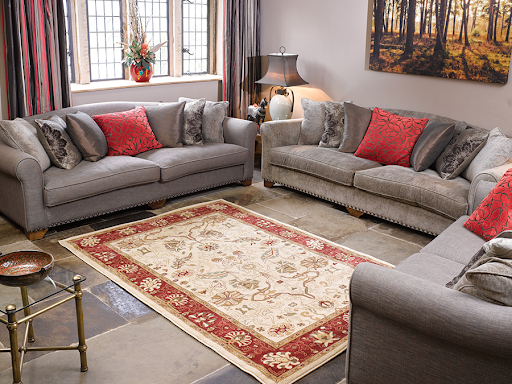 2. Their Patterns are Quite Intricate
Did you know that Ziegler rugs were first crafted by Iranian artists who were commissioned by a German company named Ziegler and Co.?
Well, if you haven't read about this before, the origin story of Ziegler carpets is quite interesting, and helps understand the reason why handmade Ziegler rugs give off a modern vibe that makes them stand out among other traditional Persian carpets.
However, the fact that the floor coverings were initially crafted with the Western market in mind is the reason why they're majorly dominated by charismatic floral motifs instead of the traditional geometric patterns.
The intricate details of handwoven Ziegler rugs make them look even more modern and adds to their aura of elegance.
Unlike a traditional rug with geometric designs, a Ziegler carpet's floral patterns can help create an uplifting look that's infused with both culture and modernity.
3. The Rugs are Crafted with Soft, Fine Wool
What's charming about handmade Ziegler rugs isn't just their soft, antique look and sophisticate design, but also their velvety soft texture which comes from the fine quality wool used in their making.
Ziegler rugs made in Pakistan are crafted by expert weavers with luxurious, thick wool that's imported from New Zealand. This doesn't just make the rugs remarkably durable, but also gives them a soft texture and smooth feel, making them appear more regal.
In addition to this, the usage of 100% pure fine wool is what also makes the rugs incredibly valuable and, of course, worth all the attention that they get.
4. Extremely Durable and Long-Lasting
Did we just discuss that high-quality wool is used in the making of Ziegler rugs?
Well, in case you don't already know this, handwoven rugs that are made of pure wool tend to be highly durable and can retain their original shape for years on end if taken proper care of.
Plus, the wool used for Ziegler rugs is dyed with natural pigments, which means the colors won't bleed or fade at all! Isn't that amazing?
In addition to this, ancient weaving techniques are employed by skilled master weavers who ensure that each knot is tied to perfection. As a result, Ziegler handmade rugs can last longer than you may imagine.
The best part is, with the years passing by, the value of a handmade wool rug tends to increase, which means a Ziegler that you buy today can be worth a lot more after 10-20 years. How great is that?
So, if you're thinking about adding a traditional touch to your living room but still want it to keep looking modern and contemporary? An intricately woven Ziegler rug can be your best bid!
By - 02 May 2020