Featuring a central medallion that's surrounded by an intricate combination of floral and geometric design patterns, Isfahan rugs are the Persian beauty that many sought after.
These Persian rugs are named after the city of Isfahan that's located near the Zagros mountain range. Here, in this city, was the first time an Isfahan rug was crafted by the artists of Isfahan. Owing to their immense beauty and ethereal looks, the rugs became popular in both the Eastern and Western Hemisphere.
Today, you can easily find high-quality Isfahan handmade rugs for sale online!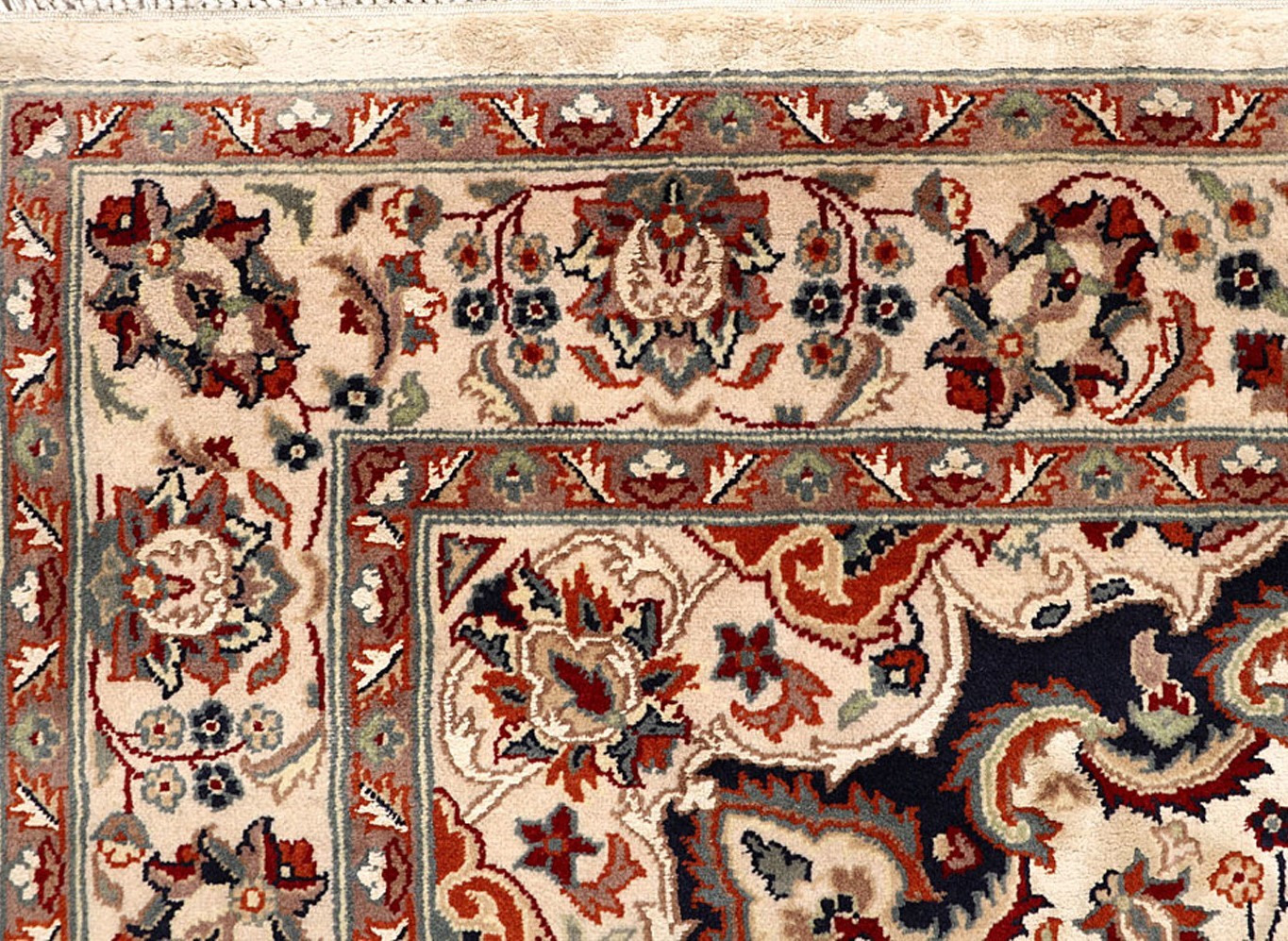 The History of Isfahan Rugs
Handmade Isfahan rugs originated from the city of Isfahan in Iran. Throughout history, Isfahan has been home to people of many different cultures and ethnicities, and to this day the cosmopolitan city is filled to the brink with cultural artwork. From stunning mosques, to palaces, famous architectural sites, bridges, handicrafts, metal workings, and textiles, Isfahan is home to the finest artwork. But the list is neve complete without mentioning the intricate Isfahan rugs.
When it comes to handmade rugs and carpets, Isfahan rugs stand in a league of their own, with their captivating floral patterns, the magnificent central medallion, vines of flowers, enchanting hues, and velvety-soft texture.
Expert skills are required to craft an Isfahan handmade rug. And like many other Persian carpets, rugs of this style are also manufactured in places outside of Iran, including India, Pakistan, and Afghanistan.
Isfahan rugs also come under the category of highly-durable antique Persian carpets that were woven by master weavers in the late 19th and 20th centuries.
However, antique and vintage Isfahan rugs tend to be more valuable than the ones crafted recently. But they're totally worth it!
Isfahan Rugs Design Patterns and Color Schemes
The most distinctive feature of Isfahan rugs is their central medallion. Although the design patterns of each Isfahan rug vary from another, they all have a large central medallion that's surrounded usually by vines and flowers.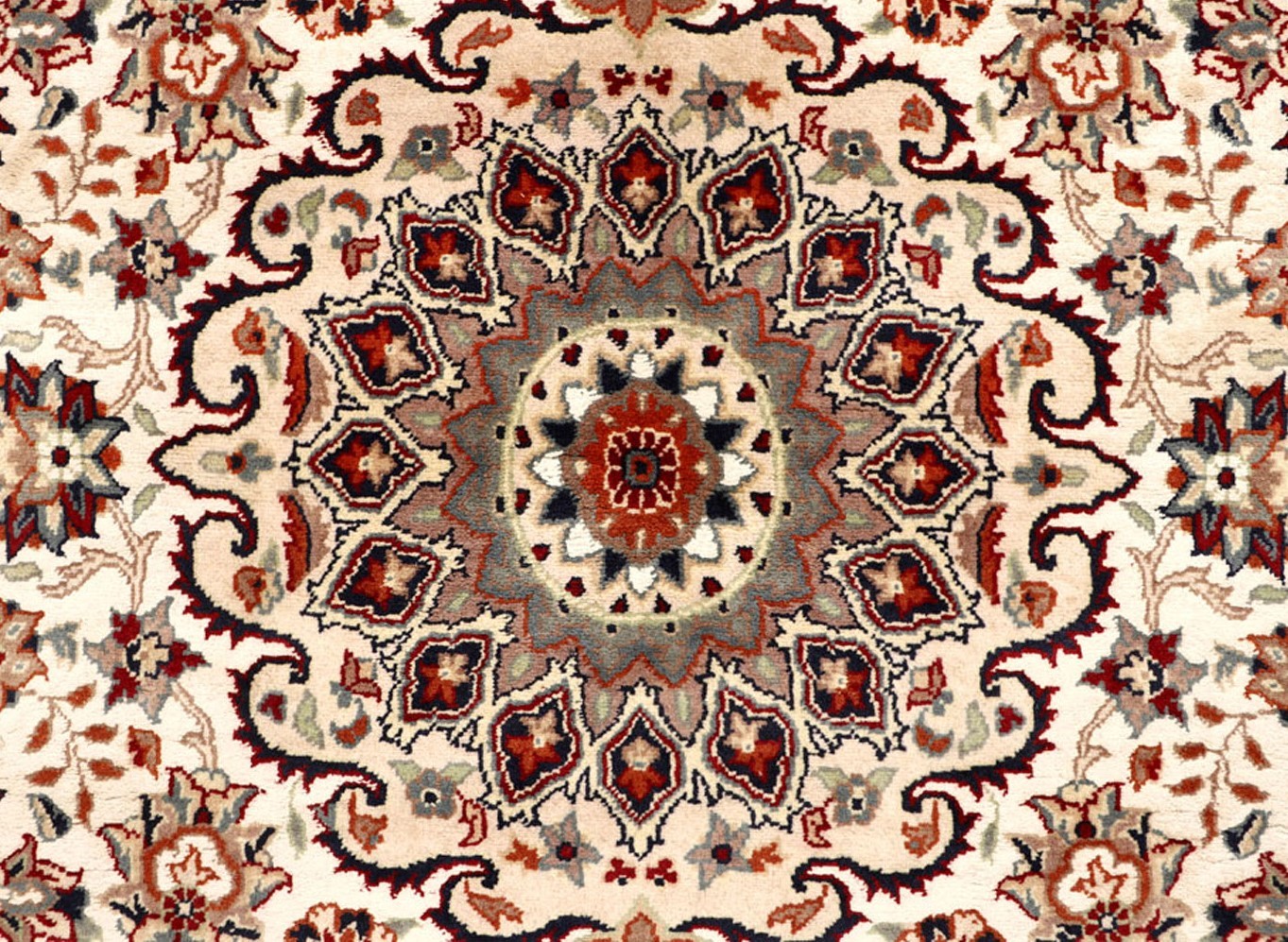 Apart from this, the rugs also have a border that adds to the symmetry and harmony. Similar floral patterns are included in the borders as well.
Owing to their elegant floral patterns, Isfahan rugs can be easily paired up with modern and contemporary décor or furnishings. They look great both in small and spacious rooms, and there are a lot of colors you can choose from!
Some common Isfahan rug colors include ivory, off-white, beige, shades of red, blue, coral and gold.
The Materials and Weaving Techniques
Similar to many other Persian and Oriental rugs, Isfahan handmade rugs are popular for their fine touch and quality. 100% natural and premium quality materials are used to craft an Isfahan. Commonly, the rugs are made using naturally-dyes thick wool and they have a high knot-density.
Great technical weaving skills are required to make an Isfahan as the rugs are crafted using age-old Persian weaving techniques. To this day, this ancient art of waving is passed down from ne generation to the next, and that's what makes handmade rugs even more special.
The Durability and Strength of a Handmade Isfahan Rug
Considering the fact that Isfahan rugs have a high knot density, one can easily imagine their strength and longevity. But this is not the only reason why handmade Isfahan rugs are so durable.
These carpets are made suing finest quality wool that's dyed with naturally extracted pigments. Hence the dyes are extremely long-lasting. They don't bleed or fade, except when placed under direct sunlight for a long time period.
In addition to this, Isfahan rugs for sale are manufactured by skilled weavers. A single rug is completed in months, even years at times. And that's because ancient Persian weaving techniques are used to make an Isfahan rug.
Although expensive, Isfahan carpets are undoubtedly and investment worth making. An Isfahan rug would last for a lifetime if taken proper care of, and it won't be surprising if your grandchildren end up inheriting an Antique Isfahan that you once bought.
How to Take Care of Your Isfahan Carpet?
Even though handmade wool rugs are known for their durability, they require special care.
To keep your Isfahan rug clean and looking fresh all year long, follow these easy rug care and cleaning tips:
Clean the rug 2 times per week using a vacuum cleaner with soft bristles.
In case of stains and spills, get in action immediately and clean the affected area with a wet sponge or cloth before the stain dries out.
Get your handmade Isfahan rug professionally cleaned once a year.
DO NOT wash a hand-knotted wool rug at home.
Keep your rug out of direct sunlight and excessive moisture.
Avoid furniture dents by placing a rug pad under your rug.
Don't walk on your rug with dirty or muddy shoes.
Try placing the rug in a low-traffic area and a place where it would be safe from spills and stains.
In case of pet urine, either get the Isfahan rug professionally cleaned, or use the baking powder and vinegar hack.
Clean pet hair from your rug using a pair of rubber gloves or a brush with soft bristles.
If it's a small area rug or a runner rug that you own, get rid of excessive dirt and dust particles by taking the rug outdoors and giving it a good shake.
So, what are you waiting for? Buy an Isfahan rug now and instantly uplift your home interiors with a touch of magnificence and elegance that exudes the traditional Persian aura!
By - 25 Mar 2021