Handmade rugs never go unnoticed. Their exquisite patterns, traditional designs, velvety texture, and captivating colors can uplift your interiors instantly.
And when it's a handmade pictorial rug, your home can spark up with liveliness no matter how dull rest of the furnishings are.
Plus, pictorial rugs allow you to make a captivating style statement.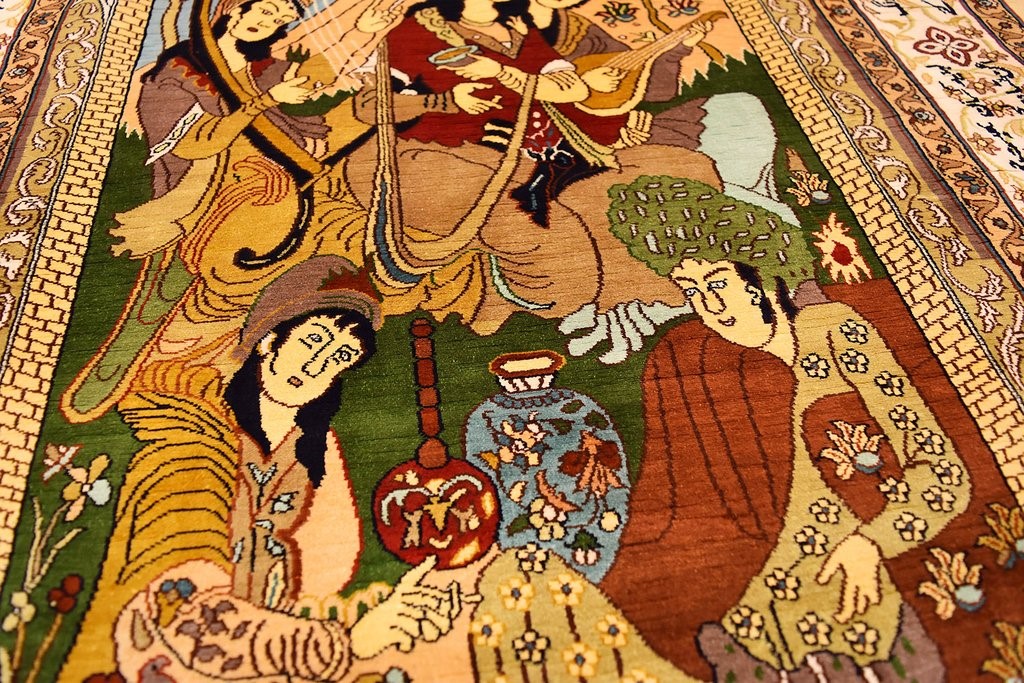 The Origin of Handmade Pictorial Rugs
Carpets and rugs with pictures crafted over them instead of floral and geometric patterns were woven for the first type to be used for decorative purposes.
These ornamental rugs became popular in palaces, courts, churches, and the homes of aristocrats and were often used as exquisite wall hangings.
Since they're not woven to be used as floor rugs, their design patterns and styling varies to a great extent from floor rugs.
Moreover, unlike other types of Oriental and Persian rugs, handmade pictorial carpets are most commonly crafted using the finest quality silk. But you can also find a pictorial rug for sale that's made of wool.
The Themes of Pictorial Rug Designs
You must be wondering what kind of images do pictorial rugs have on them, right?
The most popular pictorial rug themes include natural sceneries, people and faces, animals, flowers, religious themes, statues and figurines, Persian miniature motifs, French style design patterns, and the Persepolis theme.
For instance, have a look at this pictorial rug with images of Cyrus the Great alongside Cassandane in the Apadana Palace.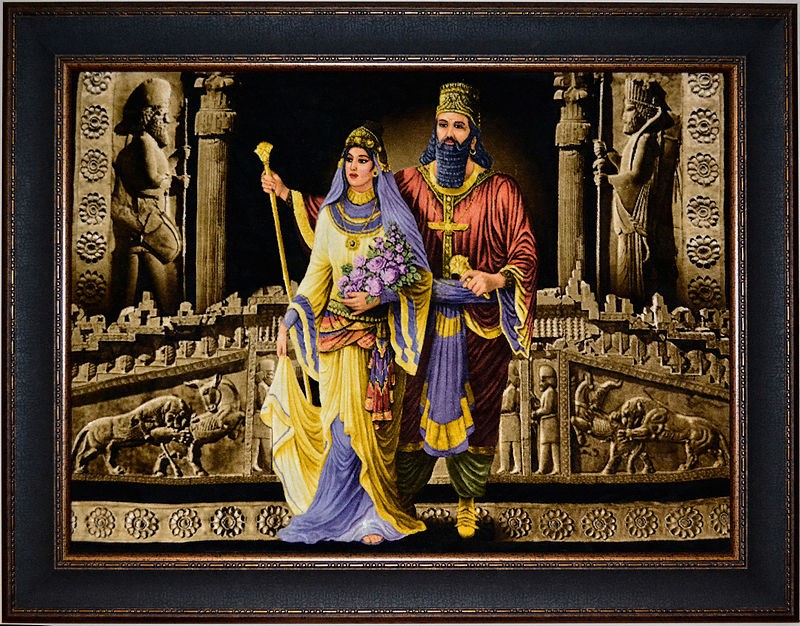 The rug has a beautifully handwoven pattern, creating a background in black and gold over which the pictures are crafted with great excellence. Such rugs are hung on walls for ornamental purposes either with or without framing.
Should You Buy a Pictorial Rug?
Handmade rugs are expensive. Handmade pictorial rugs, even more so.
Which is why, when it comes to purchasing one online or from a physical store, you need to think more than twice.
Is the investment worth it?
Would the rug blend in well with your existing décor?
Should you actually be getting a wall-hanging ornamental rug? Or should you just go for a regular traditional handmade rug to place on the floors?
So many questions, and the answers majorly depend on 'what you prefer'. And of course, your existing décor theme.
For spaces that are decorated with exquisite furniture but still need an uplift, a pictorial rug can work wonders. Scenic views look great when paired up with neutral toned furnishings. A bright and bold pictorial rug can look just as great as a life-sized painting on the wall, but more exquisite, unique and finer to touch.
Moreover, it can act as a statement décor item in your living room or dining space, driving eyeballs to itself and praises from your guests.
The best part about owning a wall-hanging ornamental pictorial rug instead of a regular floor carpet is that you won't need to vacuum it every week. Plus, the rug would always be safe from nasty stains and spills. Also, if you happen to own a pet cat or dog, hanging a pictorial rug on the wall is probably the best way you can avoid the hassle of cleaning pet hair from your rug.
Pictorial Rugs Colors and Design Patterns
Unlike the Pakistani Bokhara rugs, Gabbeh rugs, and Jaldar rugs, Pictorial carpets don't always feature a similar design pattern.
In most cases these rugs are custom-made to fit the buyer's needs. At other times, the pictorial rugs crafted by skilled weavers embody unique designs. The design patterns range from animal imagery, to natural scenic views, and religious imagery.
For example, if you go through the religious Pakistani rugs, you can find pictorial carpets with images of Makkah over it, surrounded by a geometrical border.
The colors of pictorial rugs also vary according to the design. From ivory, to dark red, classical green, shades of blue, orange, burgundy, you can find pictorial rug in a range of different colors.
How to Purchase the Perfect Pictorial Rug?
When it comes to buying a handmade rug, whichever type or style it may be, the first thing you need to keep in mind is:
Buying your rug from a trusted rug seller.
Handmade rug sellers are notorious for selling machine-made carpets at the price of handmade rugs. and if you don't want to fall in this trap, making sure that your chosen rug dealer sells authentic rugs should be the first step in your rug-buying process.
If you're buying a pictorial rug for sale online, search the website for reviews and testimonials from previous customers. Are they satisfied with the product received? If yes, you're at a good place.
It's also best to ask whether the rug company is offering free return and exchange or not, in case you aren't satisfied with the product.
In addition to this, always measure the dimensions of your wall beforehand to get an ornamental pictorial rug that won't look too big or too small in your room.
Next up, try looking for a rug that features somewhat similar hues as the ones in your existing interior décor. Or, to create harmony, you can pick one color from the rug and use it in other items around the room, including your furniture, sofas, curtains, and cushions.
Lastly, pick a rug material. Since pictorial rugs nearly always end up being hung on a wall, you can go for either a wool or a silk rug.
If you're buying from a trusted rug seller, the materials used for crafting your chosen pictorial rug would most likely be of the finest quality. Handmade wool rugs are made using naturally dyed wool. Which means the rug would last long enough to become a family heirloom!
All in all, handmade pictorial rugs are a statement décor item that can make your interiors instantly pop up with warmth and liveliness. The major two reasons why you should buy a pictorial rug?
They're uniquely captivating
They always stay in trend!
By - 19 Mar 2021