Pictorial Rugs
Explore here the vast collection of handmade pictorial rugs featuring picturesque scenes of king and queen, lifestyle, monuments, wildlife, anecdotes and many more. These scenic rugs are great for putting up on hall walls and rooms for decoration. All picture carpets are 100% handmade and sourced from hubs like India, Pakistan, Afghanistan, and Iran. They are made from high-quality silk and wool. Shop them online at the comfort of your place and they will be delivered to you without any shipping charges.
Rugs By Design: Pictorial
2 results. Displaying 1 to 2.
sale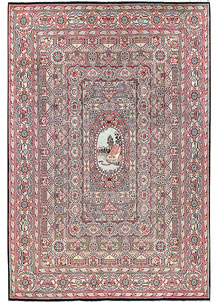 sale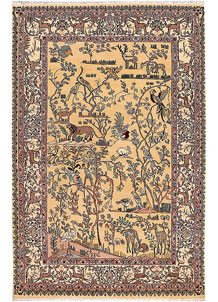 FIne Quality Handmade Pictorial Rugs Online
What do you call this rug? A painting or a carpet?
Well, the pictorial rug is both a rug and an artwork. It is woven like a rug while used as an artwork as it is framed and hung on the wall.
BUY BEAUTIFUL PICTORIAL RUGS ONLINE NOW
Pictorial Rug—Is It an Artwork or a Rug?
Also known as picture carpet or tableau rug, pictorial rugs are different from floor rugs in terms of design and use. They showcase the images of popular figures, anecdotes, and historical event. Pictorial rugs are created just like artwork or painting with the only difference is that the rugs are woven.
Another difference is that they are mostly used for hanging on the walls for decoration, thus, called an ornamental rug.
Pictorial carpets are made from wool and silk being the most common material of the rug. They have generally framed the same way as painting and made to be hung on the wall. 
However, their weaving technique is same as of the Persian rugs. Pictorial rugs generally show customs, Persian legends, landscapes, a basket full of flowers and Persian miniature.
WHY SHOP PICTORIAL RUGS ONLINE FROM QALEEN
100% Handmade Rugs:
Only handmade rugs can spruce up your living spaces with mesmerizing design, comfort, and legacy of the weavers. At QALEEN, we source handmade rugs from the weavers based in Afghanistan, Pakistan, India, Iran, and Turkey. And it takes nearly a year to make a rug. One more thing—no two handmade rugs will be the same.
Safe Online Shopping Experience:
Shopping on our website is safe and secure. When you provide us with any personal information including your address, email and credit card number, it is processed over a secure connection on our servers. All the information is encrypted as we use SSL.
Versatility:
What kind of pictorial rug do you want? Looking for "king and queen" imagery or something historical? We have something for everyone. And all rugs are designed for different areas like a bedroom or living room.
Affordable Prices:
No need to break your bank to shop beautiful pictorial rugs! Our prices are reasonable and you can enjoy timely discounts and deals on them.
How to Take Care of Your Pictorial Rugs
Regular Vacuuming:
Vacuum your pictorial rugs frequently to remove dust, dirt, and debris. Regular vacuuming will maintain the vibrancy of the rug. However, avoid using a high powered vacuum cleaner as it can damage the piles or fringes of a baluchi rug.
Take Action on Stains Immediately:
Don't put off until tomorrow in case of spillage on the rug. Instead, clean it with a dry cloth immediately. Otherwise, the stain will get permanent on the rug, requiring you a pro rug cleaning.
Choose your Carpet Cleaning Products Carefully:
Don't clean your rugs with every kind of detergent. Keep in mind that some cleaning products are harsh on the fabrics. Make sure to read the instructions carefully and test it on a small patch of a rug to ensure that it is safe.
Avoid Direct Sun:
UV rays from the SUN may cause the natural dye to fade, especially if the rug is exposed to the direct sun daily. Rotate your rug at least twice a year to distribute any color changes on the rug.
Place Your Furniture Away from Area Rugs:
Heavy furniture can crush the fibers and create dents as well. It is better if you use furniture coasters to prevent the damage to the rugs. Or they can be placed away from the rugs.
Get it Cleaned Every 12-18 Months:
Professional cleaning is important to maintain the quality of your rugs, even with regular care.
SHOP PICTORIAL RUGS ONLINE NOW!