5 Ways a Handmade Oushak Rug can Transform Your Living Space
Handmade Oushak rugs have always been particularly desirable among décor enthusiasts, majorly because they're an elegant amalgam of contemporary and traditional.
Adding a hand-knotted Oushak to your place can be your first step to creating a transitional décor look – bringing together the simplicity of modern interior and the liveliness of tradition.
There are numerous ways a handmade Oushak can bring the much-needed traditional elegance to your space. But when you're decorating with handmade rugs, it's important to know how to place them in a flawless manner in order to make a unique style statement.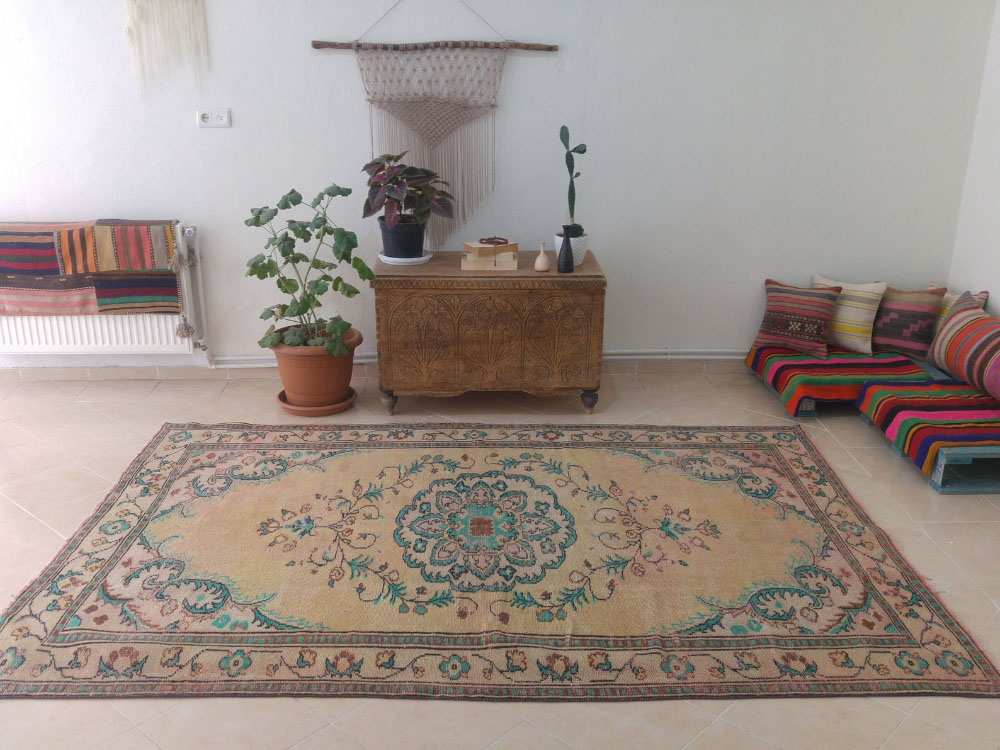 Before we get into the placement techniques for handmade Oushak rugs, let's discuss some of their distinctive features.
The Origin and History of Handmade Oushak Rugs
As the name suggests, Turkish Oushak rugs were first crafted even before the 15th century, by weavers who inhibited the town of "Oushak" located in the west central Anatolia, towards the south of Istanbul, Turkey.
Till today, Oushak is a grand production centre of exquisite handmade rugs that're crafted by master weavers and sold to rug lovers around the globe.
However, handmade Oushak rugs are also produced in other carpet manufacturing countries, including Pakistan, Afghanistan, Iran, and India, where highly skilled craftsmen craft premium quality floorcloths that are sophisticatedly traditional and uniquely magnificent.
The Weaving Techniques Employed
When you're investing in an expensive rug, it's best to pick a durable one that won't get damaged or wear out easily.
Apart from the materials used, a rug's knot density and the weaving techniques employed determine the strength of a handmade rug.
Since they were first crafted in Turkey, handmade Oushak rugs are woven using the ancient 'Turkish knot' or 'Ghordies knot' technique that adds to their durability as well as soft texture.
The Materials Used
Whether you buy a vintage Oushak rug or a modern one, the materials used in its making would undoubtedly be of the most supreme quality.
During the early days, the wool and cotton used in the making of Oushak rugs was often harvested by the weavers themselves, hand-spun, and dyed using natural pigments before being knotted meticulously to create unique design patterns.
Even today, you can find handmade wool rugs that have been dyed naturally and can retain their original hues for years on end, given that they aren't placed under direct sunlight for a long time period.
The Design Patterns and Hues
Woven using soft, silky wool, handmade Oushak rugs are filled with enticing geometric motifs, with a central medallion in the middle that's typically surrounded by smaller medallions. Vine scrolls and sprays of palmettes make the rug look even more mesmerising and lively.
Apart from this, some modern Oushak rugs also include floral patterns that blend in well with Western themed decors.
Unlike most traditional Oriental and Persian rugs, Oushak rugs often feature soft neutral hues and earthly tones, such as grey, gold, off-white, cinnamon, blue, ivory, saffron, green, and apricot.
Placement Tips, Techniques, and Ideas from Interior Designers
Handmade Oushak rugs are really easy to play with since they work well with all kinds of interior décor – traditional, modern, transitional, as well as vintage.
Also, since they feature soft hues, you can easily use the rug to create a focal point without making the space appear too overwhelming.
Here's a list of easy Oushak rug décor tips for an effortless look that exudes elegance:
1. Add a Contemporary Touch to Traditional Rooms
A vintage Oushak rug is perfect for bringing a bit of elegance to traditional spaces without making the décor appear chaotic or fallen apart.
If you want to redecorate your living space that's currently occupied by traditional furniture, there's no need to change the whole look. Just get a soft-hued Oushak area rug and place it in the centre of your living room.
While doing so, make sure that all the furniture items are either sitting completely or partially over the rug's surface.
For instance, if your rug isn't large enough to incorporate all the furniture items on top of it, just place the front two legs of your couch or chairs on the rug and let the back legs sit on bare floor.
2. Mix Together Contemporary and Traditional Furniture
Transitional décor is becoming increasingly popular among homeowners. While most decorators choose fully traditional rugs, such as Pakistani carpets, to create a transitional look, an Oushak can be a better choice if you want to keep things subtle and elegant.
Blend together traditional furniture and architecture with a modern-looking handmade Oushak rug.
You can also place an Oushak under a Victorian dining table and chair set, with a classic chandelier hanging with the ceiling above and a candelabra placed in the centre of the table for a uniquely sophisticated appeal.
While getting a rug for your dining room, make sure to purchase one that's big enough to incorporate the table and chairs on top of it, with a bit of extra rug extended from all sides.
In a sense, the size of your rug should be large enough so that the chairs won't slide off when pulled out.
Additionally, the shape of your rug should be similar to the shape of your dining table. For instance, if you own a circular table, get a round rug, square rug for a square table, and so on.
3. Light-Coloured Oushak Over Dark Wooden Flooring
Contrasts are always appealing.
For a look that draws attention and praises, pair up a gold hued Oushak with a polished dark brown wooden floor. Add in light-coloured chairs and a large-sized indoor plant to complete the look.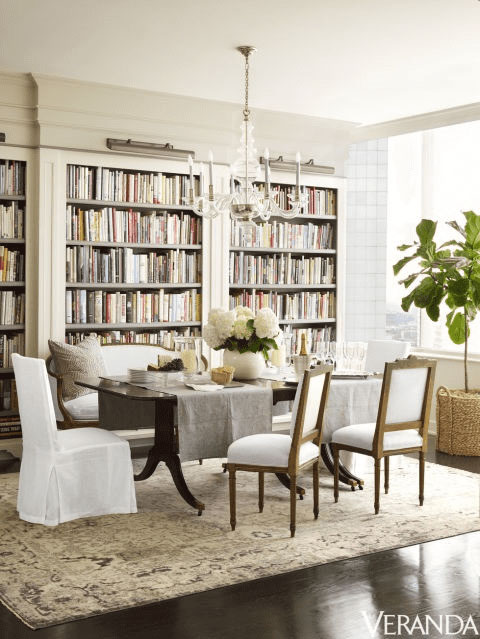 In the picture above, the contrast of dark furniture and furnishings against a light rug is starkly attractive.
You can also do this with dark grey-black couch placed over a light grey Oushak, or a cream Oushak placed under a dark wooden dining table.
4. Create a Colour Scheme
Most handmade Oushak rugs feature a range of different subtle hues. For instance, the base of an Oushak can be ivory with pistachio green floral patterns all over it.
Use any colour from your rug in the rest of your room's décor to create a unified look.
For example, in the image below, the two head chairs are of the same colour as the geometric patterns on the rug under them.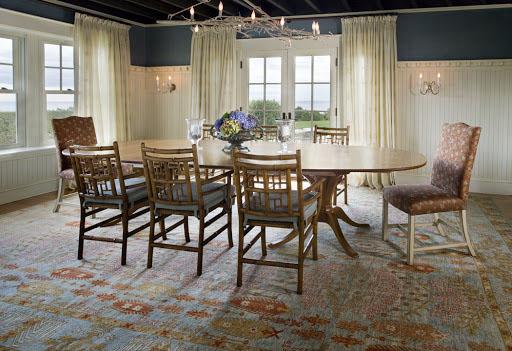 5. Decorate with an Oushak Runner Rug
A vintage Oushak runner rug can be perfect for adding a bit of warmth and texture to a dull hallway or staircase.
You can even add a small sized runner in a walk-in closet, alongside your bed, or by the side of your bath tub for an eccentric appeal.
Regardless of the size, shape, or colour of the handmade Oushak rug you choose, don't forget to make sure it's authentic.
Also, if you want the valuable floorcloth to live in your home for years, read some expert tips on how to extend the life of your rug.
Apart from that, clean the rug using a vacuum cleaner at least 2-3 times per week, don't place in under direct sunlight, and avoid wetting or washing your handmade wool rug at home.
By - 15 Oct 2020