How to Extend the Life of Your Handmade Rug?
Handmade rugs are the most luxurious décor items than one can own. With their soft texture, plush feel, and strikingly beautiful patterns, these woven artifacts symbolise magnificence like nothing else.
However, although incredibly durable, authentic hand-knotted rugs aren't that easy to take care of. And considering the fact that these art pieces are quite expensive, you won't want yours to grow old too soon, right?
Well, if you've invested in a handmade wool or silk rug, we've got some great tips for you that can help extend the life of your fuzzy friend!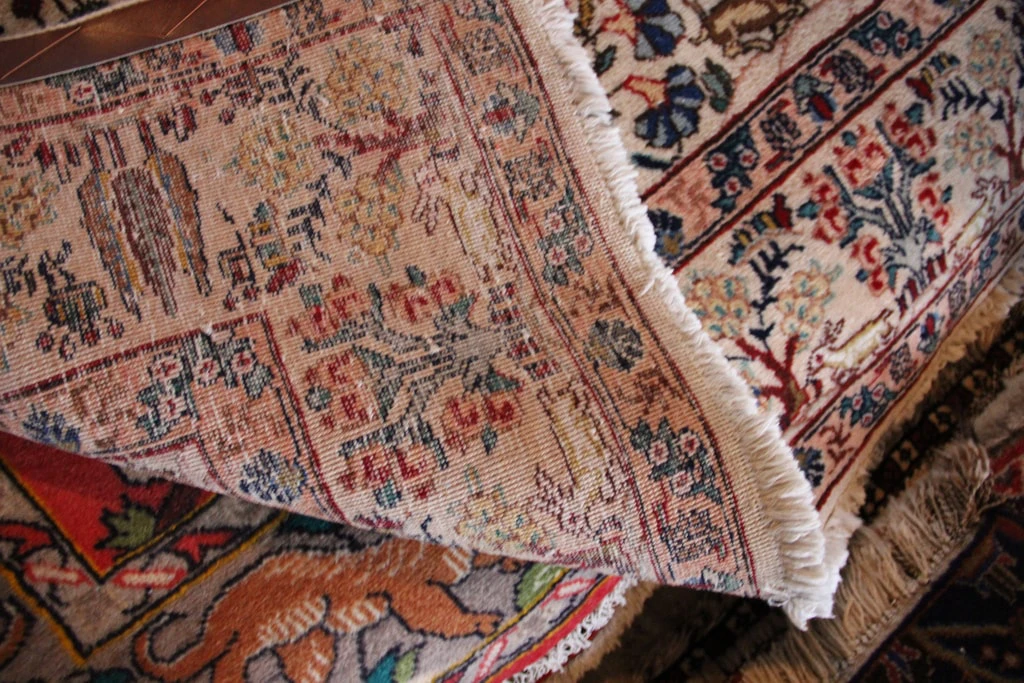 Why Do Handmade Rugs Require Special Care?
Before we move on to the tips section, let us tell you the actual reasons why you need to take 'proper' care of your handmade Pakistani rug, Persian hand-knotted carpet, or a handwoven tribal floor cloth.
When a rug is handwoven by expert weavers – who've learnt the art of carpet making from their forefathers – it's made sure that only the best materials are used, such as pure silk, cotton, and wool.
Further, these materials are often dyed using natural pigments and hand-knotted to perfection while employing ancient weaving techniques.
The result?
Rugs that're traditionally magnificent, luxurious, vibrant, bold, and oh-so captivating.
Moreover, you may not know this, but most handmade rugs are one-of-a-kind. In a sense, if you buy a handmade rug sourced directly from Pakistan, Afghanistan, or Iran, there's a huge chance that you could be the only owner of an original piece of art that won't have ANY similar copies.
All the above reasons are why handmade rugs are so expensive and considered a luxury. And when you buy something that valuable, making it last long is the dream.
Now, unlike its machine-made counterparts, a handwoven rug is – although more durable – harder to take care of.
Why?
Simply because you can't wash it at home, clean it with a vacuum that has hard bristles, or place it in a high-traffic area. Plus, you may also not want to let direct sunlight cause any damage to your handmade rug's dyes.
Would taking 'proper' care of your rug help extend its life?
Yes! In fact, that's the key to making your rug live long.
Here are some tips from carpet experts:
1. Never Miss Out on Regular Vacuming
Vacuuming is like a rug's skin care routine. If you want the results, don't skip it.
Do you need to vacuum your rug on daily basis?
Well, there's nothing wrong in doing that if you've got the time and energy. However, what we'd recommend is to clean your rug at least 2-3 times per week, nothing less than that.
2. Rotate the Rug Often
Whether you own a large square area rug, or a rectangular rug, rotating it often is a must.
That's because, when you place a rug in any room, for instance your living room, there's always certain pieces of furniture that go on top of it.
Heavy or not, a furniture item would most likely leave hideous marks on your rug if placed on the same spot for too long. So, to keep this from happening, rotate your rug alt least once a month.
Apart from this, there are always certain spots that get more traffic or sunlight as compared to other areas of the same rug. So, if you want the rug to fade evenly, despite the uneven foot traffic that it gets, rotate, rotate, rotate!
3. Always Tend to Spills Immediately
Do you host often? Or is one of your family members' just too clumsy?
Whatever the case may be, when you've got an expensive handmade rug decorating your floor, accidental spills just become a lot more tragic.
What's the only best way to deal with them?
Immediate action!
Even if you're hosting a party when the wine glass falls on your pretty woven floor cloth, don't wait for the guests to leave and run to save your rug!
If the spills are liquid, place paper towels on the affected area to soak up the excess juice, wine, coffee, or whatever it is. Afterwards, blot away the stain with the help of a clean, wet cloth.
In case something more solid falls on your rug, such as gravy or spaghettis, scoop it up and blot away the stain gently.
Note: Whenever dealing with stains on a handmade rug, NEVER rub. Rubbing can cause the stain to spread and it can become even harder to get rid of.
Following some expert rug cleaning tips can help make the task easier.
4. Get a Rug Pad
Rug pads are known to provide additional comfort and a bouncy feel when placed under rugs.
However, those aren't the only benefits of placing a rug pad beneath your handmade rug. It can also help in extending the life of your valuable décor item by reducing the chances and amount of wear and tear caused.
Also, having a rug pad means a more comfortable floor-seating area where you can play with your toddler, or simply lay down to read a great book.
5. Try Keeping the Pets Off of it
Whether you're a cat person or a dog lover, don't forget the amount of hair loss that those little furry creatures can have.
And it isn't just the pet hair that're hard to get rid of. Even your well-trained dog can sometimes decide to leave a 'wet surprise for you, IFYWIM. The worst thing about having pets is the nauseous urine smell that never goes away easily.
Also, in case you own a cat, don't forget their habit of scratching that can cause some serious, irreparable damage to your rug.
So, if you've brought home an expensive floor cloth, teach your pets to stay off of it.
6. Avoid Walking on the Rug with Dirty Shoes
We all know high foot traffic can reduce the life of a handmade rug, and in this process of damage, dirty shoes often act as a catalyst.
Avoid walking on your rug with the same shoes that you wore outside. You can use slippers, or simply wear a pair of socks when home.
7. Keep it Out of Direct Sunlight
Considering the fact that high-quality handmade rugs are often naturally dyed, their colours can fade under direct sunlight. And if the sunlight doesn't fall on the whole rug, it may cause uneven fading that would require a rug replace.
Considering the fact that high-quality handmade rugs are often naturally dyed, their colours can fade under direct sunlight. And if the sunlight doesn't fall on the whole rug, it may cause uneven fading that would require a rug replace.
8. Never Wash Your Rug at Home
If you ever think of giving your rug a good, warm bath at home, dismiss the thought immediately!
Washing an expensive rug yourself is way too risky because:
You may end up damaging the rug fibres by rubbing with a brush that's too hard.
If the wrong kind of rug shampoo or detergent is used, the colours of your rug can fade, bleed, or get bleached.
Handmade rugs don't dry easily at home and a wet rug can become home to mould sooner than you'd imagine. Also, it may start smelling really bad if left even slightly damp.
In case you can't find a professional rug cleaning service and the floor cloth badly needs a bath, you may wash it, but not without following expert advice on how to deep clean a handmade rug yourself.
9. Professional Cleaning Once in a While
Some jobs are best left to experts, and deep rug cleaning is one of those.
Only professionals can wash your rug without damaging it, and we'd recommend you to take your floor cloth for professional cleaning at least once a year if you want it to radiate a charming allure for a long period of time.
Apart from this, don't forget to follow all the other expert tips above!
By - 07 Sep 2020