Rugs are one of the most commonly used décor items.
From entrance halls to living rooms, bed rooms, dining spaces, stairs, kitchen, and even the bathroom, rugs and liven up any space! That's why getting a good handmade clearance rug for sale is every home owner's dream.
But did you know when was the first handmade rug made? Or which is the oldest rug in the world?
Read on to find out!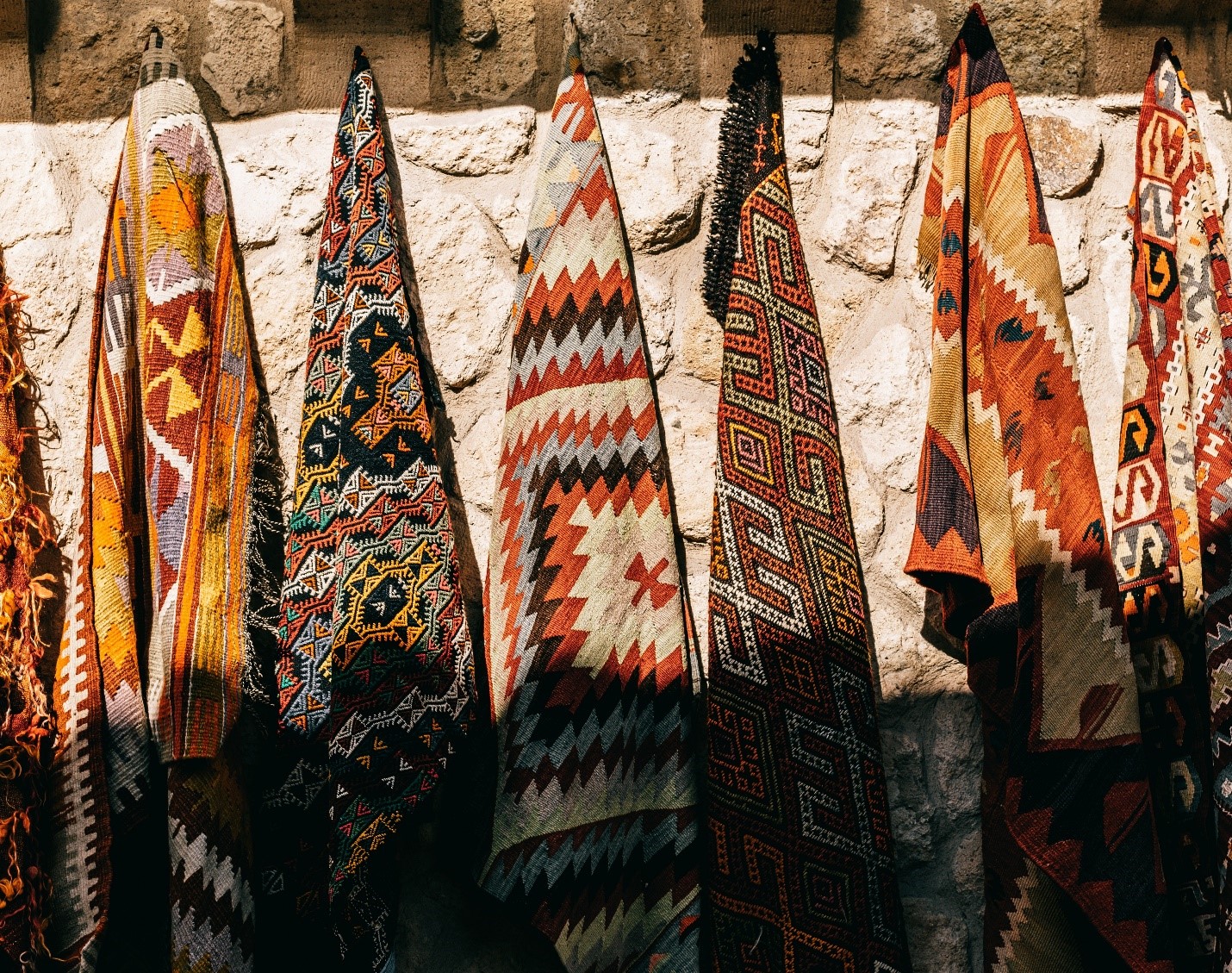 Fact # 1: 7000 BC – Birth of the First Rug
The exact date or year when the first handmade rug was made is not known, however the tradition of rug weaving is quite ancient. The first floor covering, rug, or carpet if thought to have been crafted as early as 7000 BC!
Today, you can easily buy handmade rugs online in any corner of the globe. And if you're lucky, you may find great quality clearance rugs for sale at affordable prices.
Fact # 2: World's Oldest Surviving Rug
Handmade rugs are popular for their high durability and known for the fact that they live for centuries!
Did you know that the oldest handmade rug is over 2000 years old?
It's a Pazyryk style rug that was discovered in 1947 and recovered from one of the Scythian tombs in Siberia.
Fact # 3: World's Largest Handmade Rug
The world's largest rug is named Qasr-al- Alam and was created in Iran and designed by Ali Khaliqi.
How big is this rug? It's larger than a football pitch.
The making process of this rug involved numerous weavers who crafted 9 different pieces of the rug that were then assembled and installed in a mosque located in Abu Dhabi.
We surely want to see this one!
Fact # 4: World's Most Expensive Rug
What's the price of the world's most expensive rug?
33.8 million dollars!
This rug was sold in an auction in 2013 and it still maintains the record of the most expensive rug ever sold!
But, don't worry, you don't need to break the band to buy a rug if you check out clearance rugs online.
Fact # 5: Camel Hair Were Once One of the Common Rug Materials
During the early years, camel and goat hair were one of the common rug materials used for rug weaving. However, today the use of these materials in the making of rugs is very rare and the rugs made of camel hair cost a bit too much.
Fact # 6: Color Red in Oriental Rugs Symbolizes Courage
Red is a popular color in handmade Persian and Oriental Rugs. From dark red Bokhara rugs, to classical red Jaldar rugs, and Red Mahal carpets, the color has a distinctive charm of its own. But did you know what red symbolizes in Persian rugs?
Red rugs represent courage and beauty!
Fact # 7: The 'Tree of Life' is Both a Buddhist and a Muslim Symbol
Persian handmade rugs are highly symbolic. And it is not only about the rug colors, but the design patterns and shapes on a handmade rug have a lot of history and meaning attached to them.
The 'tree of life' is a popular shape that's used in Persian and Oriental rugs. The symbol has been used by rug weavers since centuries and it has various meanings. As a universal symbol, the tree of life is a representation of immortality, resurrection, and longevity.
However, it is also known to represent the Garden of Eden for Christians and Paradise for the Muslims.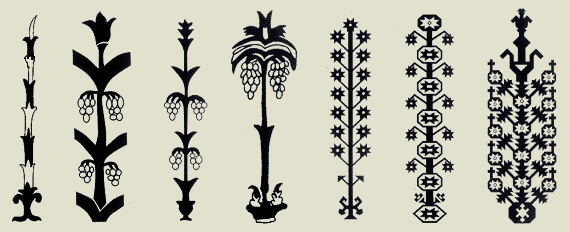 Fact # 8: Cork Wool Carpets are the Finest of All
What is cork wool?
It's the wool that's trimmed from the sheep's neck and is known to contain a higher level of fat in comparison to regular sheep wool. Hence, carpets or rugs that're made using only cork wool have a finer and softer feel to them. Plus, cork wool rugs are considerably shinier as well.
Fact # 9: Europe Was Introduced to Handmade Rugs in 3rd Century BC
The first handmade rug was brought to Europe in the 3rd century BC by Alexander the great. And that's when the story of rugs began in European countries, where traders started importing the rugs from Persia. Later on, rugs such as the Ziegler rugs were crafted specifically with the aim of being sold in the Western market. These rugs had more subtle colors than other Oriental rugs and featured floral patterns rather than geometric designs.
Fact # 10: Most Oriental Carpets are Named After their Place of Origin
Nearly all of the Oriental rugs are named after the place where they were first created or the tribe responsible for their origin. For instance, Oushak rugs come from a town name 'Oushak' located in Central Anatolia in Istanbul. Similarly, the Bokhara rugs originated from 'Bokhara' in Uzbekistan.
Anyhow, we love how Oriental rugs come in so many different designs and patterns and how easy it is to find the ideal rug in a rug clearance sale online.
Fact # 11: Rugs Are Safer Than Room-Sized Carpets
Wall-to-wall carpeting is harder to clean and maintain because the dirt keeps on gathering under the floorcovering. On the other hand, rugs are smaller in size and can be easily picked up and cleaned from both sides. Also, you won't face any issues regarding trying to keep the space under the rug clean.
Fact # 12: Oriental and Persian Rugs Are Not the Same
Most of the times the terms Oriental and Persian rugs are used interchangeably, but what many people don't know is that these both rug types aren't the same.
Persian rugs, as the name suggests, are those that are made only in Persia, what we call Iran today. On the other hand, Oriental rugs include all the floor coverings made in China, Russia, Iran, Afghanistan, India, Pakistan, Turkey, Nepal, or any other Asian region.
Fact # 13: Hand-Knotted Rugs Have Irregularities in Pattern
This is one of the handmade rug features that comes in handy when you're identifying a hand-knotted carpet from a machine-made one. Since these rugs are entirely made by hand, they are not perfect and you're bound to find some irregularities in their pattern.
Fact # 14: The Value of Handmade Rugs Increases as They Age
Do you have an old handmade rug at home? Or are you thinking of buying one? Whatever the case may be, we'd tell you to take good care of the artifact because it would surely become a valuable asset overtime.
That's the reason why handmade antique rugs are often times more expensive than new handmade carpets.
Even if you buy one of those affordable handmade clearance rugs for sale, the carpet would become more valuable as it turns vintage.
Fact # 15: All Handmade Rugs are Naturally Dyed
Since the early years till today, handmade rugs are crafted using naturally dyed wool. No chemicals or harmful compounds are used during the process. Also, this quality of handmade rugs makes their colors stand out and retain their original shade for years on end. Naturally dyed wool rugs don't bleed at all!
However, do keep your rug out of direct sunlight because the UV rays can cause its colors to fade!
Buy the perfect handmade clearance rug for sale now!
By - 04 Jun 2021