As you might suspect, the pile height of a rug has everything to do with how it's made, what material was used, and who was the weaver.
There are three major rug pile heights; high-pile, low-pile, and flatweave.
Depending on your rug pile, you can determine how long the rug will last, how durable it will be, and whether it'd be plush and velvety or not too soft.
It also helps to determine the real value of a rug. For instance, flatweave Shawl rugs that are imported from Kerman may be bought at a lower price in comparison to the high-pile Oushak rugs.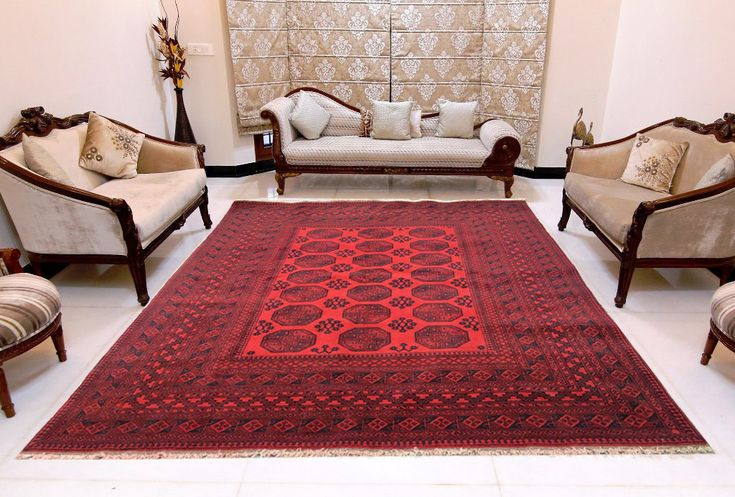 The main intent of this article is to give you an understanding of the basics behind pile height and why the height of the pile is an important factor to consider when you're buying a rug.
Let's begin with the basics.
What is Rug Pile Height?
Rug pile height refers to the height (loft) of a rug's fibers. It's generally measured in millimeters from the bottom of the loop, or the bottom of the tuft, to the top of a given pile rug.
The height is a crucial factor in a rug's durability, how it feels underfoot, its luster, and much more.
That's why it's hard to compare the pile height of one style with another.
However, the pile height varies according to the type of rugs available in the USA and UK. For example, wool rugs normally have a pile height of 21mm whereas silk ones can be as low as 6mm.
Although the pile height of an average rug is anywhere between 6mm - 21mm, you must check the pile height before buying one.
What are High-Pile Rugs?
High pile rugs are those that have a higher number of fibers on the surface of the rug. These are usually made of natural materials like sheepskin, wool, cotton, or silk. A rug with a high pile is better for areas where the floor is cold.
To help trap body heat, look for an area rug that has a plush (more than 1/2 inch) or high (more than 2 inches) pile height.
This allows more warmth to be trapped inside the rug. Usually, a high pile is more preferable for those looking for softness and comfort.
However, softness can also lead to excessive shedding as well as the need to have your area rugs professionally cleaned more often than those with lower pile height.
Thus, you should take this into account when deciding on whether to purchase a high pile rug.
To determine the amount of comfort, look at how it feels under your own feet. You should also be able to judge its softness by looking at the tips of the outer fibers and feeling them with your fingers.
If they're soft, then chances are that you'll feel a plush pile underfoot.
If the fiber loops are too tight or too loose, then it can wear down prematurely and cause tangling, which makes your rug look old pretty quickly.
What are Low Pile Rugs?
Low pile rugs have a lower amount of fibers on the surface of the rug as compared to the high pile rugs.
These types of rugs generally have a thin and flat design that is often used in modern settings because they can fit into just about any style of the room.
Low pile rugs (1/2 inch or lower) are the best option for areas where you have a lot of foot traffic. The low-pile construction makes it easier to clean, letting things from shoes to pet hair fall right off.
This allows the rug's fibers to remain intact and less likely to tangle as opposed to higher pile rugs that can get easily tangled.
That's why people prefer them in the dining and living room where kids usually play and we sit with friends and family.
Low pile rugs are a better option for sensitive people who have allergies to dust and dirt.
TIP: Yes they're easier to clean, but it's important that you do so properly. Use a canister or vacuum with a soft brush attachment to gently suck up dirt from the surface of the rug.
High-Pile, Low-Pile, or Flatweave: Which Rug is Better?
High pile rugs are great for comfort, insulation, and design so they add charm to the guest room, office, and reading nook while low pile rugs can be used to decorate other parts of the room like an ottoman or coffee table so they suit in the living and dining room.
On the other hand, a low pile rug is easier to cut, install and maintain but isn't as durable or resilient as a high pile rug.
One more thing you should always try and avoid is a low pile rug that has a thin underlay, this is going to cause the fibers of the carpet to "dig" into the lower quality underlay which will decrease its lifespan significantly.
A rug's pile is made in many different ways depending on its intended use. However, good-quality area rugs are often designed to be multi-purpose so you can get more for your money.
What matters is not always the pile height itself, but the way the rug is made and how it will perform for you according to your specific needs.
Just like if you prefer a flatweave geometric style handmade rug with piles of wool and a foundation of cotton, Shawl rug is the best option to go with.
Flatweave rugs are a type of floor covering that is woven without a pile. The name 'flatweave' is a bit of a misnomer because these rugs are not woven with warp and weft threads that are of equal height.
The warp threads are woven from side to side only, while the weft thread is used as a filler with back and forth weaving.
The best thing about flatweave rugs like shawl rugs is you don't have to walk through a store as you can buy shawl rugs online with a quick search for shawl handmade rugs.
Finally, if you're looking for durability, choose high pile rugs that are made of natural fibers because they will last longer.
If you're looking for something that will fit into multiple decor styles, choose low pile rugs.
However, if you want your rugs to have both the qualities i.e. durability and style, last longer, and have geometric patterns woven by traditional artisans, opting for a handmade flatweave shawl rug is also a good choice.
By - 16 Sep 2021