Do you want to add color, aesthetics, and comfort to your dull space?
If yes, then buying a handmade rug would never go wrong!
Handmade rugs come in a wide variety of textures, colors, designs, and styles, and these vibrant and mesmerizing rugs will help you in uplifting your interior while giving you a warm and cozy vibe.
You can look for handmade Kilim rugs, Persian rugs, Gabbeh handmade rugs, Pakistani rugs, and Tribal rugs, or you can buy Baluchi rugs for sale.
Let's discover some facts about handmade Baluchi rugs in this blog.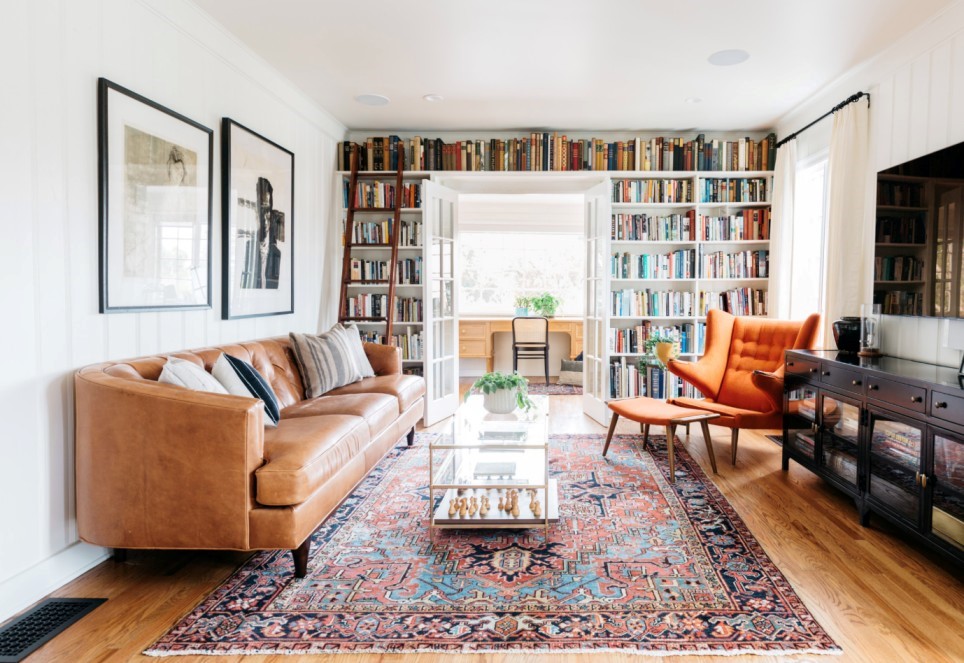 What is the History of Baluchi Rugs?
Baluchi rugs are often referred to as Baluchi or Beluchi handmade rugs. These rugs are crafted by Baluch tribesmen.
Baluchistan is the region bordered by Iran, Pakistan, and Afghanistan, and that is why Baluchi handmade rugs are regarded to be a fusion of three separate areas.
Where these rugs are made, however, often determines their label. For instance, the Baluchi handmade rug is Persian if it is marketed in Iran. When you get a Baluchi rug for sale from Afghanistan, it is referred to be a Herat product. And similarly, a Baluchi rug made in Pakistan comes under the category of Pakistani rugs.
Nevertheless, you can buy Baluchi rugs online easily.
Designs and Materials Used in Baluchi Handmade Rugs
When it comes to style and interior decoration, a handmade Baluchi rug may help you bring color to your living space like nothing else. These handmade rugs will provide a whole new and fresh look to any space whether you use them in your living area or your bedroom.
You can buy these vintage handmade rugs online in shades of dark red, brown, blue, lavender, and ivory. All of the Baluchi handmade rugs involve extensive use of black edges and shadows, which makes the color tone of a rug darker and deeper.
The repetition of a single design all across the carpets is one of the distinguishing features of a handmade Baluchi rug. Moreover, to produce an impressive visual impression, weavers usually weave geometrical patterns such as cubes, rectangles, and pyramids.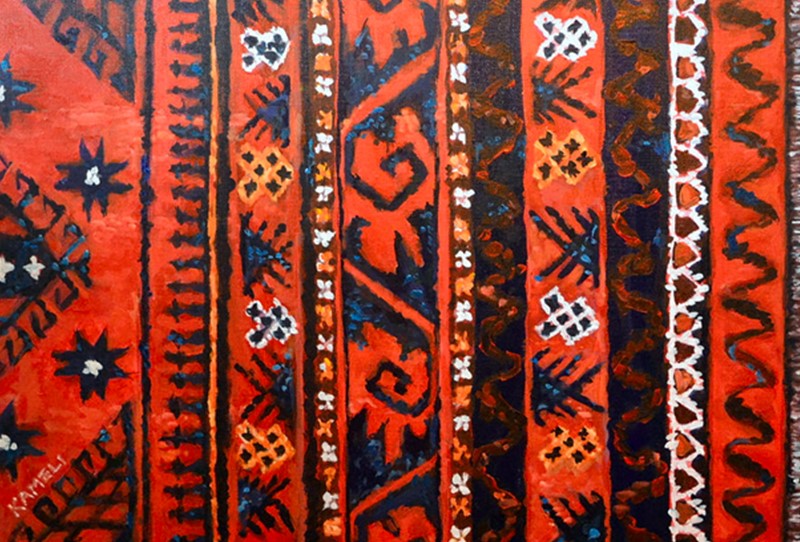 The most commonly used material in Baluchi handmade rugs is wool and cotton. However, sometimes goat or camel hair is also used in their manufacturing.
Now let's talk about the characteristics of Baluchi rugs that make them different and unique from other rugs:
1. They are Not Specifically Made in Baluchistan
While the name of the rug tells us a lot about its history, the fact is that Baluchi rugs are also made in countries other than Baluchistan. Handmade rugs are now one of Pakistan's most important exports, with Baluchi rugs contributing a significant share of this total export.
Baloch tribesmen created the first Baluchi rug for sale, and the rug's design patterns are highly influenced by Baloch customs and culture. However, as the demand and popularity of Baluchi handmade rugs grew, craftsmen from outside of Baluchistan, especially from Pakistan's Punjab and KPK regions, became involved in the production of Baluchi handmade carpets.
Nonetheless, a large number of Baluchi rugs are still made by native Baluchi craftsmen - and the tribesmen living along the border between Pakistan, Afghanistan, and Iran. Because of its history, Balochi handmade rugs have a lot of vibrant colors and powerful traditional designs and symbols on the surface.
Not only that but some handmade rugs are loaded with tribal symbols, which offer significance and traditional depth to any interior while also revealing the owner's love and respect for historical traditions and values.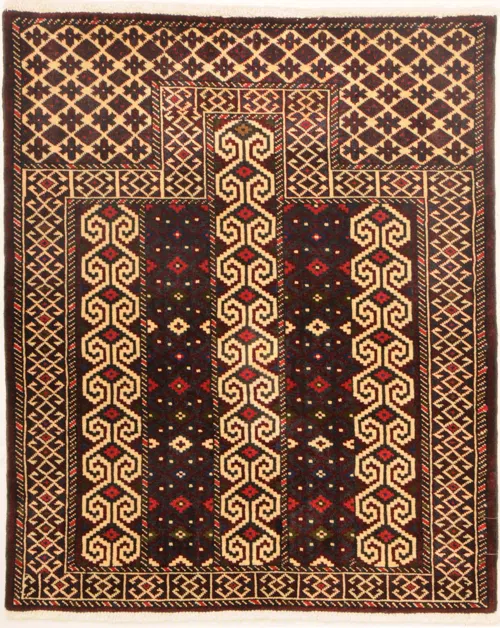 2. They Have No Match for Finest Quality
Another fact about Baluchi rugs that you may not be aware of is that those made in Pakistan by Pakistani Baloch tribesmen for sale, are of the highest quality. Whenever it comes to the quality, longevity, and elegance of handmade rugs, Pakistani rugs are at the top of the list.
Pakistani Baluchi rugs are created with the highest quality wool and cotton, which is typically acquired locally and combined with imported wool. The wool used in the rug is naturally dyed in strong bright hues of classical red, blue, green, gold, ivory, greys, brown, apricot, orange, and more before the rug production process begins.
All the colors of dye are extracted by nature such as vegetables and plants hence these handmade Baluchi rugs are eco-friendly. Moreover, they are highly durable and if taken care of properly the Baluch handmade rugs will serve you for generations.
3. Good Things Take Time to Happen
As they say, good things take time to come your way similarly a durable handmade Baluchi rug can take up to 10 months to get ready for sale in stores or you can buy handmade rugs online.
Since the design and patterns of a Balochi rug contain many geometrical forms such as hexagons, pentagons, triangles, and squares, these rugs take months, if not years, to create. A single Balochi rug requires the skills of 4 to 5 trained craftsmen who work on the rug for up to 6 hours per day.
Once they are ready, you can book yours online and get it at your doorstep without any hassle!
4. They Are Resistant to Water
Baluchi handmade rugs are not only extremely durable and long-lasting since they are crafted of superior-grade wool, but they are also water and stain-resistant. Aside from that, if anything does spill on the rug, wool rugs are easy to clean, and you may use a variety of DIY methods to clean your rug at home.
However, if a liquid spill occurs by mistake, do not rub the affected area or wait for the stain to dry. Take action right away by soaking the remaining liquid with clean paper towels. Then, gently wipe the place with a clean, moist sponge.
5. Their Colors Hardly Fade Away
As it is mentioned above Baluchi rugs are made up of using natural dyes extracted from plants and vegetables, this is the reason they hardly fade away.
Everything demands care same as these attractive handmade rugs, you can follow the following tips to make your handmade rug last for years:
Avoid exposing the carpeting to direct sunlight.
Maintain a cleaning schedule and vacuum your rug at least 2-3 times every week.
Do not walk across the carpeting with muddy outdoor shoes.
Avoid putting it in regions with a lot of foot activity.
Keep dampness and water at distance.
Adding a Baluchi rug means bringing life to plain and dead home décor. So, what are you waiting for?
Take the measurements of your space and choose and buy a handmade Baluchi rug online that is the correct size, shape, and color to complement the rest of your décor!
By - 17 Nov 2022