Rugs are often referred to as the 'anchor' of any décor style. They help bring the entire look together, making your décor appear more coherent and well-put together.
But when it comes to choosing a rug color, one can feel confused and mesmerized by the numerous options available.
What's the safest pick?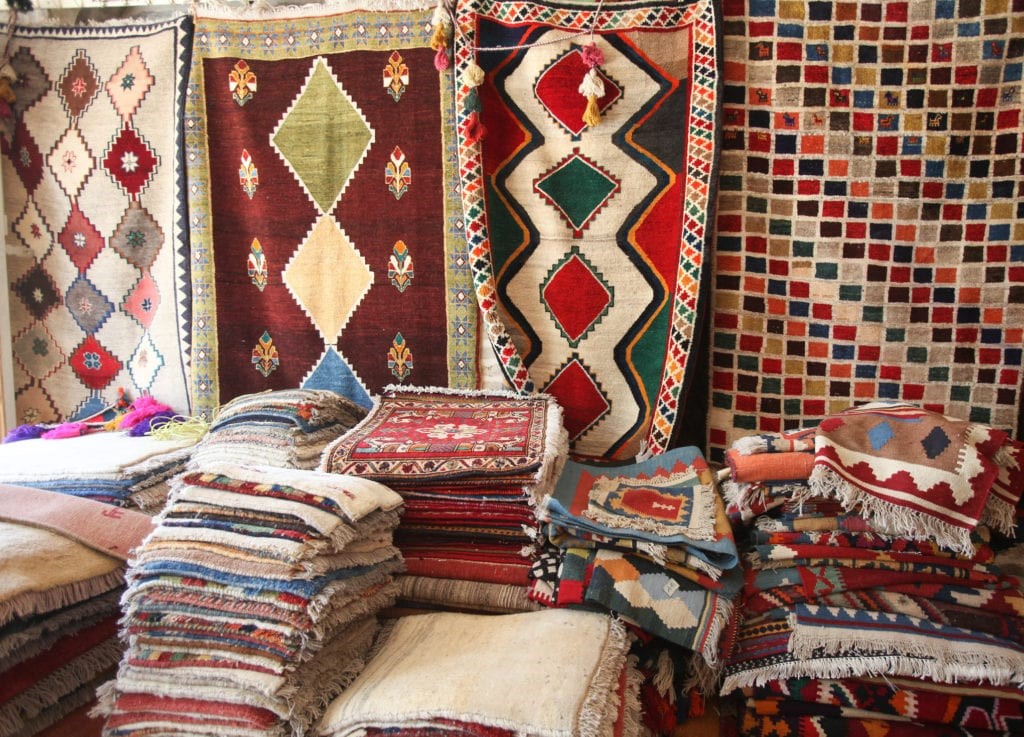 Why Should You Buy a Multi-Colored Rug?
Among all handmade rug colors and hues, multi-colored rugs for sale appear the most enchanting, magnificent, and glamorous.
But that's not the only reason why you should go for the multi-colored rug option. They're also extremely versatile and can be easily made to blend in with any décor style or theme. Plus, they add an instant splash of colors and liveliness to any space!
For instance, if you're wondering how to uplift your boring living room interiors, or if your dining space appears dull and lifeless, the simple addition of a multi-colored rug can make your room pop up!
Whether your current décor is in pastel hues, features neutral tones, or has no specific color theme, bring home a multi-colored carpet and you can easily create a focal point without much hassle!
What's even better is the fact that multi-colored carpets retain their original look for years on end. That's because their bold and bright hues don't show much dirt even if you forget cleaning the rug for as long as two weeks!
Additionally, if you have a toddler at home or often host parties, then dark rugs such as these are the perfect option for you.
Why?
Because they're great at hiding nasty stains!
Multi-Colored Rugs Styles and Types
Multiple Oriental and Persian rugs, as well as Pakistani carpets are available in multi-colors, including the popular Kilim rugs, the enchanting Khal Mohammadi rugs, Kazak rugs, and many more!
Here's a list of the most common multi-colored rugs types that you can easily find on sale online:
Modern multi-colored abstract rugs
Mamluk rugs
Oushak rugs
Mashwani carpets
Baluchi rugs
Maliki rugs
Bokhara rugs
Ziegler rugs
Soumak carpets
Bakhtiar rugs
Kazak rugs
Gabbeh rugs
Pakistani prayer rugs
Isfahan rugs
Khal Mohammadi rugs
Pakistani rugs
Now comes the real question: "which type of multi-colored rug should you buy?"
Well, the answer depends largely on your existing décor style and furnishings, as well as your décor preferences.
For instance, if you want a 'toned-down', minimalistic look that is traditional yet appears elegant and sophisticated, there can be no better option other than Oushak handmade rugs. The color palette of an Oushak carpet features pastel hues combined with intricate floral patterns and vines.
On the other hand, for homeowners who're in search of bold and bright rugs, tribal rugs such as Khal Mohammdi carpets, Kilims, Bakhtiar rugs, Soumak rugs, and Baluchi rugs can all be a great option.
Multi-Colored Rugs – Décor Tips and Tricks
Colorful handmade rugs are, without any doubt, a great pick. But that doesn't mean you can't mess up while decorating with these carpets!
Here are 4 rug décor tips you should not forget when decorating with multi-colored rugs:
1. Remember to Maintain a Balance
The first and most important décor rule that you should keep in mind when decorating with multi-colored rugs is this:
Keep things balanced.
No matter which décor style you're following – traditional, modern, or transitional – it's always necessary to maintain a balance.
For example, if your current furnishings are dark, with patterned sofas and brightly colored curtains, investing in a multi-colored handmade rug can be a huge mistake!
On the other hand, if the rest of your décor is plain and simple, then a colorful carpet can be used to add some spice!
Have a look at this image below for your reference: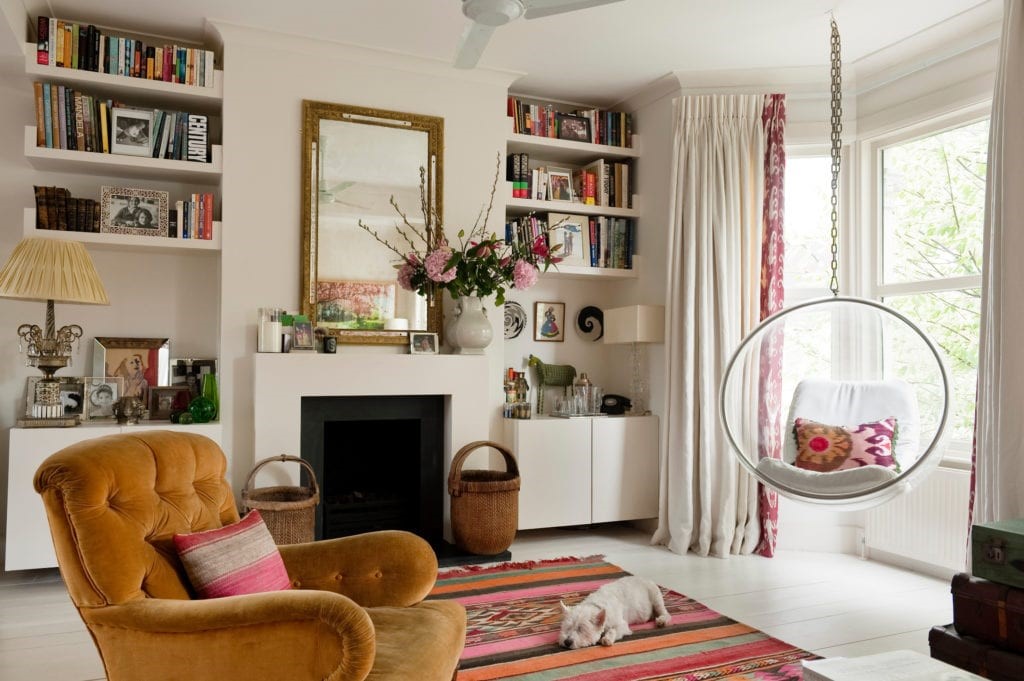 Moving on to the next tip …
2. Keep the Furniture in Line with Your Rug
Your furniture items should always be aligned with your rug. Mess this up, and the entire décor look would star appearing chaotic and fallen-apart.
When you buy the rug, make sure it's the right size and shape by measuring your room's dimensions beforehand.
Afterwards, while placing it, try positioning the carpet in the center of your living room with all the major furniture items on top of it.
In case your room is small or the rug isn't big enough to incorporate all the sofas and center table, place the front two legs of your sofas over the rug's surface, with the back legs resting on the bare floor.
If not even that, then make sure the front legs of your sofas are in perfect alignment with your area rug. Such as this: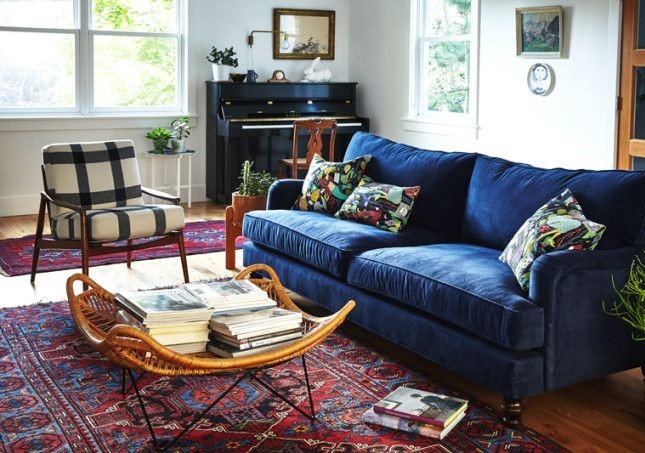 3. Patterned Rug? Get Plain Furniture
A multi-colored rug would always be patterned, because it includes multiple colors and that's not possible without a design pattern.
Anyhow, whether it's a tribal rug with geometrical patterns or an Oushak with floral designs, here's a rug décor rule:
If your rug is patterned, your major furniture items should be plain.
To create coherence, you can use any single color from your rug and repeat it throughout your entire décor. Or, if the rug is too bright, try to tone-down the look by adding in neutral-colored sofas and light-wooden furnishings.
Need some inspo? Have a look at this image below: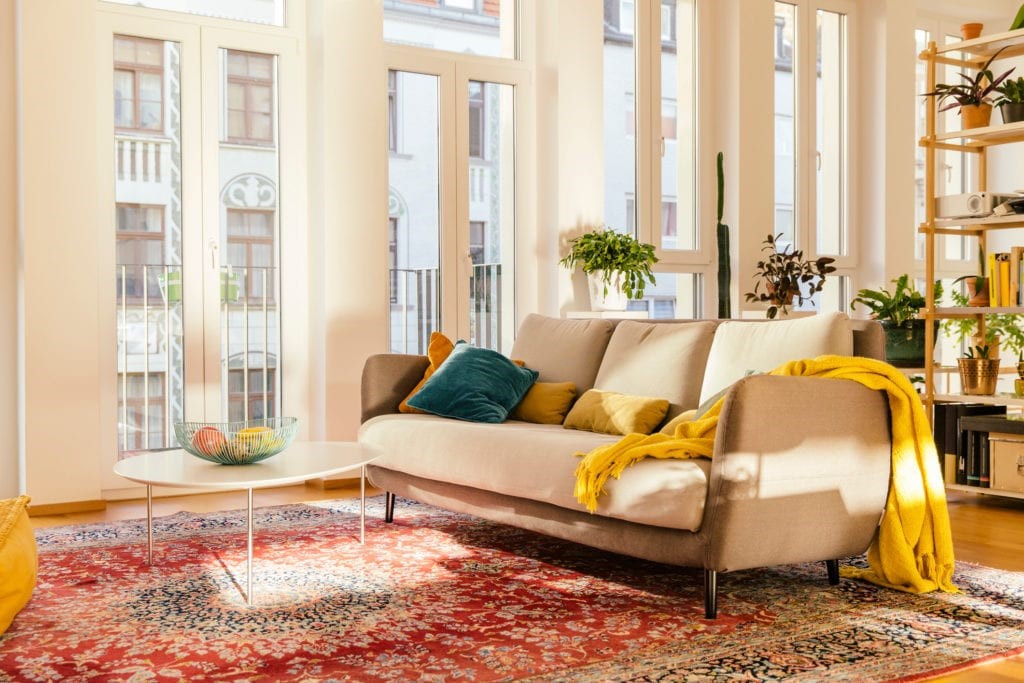 4. Try Rug Layering to Tone-Down the Look
Rug layering is the best way of decorating with traditional accessories in a trendy manner. And, it also lets you find a solution to the 'too small area rug' problem.
Simply get a small-sized multi-colored rug, such as Baluchi rug, and place it over a larger area rug.
For a trendy boho-chic look, you can layer up your tribal multi-colored rug over a jute or sisal rug. Add in a bunch of indoor plants, some patterned multi-colored cushions, light wicker furniture, and open up the curtains to enjoy your lively décor!
Still confused which rug color should you buy?
Play safe and buy a multi-colored rug that is sure to blend in well with all décor types, styles, themes, and colors!
By - 15 Mar 2021