Gabbeh rugs are one of the finest kinds of handmade rugs made in the eastern side of Asia. Countries like Canada, the USA and UK are importing Gabbeh rugs that have been hand-made in Iran, India, Afghanistan and Pakistan.
Gabbeh rugs can add a five-star look to your home's interiors. But what exactly is a Gabbeh rug? What is special about them and why are Gabbeh rugs Iran more popular than other Persian rugs?
So many questions and all the answers are here in this absolute guide to Persian Gabbeh rugs for sale.
Let's dive in!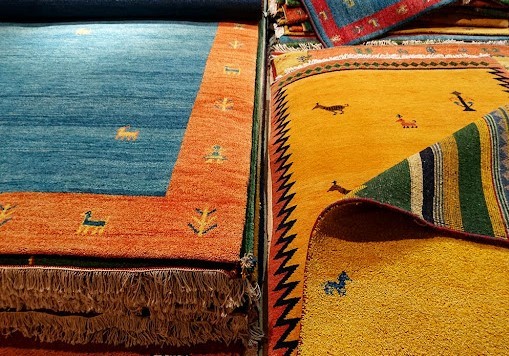 What is a Gabbeh Rug?
A Gabbeh rug is a flat woven carpet characterized by its designs with little intricacy in motifs and plain yet captivating colors.
The word "Gabbeh" means "rag" in Persian; the word probably refers to the most common use of old worn-out pieces of fabric as the backing for these rugs. The wool is usually hand-spun, and the dyes used are natural vegetable extracts. Wool, cotton, and silk have been used for warp as well as weft.
What is Gabbeh Loribaft?
Gabbeh Loribaft is handmade wool rugs made by the Lori and Ghashghai tribes. The word baft stands for weaving. Hence the word itself means Loriweave.
There are many types of Gabbeh Wool. Gabbeh wool is the traditional material used to make the most common types of a Persian rug, such as the Shag and Traditional Persian rugs. Because of this, it is also sometimes referred to as Gabbeh Wool.
Where do Gabbeh Rugs Come From?
Gabbeh rugs are handmade, and they originate from a nomadic tribe in Iran, who weave them on their looms. This type of rug is associated with the Baluchi and Qashqai tribes.
It is thought that Gabbeh rugs are amongst the oldest forms of Persian carpets. The word Gabbeh is also sometimes named "uncouth" or "raw," and this is an appropriate name for this type of rug since they are naturally colored and made without chemicals.
There are no symmetry, perfect shapes, or patterns in Gabbeh rugs. Instead, they are made with bright colors created by a combination of natural dyes and vegetable colorants.
What is the History of Gabbeh Rugs?
The history of Gabbeh rugs is closely related to carpets from neighboring countries, such as India. It is widely believed that these tribal weavers traveled around the world and brought their beautiful rugs along with them. Consequently, Gabbeh rugs are often found in countries such as India, Afghanistan, and Pakistan.
Gabbeh rugs have been used since the times of the Medes and Persians, but they became famous in Europe during the 19th century. At that time, only nomadic tribes were allowed to weave and sell Gabbeh rugs and other Persian rugs.
Style, Color, and Designs of Gabbeh Rugs
Gabbeh rugs are soft to the touch because they are knotted with shorter fibers than typical Persian rugs. The combination of wool and natural colors gives the rugs a soft, shiny appearance.
Gabbehs come in a wide range of colors. Their colors are very bright, and they have a unique pattern: thin lines that form diamonds on the rug's surface. The main difference between the different types of Gabbeh is the color of the base wool. The most sought-after colors in Gabbeh rugs are:
black (Karaee) - A most famous type of Gabbeh
brown (Sehna)
grey (Random)
white (Nokhod)
red (Palas)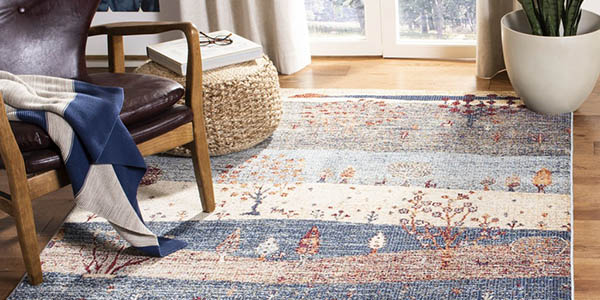 Gabbehs have a variety of patterns. Common themes are the "Tree of Life," hunting scenes, and nature in general. Some types of Gabbeh, such as white, have a more straightforward design.
On the other hand, some Gabbehs don't have a discernible pattern. For example, the "carpet" type Gabbeh has no design at all. They contain small bits of natural undyed wool that are left over after all other colors are dyed.
Moreover, Gabbeh rugs are unique for their simplicity in design, intended use, and for their production process.
Gabbehs are made from the finest wool, and the natural colors of the wool make a beautiful background for the simple designs. The simplicity of design can be attributed to cultural traditions which discourage displays of opulence. Persian culture has always placed great emphasis on fine craftsmanship.
Most of the designs are traditionally inspired, and many rugs have a medallion design which is very popular in Persian carpet making. There are also Gabbeh rugs with stripes in two or three colors which can feature brighter hues such as blue or yellow. There are also Gabbeh rugs with a single border on the long sides or one or two borders on each short side of the rug.
Why Are Gabbeh Rugs Expensive?
Gabbeh rugs are expensive but worth their price.
The best-known versions of Gabbeh rugs are Tibetan ones produced by nomadic tribes of the Himalayas or Persian Gabbeh manufactured in Afghanistan.
Gabbehs are made of 100% natural materials, and their manufacturing process is complex and takes about ten months to complete. The prices of Gabbeh rugs vary according to the quality of fur, number of knots, hand-knotted weaving technique, and designs.
The most expensive Gabbeh rugs are made with the best fur and superior weaving techniques and usually take months to prepare. These rugs can cost anywhere from $2,000 to more than $10,000.
However, many Gabbehs are machine-made with inexpensive wool, are not well-constructed, and have simple designs. These carpets sell for anywhere between $500 to $1,000.
This comprehensive guide has tried to answer everything about Gabbeh rugs, their history, style, design and popular colors. Gabbeh rugs may be slightly more expensive than other rugs but they are worth the value.
To put it in the nutshell, handmade Gabbeh rugs are worth the money.
These rugs are durable and once purchased can go on for decades. Since they are made with hand-knotted techniques and natural colors, they are less likely to fade. Which means, a Gabbeh rug that you buy today can become a family heirloom for your future generations!
By - 03 Sep 2021