If you are reading this blog, probably you are redecorating your home and looking for some good ideas to make your living room décor stand out.
Tabriz rugs are just what you need in order to bring that bland and colorless décor to life!
Wondering whether or not Tabriz rugs are worthy of your investment? Should you add these art pieces to your living room?
This blog will educate you on everything related to handmade Tabriz rugs on sale. By the time you're done reading, you'd be browsing through handmade Tabriz rugs online!
Let's begin!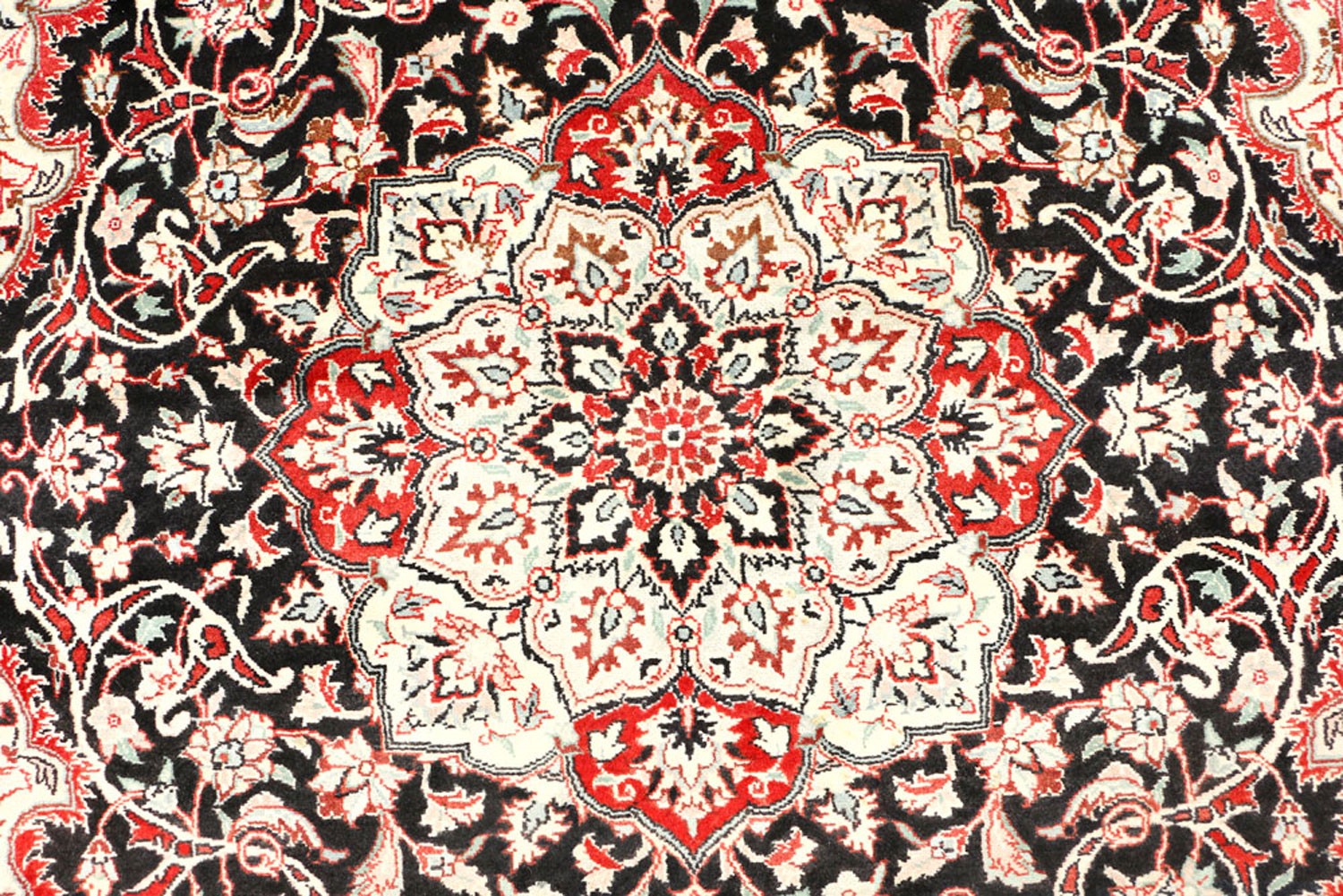 History of Tabriz Rugs
Tabriz rugs are as ancient as the 12th century. Popularly known as Persian Tabriz rugs, these carpets have a long history that can be traced back to villages near a city in the northwest of Iran. Tabriz rugs are made in and around the town of Tabriz, the capital of East Azerbaijan Province, Iran.
Although Tabriz rugs are made in the city of Tabriz, the villages surrounding this city have been known for centuries for other different types of Persian rugs. The rugs made in these villages are known as Haji Abad, Essi Khorassan and Valium.
There are two major types of rugs made in this area. First there are Ghalamzani, which have symmetric knots and usually have designs that include pomegranates and vines.
The other type is called Boukhara (pronounced Bau-kuh-Ra), which have asymmetric knots and more cartouches and medallions.
The majority of the rugs woven in this area have a cotton foundation, though some have a wool foundation and silk wraps. The pile is usually very high, giving these rugs their characteristic deep look.
Where are Handmade Tabriz Rugs Made?
Handmade Tabriz rugs are woven in and around the city of Tabriz, which is located in northwest of Iran. Handmade Tabriz rugs are made in Iran for sale in the villages surrounding this city.
The majority of Tabriz rugs have been handmade for centuries; however, some people use power looms. Though many businesses around the world have tried to copy the originality of Tabriz rugs that are directly exported from Tabriz, Iran, these 'copied' rugs are not as valuable as their 'original' counterparts.
Types of Tabriz Rugs
There are two types of pile carpets made in Tabriz: Ghiordes or Gonbad (rhymes with "Hond-erz") and Soumak.
Gonbad is a rug with two pile surfaces, one back and one front. It is made by tying knots onto cotton warps tamped down to maintain a flat surface for the design.
The weavers then cut loops of yarn from the back of the carpet on three sides, leaving a fringe on the fourth side. These are commonly called loop carpets, but most people refer to them as "Gonbad Carpets".
Ghiordes is a rug with no pile, made of only warp and weft. The design is usually created by tying knots on the front of a plain weave cotton foundation.
The warp is then cut on the backside to create a fringe that can be used to make rugs with no pile like the Gonbad or to make soumak rugs.
Why are Tabriz Rugs Valuable?
Tabriz rugs are some of the most valuable in the world. Their value depends on a number of different factors, including the type and quality of the rug.
A smaller, more common design is likely to be less expensive than a larger rug with a rarer design or one made of very fine materials.
How Do You Identify a Tabriz Rug?
In order to identify a Tabriz carpet, one should look for an asymmetric knot as well as the distinctive design found in many rugs from this area. Because they are handmade, no two rugs made in this area look exactly the same.
Another thing to identify a Tabriz rug is the color, because Tabriz rugs are made with natural colors derived from vegetables and plants.
Some of the flowers used to dye these carpets are Malva, Hibiscus, Rose and Lotus. Some of the vegetables used to dye these carpets are leaves, roots and seeds of Morchella esculenta.
Classification of Tabriz Rugs
One way to classify Tabriz rugs is by the length of pile wool. Normally, handmade Tabriz rugs have short piles and are usually made for home use rather than for investment. The lengths of these rugs range from 2 pounds for small door rugs up to 8 pounds for large sizes.
While the value of a large rug is greater than the value of a small one, the size alone does not determine the price. The quality of the wool used in a rug's making and the weaving technique employed also influence a rug's price and value in the market.
What is the Process of Hand-weaving Tabriz Rugs?
The process starts from selecting the best raw materials. The materials used to make them are wool with natural colors derived from sheep wool.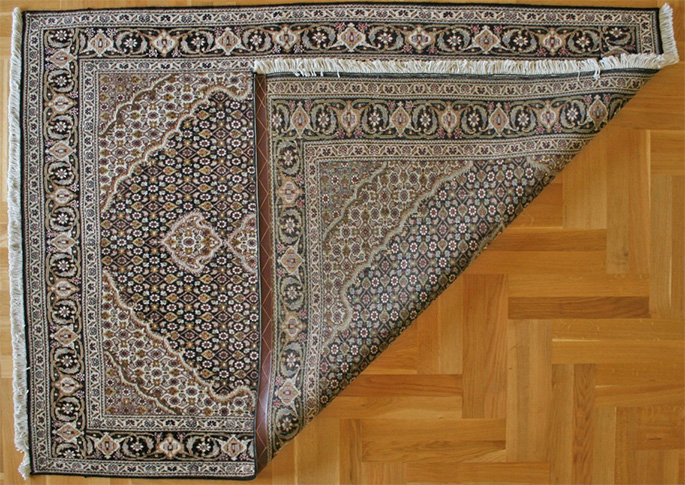 In order to dye the wool, a variety of plants and vegetables are used such as leaves, flowers and roots of different plants belonging to Iran.
Once the wool is dyed it is prepared for spinning using hand-operated spindle wheels. The weight of Tabriz rugs varies from 2 pounds for small door rugs up to 200 pounds for large room size rugs.
Tabriz rugs are very famous for their simplicity in design and elegant appearance. They can be recognized by their outstanding colors, design and high quality. The knots used for Tabriz rugs are very fine 3-6 kilos for their smallest rug size.
Therefore, the design of Tabriz rugs is always very clear and very symmetrical because the pile pulls together very tight and it's not easy for the weaver to correct inaccuracies in design.
Thus, the pile makes them look very thick and plump.
This method gives them a distinct look which makes them unique. Another reason for using this knot is to be able to tie more knots on a smaller surface than any other knot.
Weavers use silk wraps for special rugs but woolen wraps are used in daily life carpets. The most widely used colors in Tabriz rugs are red, brown and dark blue which represent the colors of nature. Now the most important thing.
Which Room is the Best for Tabriz Rugs?
Tabriz rugs are best in living rooms and dining rooms. However, since they are not delicate or fragile, they can be used in any room including the floor of your bedroom. On the other hand, they are best for a moderate climate.
If you live in a cold environment, they will be the best choice. However, it is preferred that you use them in rooms with high ceilings to prevent your floor from damage, especially near fireplaces and heaters.
The most important feature of Tabriz rugs is that they are extremely durable and sturdy. They can be used without any fear for a very long time and still maintain their beauty and elegance.
Where Can You Buy Tabriz Rugs?
You can get handmade Tabriz rugs on sale from different sources like a local dealer, auctioneers and antique dealers.
But since Tabriz rugs are not cheap and you need to invest some good amount, it's recommended you buy them from credible sources only.
The best place to buy Tabriz rugs is from a trusted rug dealer. Don't forget to look for customer reviews before making the payment.
Also, check if the rug seller has a return or exchange policy just to be sure that your money doesn't go to waste!
By - 08 Sep 2021