For modern living spaces that crave more warmth, color and texture, a handmade rug can be the best décor item.
But, in the world of carpets and floor coverings, it's never too easy to pick or choose one.
However, there is one popular rug kind that no rug lover has ever been able to resist – the magnificent and utterly appealing handmade Oriental rugs!
What Are Handmade Oriental Rugs?
These are the rug that have once adorned the floor of palaces, home of the aristocrats, and the rich Indian Mughal courts.
Unlike many tribal rugs, Oriental and Persian carpets weren't crafted for domestic purposes. Rather, they were made with a much different purpose in mind – for adding a touch of luxury and exquisiteness to living spaces.
There's no doubting the fact that the presence of a single Oriental handmade rug can work wonders in uplifting your entire interior décor. The rugs can be used to create a focal point in the very center of your room, and to anchor all the furniture.
Placing a perfect Oriental rug in the right manner can bring your décor to life and add a magic touch of popping colors to the space around it.
Have a look at these 9 most enchanting types of handmade Oriental rugs:
1. Ikat Rugs
Named after their ancient design pattern and featuring one of the oldest rug designs that exist today, Ikat rugs originated in Peru. From here, the design was copied by weavers in Japan and then Indian and Iranian rug weavers started crafting Ikat rugs as well.
What sets them apart for other handmade Oriental rugs is the depth and richness of their colors. The wool used for Ikat rugs is dyed and overdyed in a unique manner that's responsible for the unique, tie-and-dye effect that one often only sees in tribal rugs.
2. Bokhara Rugs
Another of the highly popular Oriental rugs types, the Bokhara rugs are famous for their symmetrical pattern and blood colors, including the classical red, green, blues, ivory, beige, and gold.
These rugs are highly-durable and the best quality ones are those crafted by the carpet weavers of Pakistan. The Pakistani Bokhara rugs have an amazing characteristic of being able to adjust in any décor theme and style.
Whether you're an admirer of modern furnishings or crave for the traditional look, a Bokhara handmade rug can be the easiest way of revamping the interiors!
3. Flatweave Kilim Rugs
Perfect for creating a traditional yet chic look, flatweave Kilim rugs offer much more diversity when it comes to rug décor and placement than any other Oriental rug type.
The rugs are crafted using wool and cotton. Unlike other wool rugs, Kilims don't have a pile, rather they're made with warp threads stretched tightly on a vertical loom. The carpet makes weave these bright threads tightly across the warp.
Although they're quite string, Kilims are not as durable as piled wool rug. But they're less expensive too! Which makes these reversible rugs a perfect-fit for outdoor spaces.
4. Patchwork Rugs
As the name suggests, Patchwork rugs are made out of hand-stitching multiple Oriental rugs together to form a single carpet. These rugs were first invented as a way to re-use old and damaged Oriental rugs.
Usually, brightly colored pieces of Oriental rugs are stitched together to form these rugs. Almost every single piece is different in style and pattern from the other one, creating a richly patterned rug look that directs attention to itself wherever you may place it.
Alongside the combination of different Oriental rug patches, comes the combination of different tribes, cultures, and traditions that are visible through these rugs.
5. Overdyed Rugs
Similar to the Patchwork rugs, the Overdyed Oriental rugs also originated as a way of re-using old rugs.
To create overdyed rugs, old and damaged Oriental rugs are re-dyed in brighter colors through an eco-friendly rug dyeing process.
The process of overdying old rugs is a great way to 'resurrect' distressed and faded old Oriental rugs and bring them back to life. Plus, the end results are amazing!
Have a look at this one, for example: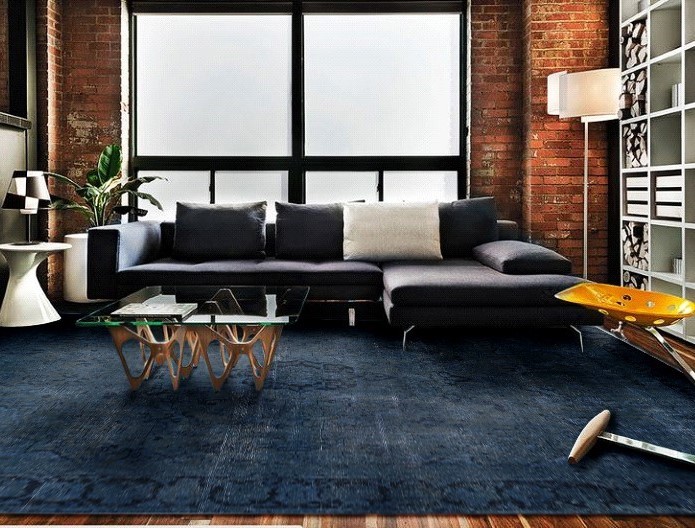 6. Oushak Rugs
Designed and crafted to be sold in the Western market, the Oushak rugs are very much different from other handmade Oriental rugs in respect to their color schemes and design patterns.
The rugs feature pastel hues rather than having a bright color palette. The designs are not geometrical, but floral instead, with vines and flowers running all over the rug's surface.
Hence, Oushak rugs are a common choice among individuals who want to keep their modern décor elegant yet magnificent and soothingly captivating.
7. Chobi Ziegler Rugs
Another of the very few Oriental rug types that were created to be sold in the Western market, Ziegler or Chobi Ziegler rugs are minimalistic yet elegant.
The rugs feature a softer color palette as compared to other Oriental and Persian rugs. Plus, their intricate floral patterns really make the rugs stand out in any place or surroundings!
These are definitely the best pick for you if you want to keep your décor from looking too bright or overwhelming.
8. Mahal Rugs
The word Mahal literally translates to 'palace' in Urdu, which perfectly gives one the idea of how spectacular, glorious, and splendid these rugs would be.
These rugs all feature designs that are unique and one-of-a-kind. The design pattern that's created one is not repeated in any other rug.
You can find Mahal rugs with or without borders, having or not having a central medallion, and in a wide range of colors.
9. Butterfly Rugs
Having a butterfly-shaped traditional motif repeated all over their surface in a symmetrical manner, the butterfly rugs can capture the attention of onlookers instantly.
Since these rugs are fully patterned, and often come in bright or dark colors, it's best to pair them up with plain furniture and wooden floors.
Owing to their large size, a Butterfly rug can fit perfectly under your dining table, or in the center of your spacious living room!
Want to buy a handmade Oriental rug online? Feel free to check out our wide collection of Oriental rugs for sale!
By - 04 May 2021