Buying a handmade rug for your home can be a huge investment.
Handmade wool and cotton rugs are made by expert weavers over a long time period of multiple months, even years!
As a result, these exuberant hand-knotted carpets, such as the Oushak rugs online, Persian carpets, or the Gabbeh handmade rugs are known to retain their original shape for years on end!
But the life of these rugs can be reduced if they're not taken proper care of.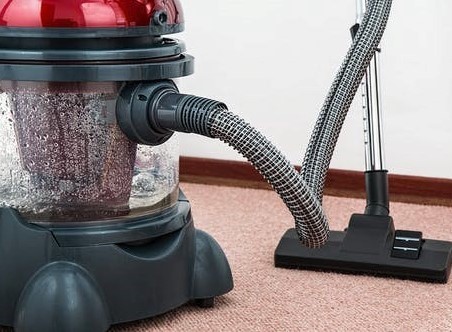 It can get hard sometimes to find a professional rug cleaner for your handmade rug. So, here are some easy ways you can clean your rug at home:
1. Adopt the Easy Vacuum Cleaning Routine
Vacuum cleaners are a must-have for all rug owners. Whether you've invested in a Oushak rug for sale or a Pakistani carpet, you'd need to buy a good quality vacuum cleaner along with your rug.
Vacuuming your rug at least 2-3 times per week is what experts often recommend when it comes to rug care. That's because regular vacuum cleaning ensures that the dust and dirt particles are removed from the rug, alongside other debris, before it sets deeper in the rug's fibers.
Letting your rug sit dirty for weeks on end can damage the wool fibers, causing them to become hard and brittle. In worst case scenario, the rug fibers may start falling or tearing apart from the base of your Oushak rug.
2. A Homemade Cleaning Solution for Your Rug
When the need calls, you can always make an effective DIY homemade cleaning solution for your rug. The ingredients you will need for this are:
2 tablespoons of any regular detergent
1 table spoon of any fabric softener
½ tablespoon of oxi cleaner
4 liters of hot water
Mix the first three ingredients in a bucket and then gently add hot water so that babbles are not formed during the process.
This solution is perfect for cleaning nasty stains from your rug, such as stains of spilled tea, juice, wine, or coffee. Also, it's really easy to make at home!
3. All-Natural Cleaning Solution for Wool Rugs
If you fear that a detergent or oxi cleaner might bleach your rug's colors, or if you don't have the ingredients at home, here is how you can make an all-natural rug cleaning solution:
Simply mix up one cup of white vinegar in two cups of water and then add 1 tablespoon of salt to the solution. You can also add 15-20 drops of organic lemon juice if your rug smells bad, such as in case of pet urine on rug.
Wet a clean hand towel or sponge with the cleaning solution and dab the affected area till you get the desired results.
4. Window Cleaner and Hot Water Solution
An Oushak rug that you may have bought online, or any other wool rug can also be cleaned using a simple ingredient that can be found easily in every household.
Yes, it's the window cleaner!
All you need to do is mix up equal amounts of window cleaner and hot water. Take a towel, dip it in the solution, and clean, clean, clean!
5. Remove Stubborn Stains with Ammonia
Ammonia is known for its magical properties that work against spots and stains.
However, the risk of using ammonia for the purpose of cleaning your rug is that it can burn your skin. So, don't ever forget to wear protective gear if you decide to go for this method of rug cleaning at home.
The ingredients you will need are:
1 tablespoon of liquid detergent
¼ part of ammonia
¼ part of vinegar
11 liters of water
Mix it all up and get to the cleaning part!
6. Use Baking Soda
This is the easiest and yet the most effective method when it comes to getting rid of nasty pet urine smell from your rug. Plus, with baking soda, there are no risks of getting your rug damaged, because it's all natural!
Simply get a pack of baking soda and sprinkle it over the affected area. You can also sprinkle it over the entire rug if you want to. Let the baking soda sit for at least 20 minutes, or leave it overnight for the best results. Then clean with a vacuum cleaner!
You Oushak rug, or any handmade rug that you follow this method on would feel fresh instantly!
7. Hydrogen Peroxide Can Do the Trick
Hydrogen peroxide is popular for it's powerful cleaning properties. Using it alongside a bit of lemon can make your rug smell fresh instantly!
Mix up 176 ml of hydrogen peroxide in 350ml of water. Add 3-5 drops of lemon to the solution and start cleaning your handmade rug right away for amazing results!
8. Handwash Your Rug with Regular Detergent
Although rug experts don't recommend that you wash a handmade carpet by hand at home, but in desperate situations, such as when something is spilled all over your rug, you may wash it at home.
For this, get some detergent solution and apply it on the rug after wetting the rug with cold water. Brush the wool pile in the direction of the fibers with a soft-bristled brush. Avoid being too harsh or using too much pressure, and DO NOT use the brush in the direction opposite to the wool fibers.
Also, make sure the flow of water is also in the same direction as the pile.
Remember, you can use a brush for only wool rugs, for Oushak rug that may have silk fibers in them, avoid the brush part since the bristles may destroy your rug's fibers.
Note: When washing your handmade rug at home with a detergent, make sure to conduct a patch test first by apply the detergent on a small corner of your rug. Check to make sure that the rug colors don't bleed and the colors are not affected by the detergent.
You can also use an appropriate rug shampoo for rug washing at home.
In any case, when you wash a rug at home, remember to carry out the entire process with extreme care, and PROPERLY DRY YOUR RUG.
Wet rugs can become home to mould and fungus. They may also start smelling really bad if not treated properly.
You can leave the rug outdoors, or place it in a room with good ventilation. Add some fans for better results.
Don't forget that water is one of the things that can destroy your wool rug.
So, if you don't want to end up purchasing a new Oushak rug online, it's best to get it professionally cleaned once a year, and vacuum clean regularly at home.
By - 11 May 2021