Ever thought of purchasing a round rug for sale?
Of course, you must have!
Unlike the traditional rectangular area rugs, or the square carpets, handmade round rugs can add a playful vibe to your space. Going round with your rug can be the best, and without any doubt the easiest way of revamping your interiors and making the whole room look picture-perfect.
In this article we've shared the best spots for round rugs in any home. Read on to find out!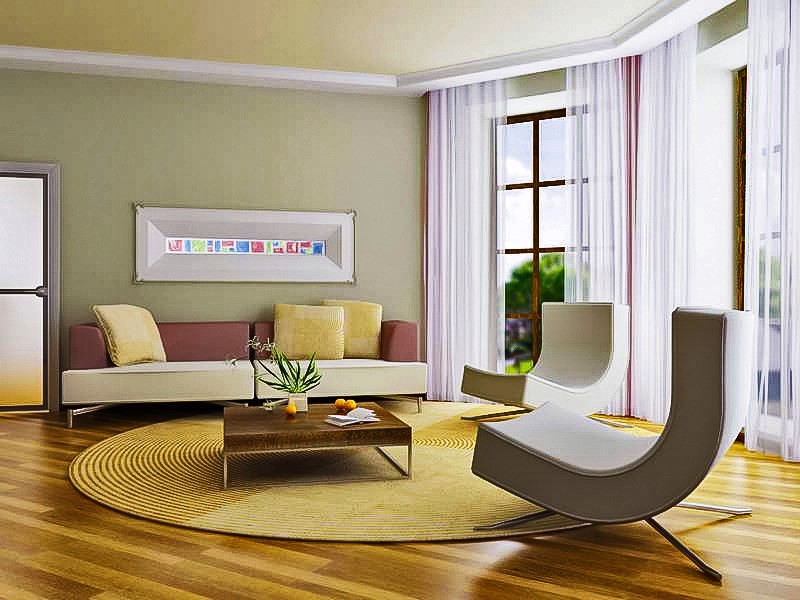 Going Round with Your Rug? Here's How:
While square rugs and rectangular handmade carpets are incredibly easy to play with, expert rug placement techniques are required to pull off a round rug.
Although, incorporating round rugs for sale in your home is no rocket science, you definitely need some tips and tricks from the experts! Because, if not placed right, even the most beautiful handmade rug can make your home interiors look chaotic and fallen-apart.
Don't want your dream décor to turn into a nightmare?
Here're 7 fool-proof ways you can decorate using a round rug for sale:
1. Place it Under Curvy or Round Furniture
Just as square rugs look great when paired up with square-shaped furniture, and rectangle rugs are perfect for rectangular rooms, a round rug can be the right décor partner for your round table, bed, or any other curvy furniture item.
You can easily find handmade round rugs for sale in various sizes, colors, and design patterns. Be it an Oushak rug, a Khal Mohammadi, or any kind of Persian rug in round shape, if you're confused about its placement, simply place it under round furniture.
For instance, you can place a round rug under a round center table in your living room, or under a round bed.
Now, wasn't that easy?
2. Must Touch All Major Furniture Items in Your Room
When it comes to placing a large round area rug in your living room, here's one question you need to ask yourself:
Is the rug large enough to incorporate all the major furniture items, or not?
Let's face it, a rug that's placed in the center of the room, away from all the furniture, would look as if it doesn't belong there. It won't act as an anchor, rather a rug that's too small would make your décor appear chaotic and fallen apart.
So, when decorating with a round rug, make sure all the major furniture items, most importantly your center table and the sofas are either entirely or partly positioned over the rug's surface.
Here's a tip if you've accidently bought the wrong size of rug that can't be exchanged or returned:
Layer it over a larger area rug!
3. By the Side of a Window
Spaces near large windows are perfect for large round area rugs. Since you don't often have much furniture in such areas, the rug can be easily styled and placed in any manner. Add in a chair or two along with a small table and enjoy your Sundays by the window!
Again, make sure whatever furniture items you may add to the space are placed over the rug surface, either entirely or partly.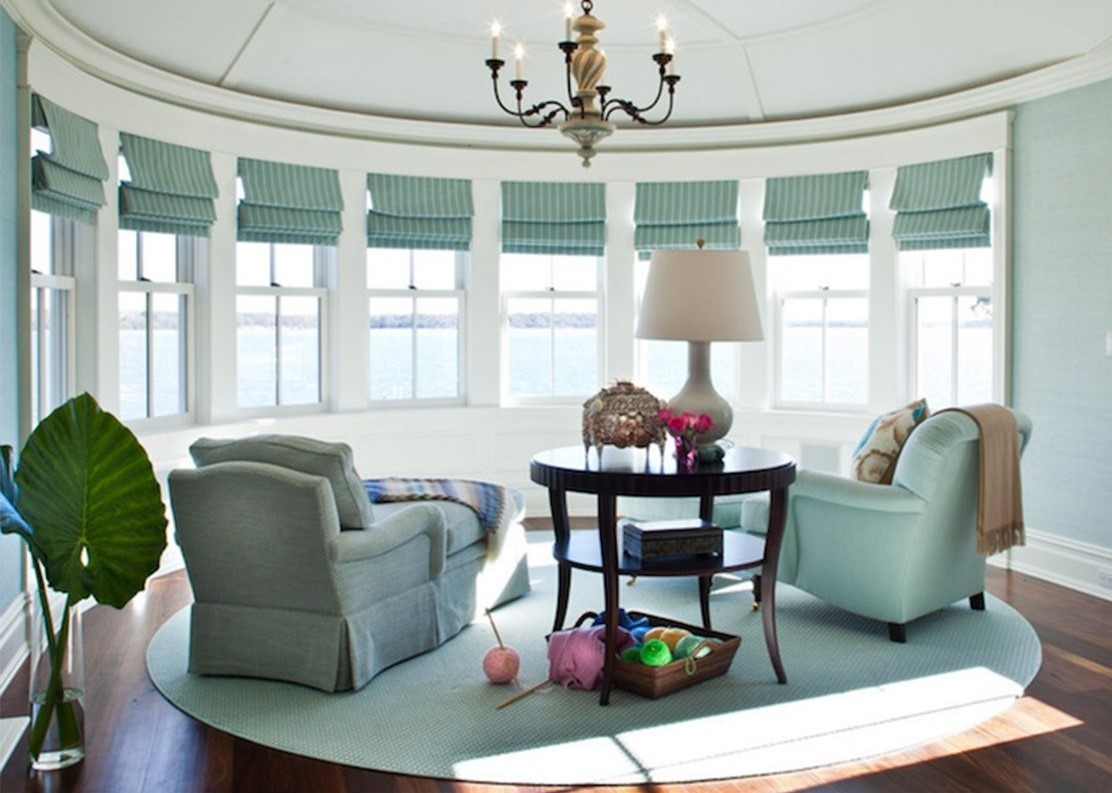 4. Under a Small Round Dining Table
Just as a large rectangular Oriental rug can look great under a rectangular dining table, round rugs are the perfect companion for circular tables.
When getting a rug to place under your dining table, don't forget to take proper size measurements beforehand. Ideally, the round rug for sale that you buy should be big enough for the dining table and chairs to sit over it entirely, while leaving some extra rug on all sides.
In other words, the chairs shouldn't slide off of the rug when pulled out. After all, no one likes sitting on a wobbly and unbalanced chair while they eat!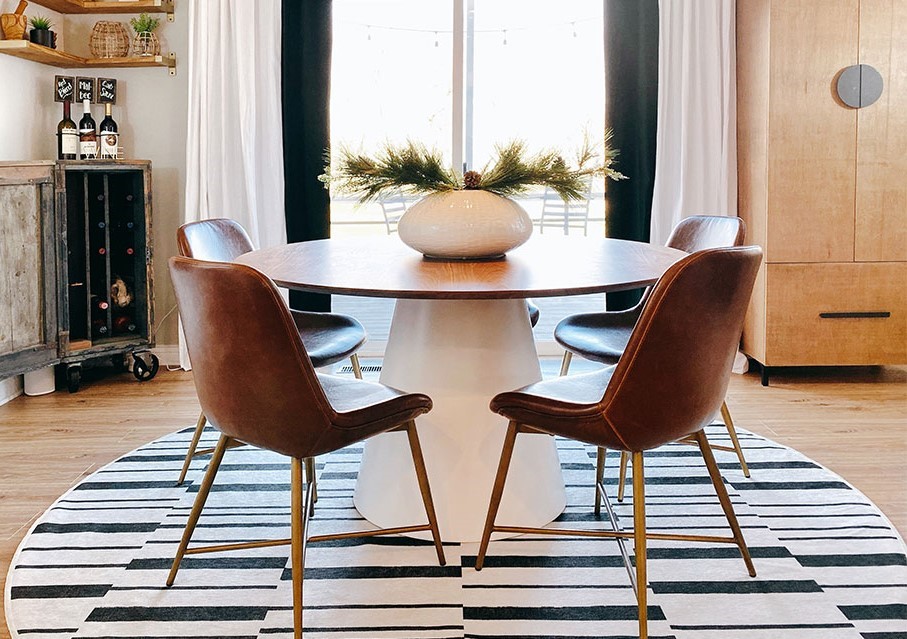 5. A Round Rug in Your Entrance Hall
Placing a round carpet in your entrance hall with a circular table over it can help bring in the much-needed warmth and liveliness to your space. Plus, your entrance is just where the rug would get noticed the most.
Since spaces such as entrance halls don't get much foot traffic, you can easily opt for an expensive antique handmade rug.
6. Half Under the Bed, Half in Front of it
Going round with the rug for your bedroom?
But would it look good under a rectangular bed?
Not if you place the rug completely under your bed. But here's a great tip:
Let half of the round rug sit under your bed with the remaining extending in front of it. See the image below: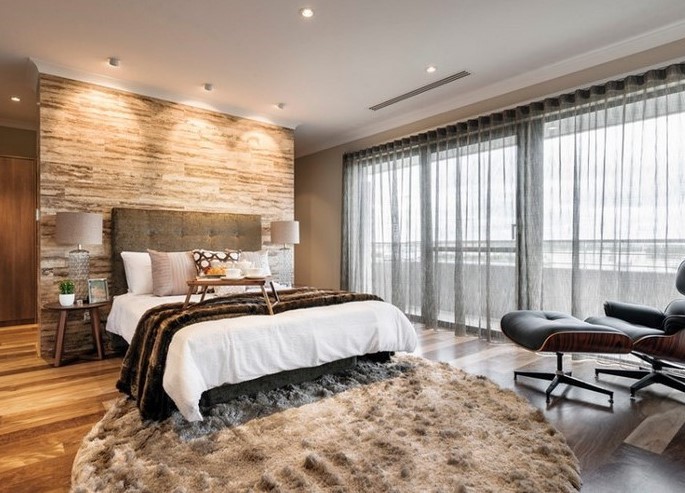 In case the rug is smaller than the one shown in this image above, you can place it by the side of your bed, near the window, or under a standing mirror.
7. Use it to Revamp an Outdoor Seating Area
Outdoor spaces often lack comfort, and rugs are an easy way to compensate!
When a round rug doesn't fit anywhere in your home interiors, outdoor seating areas can be your go-to round rug spot.
Whether it's a veranda, terrace, or the patio, your round rug would surely blend in perfectly! Place lots of plant pots in the surroundings and add some cushions for a boho-chic vibe.
Lastly, don't forget to take care of your handmade round rug by vacuum cleaning it every week, keeping the rug out of direct sunlight, and do not leave stains or spills unattended for too long!
Also, get your rug professionally cleaned at least once a year.
By - 06 Apr 2021