Handmade rugs have been crafted by tribesmen and nomads since centuries. They make up a rich part of tribal cultures and exhibit a kind of traditional warmth that can spice up any place instantly.
Kilim rugs are a part of this centuries old rug weaving tradition. They're vibrant, uplifting, lively, and bright pieces or artwork that are less expensive as compared to other Oriental rugs, yet more charming!
Read below to find out some amazing ways of revamping your interior décor using wool kilim rugs.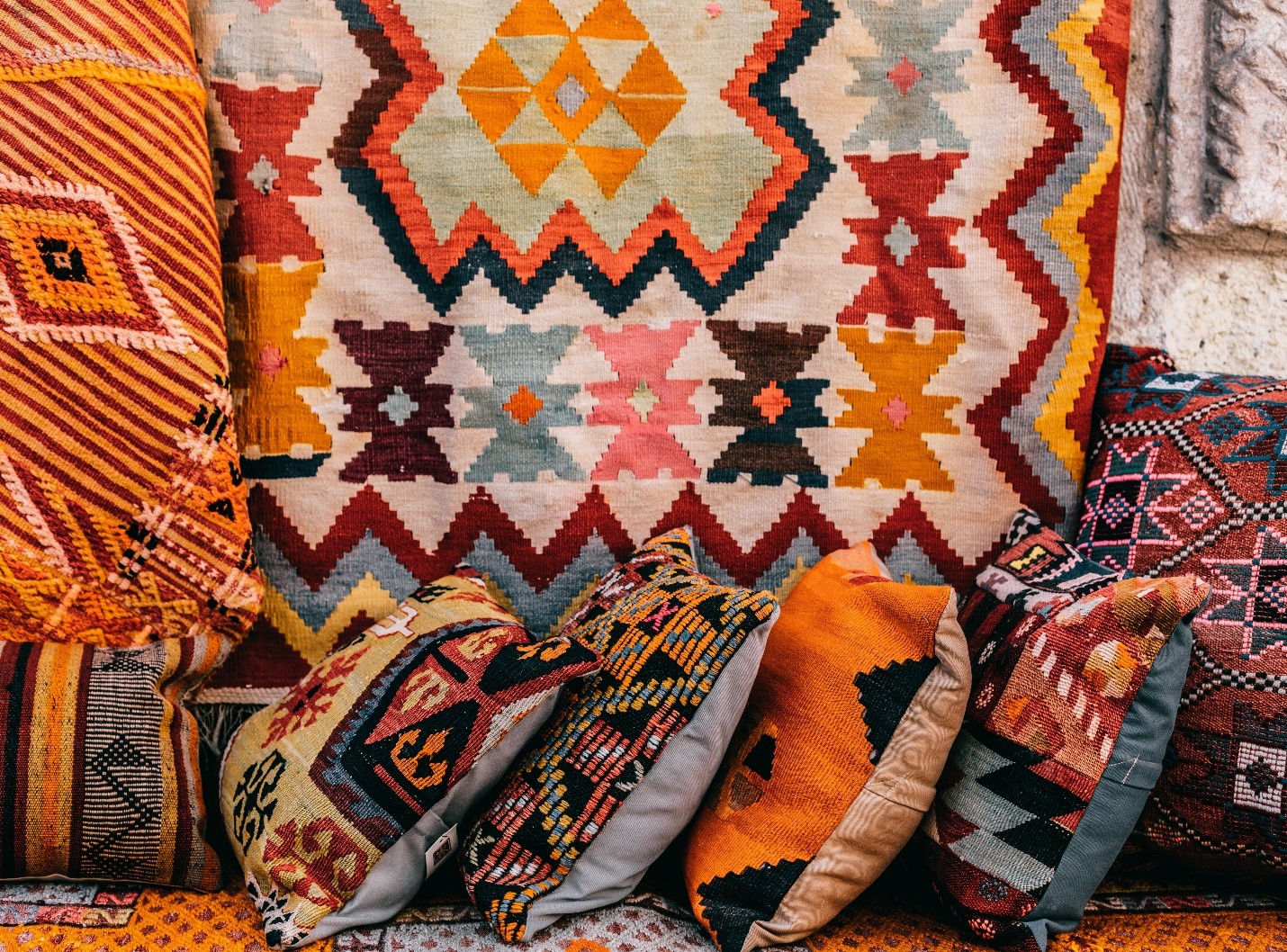 How to Find the Perfect Kilim Rug?
Before we move on to Kilim rug décor and placement tips, let's talk about all the things you should consider when purchasing a Kilim rug.
First of all, remember that Kilim rugs, although often less expensive as compared to piled rugs, are also less soft and luxurious.
These are flatweave carpets, which means they don't have a pile. Hence, they're less fluffy and not so plush.
This particular feature of Kilim rugs is what makes them a perfect choice for outdoor décor.
How to pick the best one?
Honestly, when shopping for handmade rugs, you'd find yourself lost in a whirlwind of bright colors, enchanting patterns, and a traditional aura that would remind you of historical tribal cultures.
The first thing you should look for when buying a Kilim rug is its size. You rug size can make or break your interior décor. Always measure the dimensions of your room or outdoor area beforehand to make sure you purchase the right size of rug.
In terms of colors, Kilims are mostly crafted in multi colored hues. However, if you want to keep things a bit more neutral and elegant, buy a monochrome Kilim rug and pair it up with similar furnishings.
For instance, have a look at this outdoor rug décor: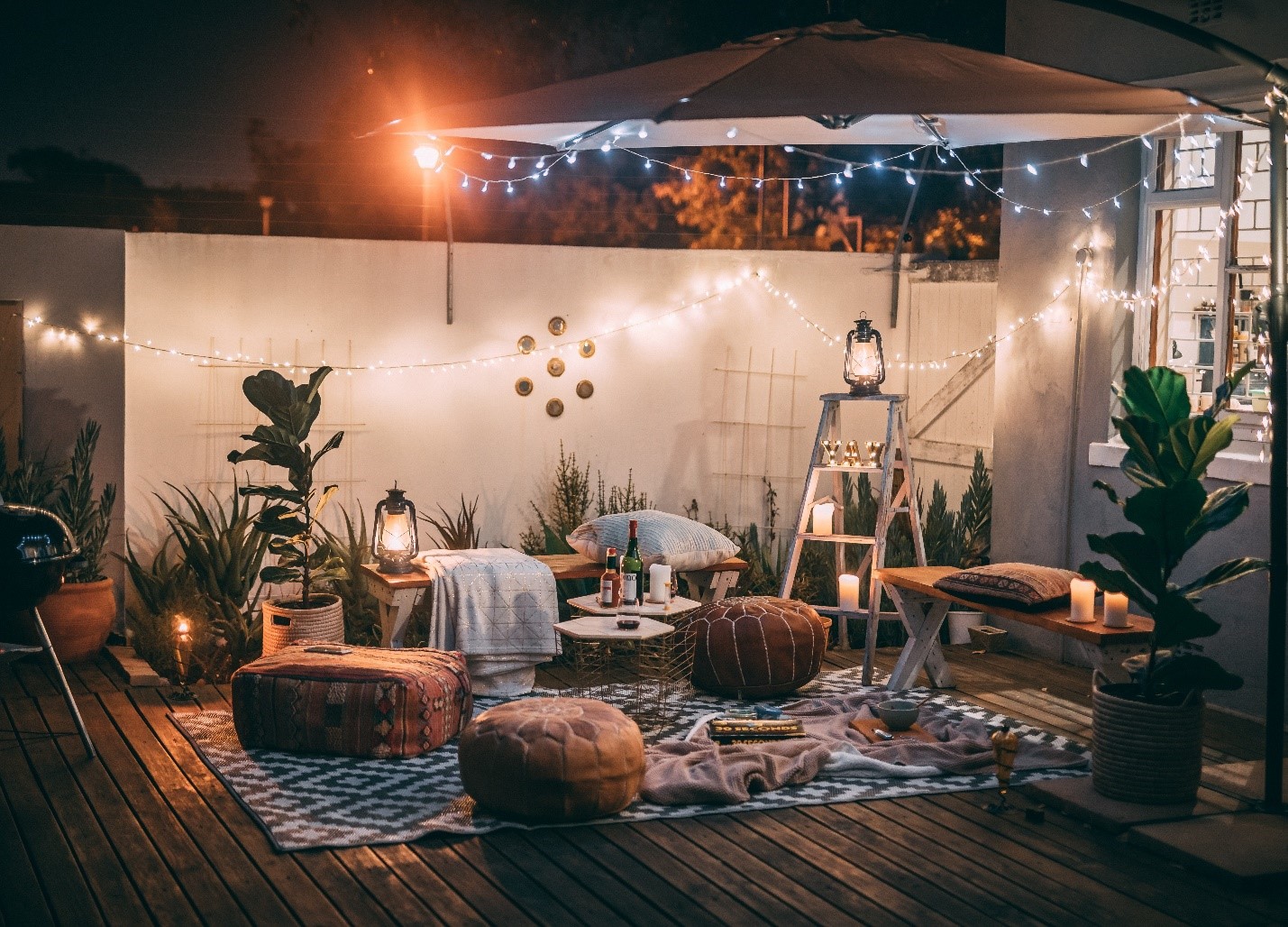 The black and white patterned rug is looking perfect with the light wooden flooring and patterned cushions. Plus, we love how fairy lights, lanterns and loads of plants have been added to the space to make it look more charming and homely.
Next up, choose the right material.
Turkish Kilim rugs are mostly made of naturally dyed wool that's known for its durability and longevity. Buy your Kilim carpet from a trusted rug seller to ensure the use of high-quality materials in your rug.
You can also go for a vintage Kilim rug or an antique Kilim rug depending upon your interior décor theme, style, and your personal preferences.
Let's move on to the style tips now!
How to Decorate Using a Kilim Rug?
A Kilim rug can work with just about any décor style. They instantly add warmth and a pop of colors to any space. However, the most unique and amazing way of using a Kilim rug is in outdoor spaces, such as your patio, terrace, veranda, garage, or to style your rooftop for an intimate celebration at home.
Here are 4 amazing ways of decorating outdoor places using Kilim rugs:
1. Create a Play Place for Your Kids
We all know how much kids love hiding in cramped up places and playing secret games with their toys.
Make it fun and safe for your child to carry on with their daily playing routine by creating a plays pot for them in your patio, roof top, or garage.
Place a Kilim rug in your child's favorite play spot. Then use a large piece of cloth to build a camp at home!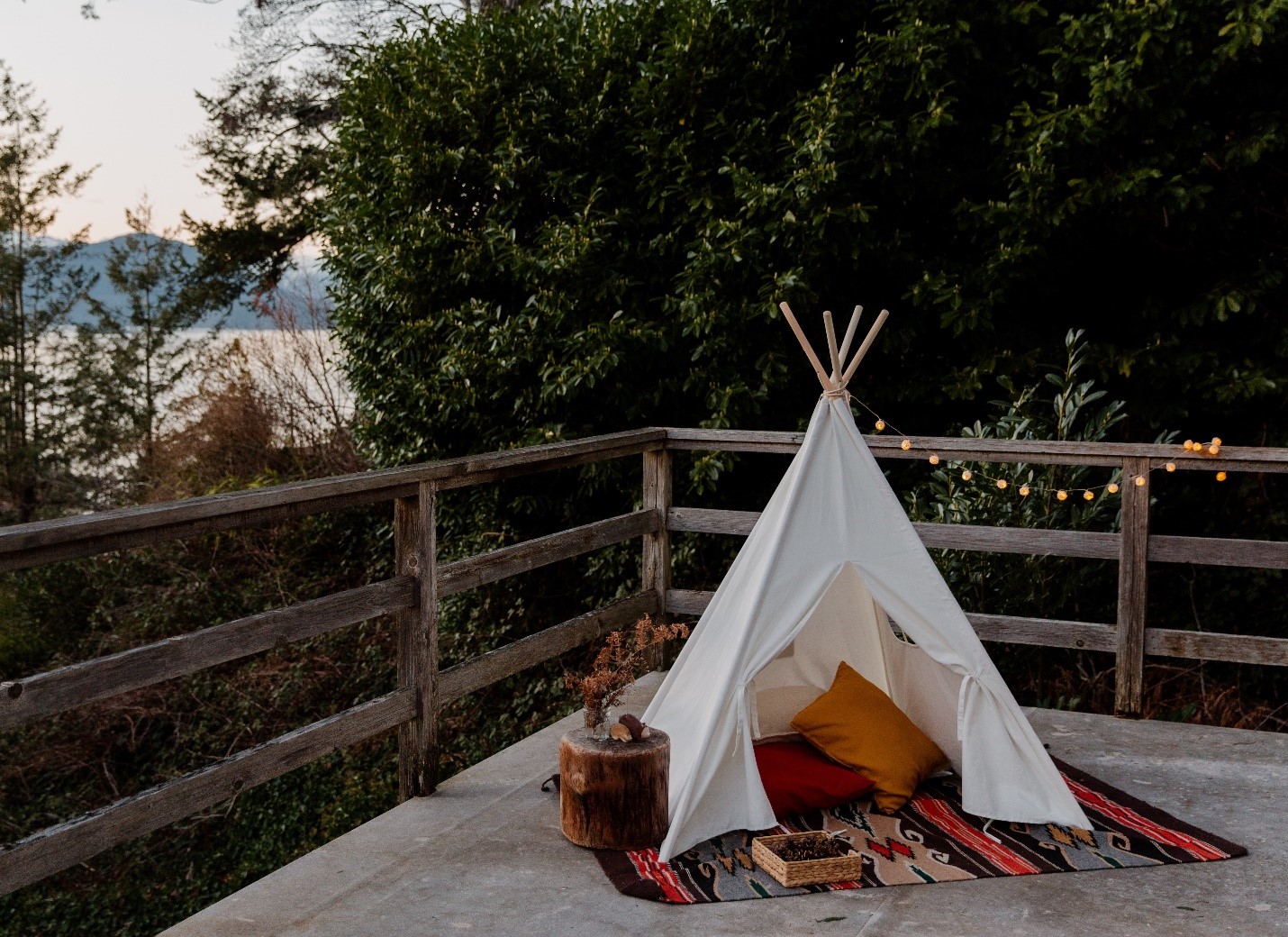 This décor style can also work well if you're planning to surprise your partner on their birthday, valentine's day, or want to celebrate your anniversary at home.
2. A Silent Reading Spot in Your Patio
If you're a book lover, you must also need a quiet and peaceful spot in your home!
Use a Kilim rug to create a cozy reading spot in your patio. Simply place the rug underneath a comfortable rocking chair or a cute outdoor swing.
A floor seating arrangement can also work perfectly well if you just add a bunch of cushions over your Kilim rug. Bring in some plants to the space and enjoy your reading time with your favorite new read a and a cup of tea!
3. Cozy BBQ Night Décor in the Garage
Kilim rugs, unlike other traditional carpets such as the Kazak rug, Bokhara rugs, or Pakistani carpets, are quite cheap.
Which means you can easily use a Kilim rug to enhance your BBQ night décor without having to worry about an expensive floorcovering getting damaged.
Pair it up with some wooden stools, planters, and add a bunch of fairy lights to complete your at-home party décor!
4. Revamp Your Outdoor Seating Area
Outdoor seating spaces are more versatile than any other room in your home. They can make the perfect spot for having a cup of tea and a heart-filled conversation with your partner under a starry sky. You can watch sunrises and sunsets, spend an evening with your friends, or simply sit by yourself to enjoy some quality time with your pet and a good book.
It's important to decorate your outdoor seating area in a manner that's unique, lively, yet highly comfortable. And a Kilim rug can help you do just that!
All you need is the right size of Kilim carpet. Place it in the center of your outdoor seating space and adjust the rest of your furniture and furnishings around it.
We'd recommend you to buy a Kilim rug that's big enough to incorporate the chairs and center table over it.
In case you've mistakenly bought the wrong size of Kilim – one that's too small – layer it up with a jute or sisal rug to create your dream outdoor décor look!
Bonus Tip: Kilim rugs are reversible and can be used from both sides. Which means, if the surface of your Kilim gets dirty or stained, all you need to do is flip it and enjoy a clean rug!
By - 12 Mar 2021